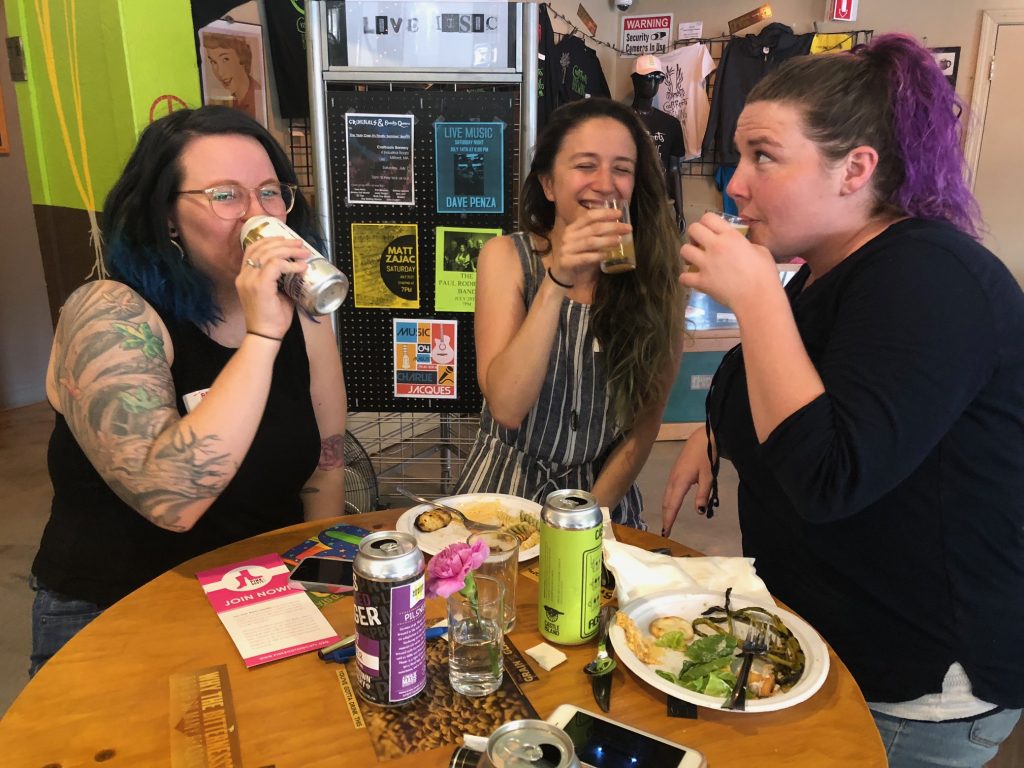 By James Bentley
8/13/2018
A common stereotype about craft beer is that it is essentially a product consumed by males. In 2016, data from the National Brewers Association partly aligned with that stereotype.
In a survey of weekly craft beer drinkers, only 25 percent of that pool was female. Looking at this data in a vacuum suggest women having a lack of interest in craft beer. However, looking at the data for general weekly beer drinkers tells a different story.
There's a negligible one percent difference between the number of women who identify as craft beer drinkers and women who identify as simply a weekly beer drinker. Just as many women who drink beer weekly are choosing a Notch as they are a Bud Lite.
In 2018, a shift emerged. More women are identifying as craft beer drinkers. From 2015 to now, the number of women who drink craft beer at least several times a year grew from 29.1 percent to 31.1 percent.
The two percent shift doesn't appear large, but the same poll found that those who drink craft beer several times per year increased by about five percent. Roughly 40 percent of that growth came from women alone.
The growth wasn't only at the consumer level. Industry involvement from women has grown exponentially. In the New England area, some women first learned how to brew beer or other industry skills through the University of Vermont's Business of Craft Beer certificate program.
Kristen Sykes is a former teacher in the University of Vermont's program. She taught the program's "Digital Marketing in Craft Beer" course. Sykes spoke of encouraging signs with the amount of women in the program from the get-go.
"I pretty much got involved when the program first started," Sykes said. I worked on connecting with more female instructors too, and I tried to feature women in the interviews that I did. A lot of the classes it was like 50-50 men and women."
Other women coming to the industry, especially brewers, were largely self-taught. Milford, Mass.-based Craft Roots Brewery Owner Maureen Fabry shared a funny story about how she started her life-long passion in the first place.
Liz Kuraly, co-owner of Everett, Mass.-based Bone Up Brewing said she's also largely self taught. Her husband Jared, who co-owns the brewery with Kuraly also helped teach her.
"I was in my early 20s when we started brewing and he (Jared) had a couple years of experience on me," Kuraly said. He showed me the ropes and I read everything that I can online, all the Brewers Association books.  There's one called "Hops." There's one called "Yeast." There's one called "Water." Just read all of those, they're like your bibles. Document everything, sanitize, sanitize, sanitize, and eventually the liquid will be good."
The rapid growth of the Boston Chapter of the Pink Boots Society is another prime example of women rising to prominence in the craft beer industry. The Pink Boots Society is a nonprofit advocacy group/trade association for women working in the craft beer industry. The Boston chapter is one of 86 globally.
Brienne Allen,  chapter leader and brewer at Salem's Notch Brewing, said in just three months, the chapter grew to become one of the biggest in the world.
"We went from five to over 100 members in three months," said Allen. "I had no idea there were so many women (in the industry)."
The overwhelming response was a culture shock for Allen, whose first brewery job was at Jack's Abbey Brewing in Framingham.
"I was the only female brewer," said Allen. "it was me and this other guy. We were responsible for brewing 55,000 barrels a year."
Allen found the culture at Jack's Abbey sometimes toxic which contributed to her decision to leave. She said under-qualified males were often promoted first. Allen now works at Notch Brewing, a Salem-based brewery known for its female presence.
"Now I'm the production manager," Allen said. I've been there since August and I've doubled my salary in less than a month. The whole brewery is run by women."
Allen said working at a brewery where 75 percent of the staff are women has brought forth a lot of fun and improved communication between co-workers. As leader of Boston's Pink Boots Society chapter, she's enjoyed being able to see this same type of fun, growth, and communication with fellow industry women across Massachusetts.
Allen and other Pink Boots Society members shared what's been great about working with so many other women in the industry.
"Communication is amazing because everyone is so close," Allen said. "It's more like texting instead of relying on emails to get sent out."
Allen said even the emails that do get sent have a more casual, relaxed tone. She shared one way in which Kuraly likes to put her own personal spin on the communication.
"Liz has this great thing where she puts up a random phrase at the end of sentences," Allen said. "Then, you have to reply back with that phrase in the subject box." Allen said this is a fun way Kuraly is able to tell who has or hasn't read her email.
Kuraly said she sees the growth, education, and socialization of the Pink boots Society is helping to continue growth for women in Massachusetts craft beer.