By Wenjing Ding
A 16-years-old martial arts student is busy training for a world Martial Arts championship. He represents Boston as part of Team USA. Its blood, sweat, and tears are out on the mat before the teenager competes at the highest level.
United States of America Wushu Kungfu Federation (USAWKF) Team Trials, National Ranking, and National Championships were scheduled for May 27-29th, 2022 in Lubbock, Texas, USA.
The 16-year-old Eliot Hughes won 2nd place in the Daoshu/Broadsword and was selected for the USA Traditional Wushu Team successfully. He'll represent the USA at the World Martial Arts Championships in 2023.
6-years-ago, when young American teenager Eliot Hughes started practicing kung fu, the Chinese martial arts, he didn't expect he could go so far.
At just 16 years old, Eliot Hughes has been training at New England Championship Wushu Academy in Boston for 6 years. His technique was developed by coaches Xiaoyi Chen and Calvin Wang.
"It was truly an honor to participate in a martial arts championship and represent the US," said Hughes. "It was a wonderful experience because I met athletes from many different states and got to see how they practice and how they perform."
Hughes also said, "Me? I'm going to worlds? It still doesn't feel quite real."
Raised solely by his mother, Hugh has a two-bedroom apartment with his mom in the rough neighborhood of winter street in Waltham, Massachusetts.
It was not an easy childhood. His father is American from Boston, and his mother is Chinese from Hong Kong. His parents divorced when he was 5 years old.  As an Asian American kid, he was bullied and beaten on a weekly basis, constantly abused by his peers, and suffered from ADHD, which makes his behavior hard to control.
All that would change once he discovered Martial Arts after watching the Cartoon movie "Kung Fu Panda" when he was 10. He sought out martial arts training, bargained with his mom to pay for classes, and eventually overcame ADHD and bullying by practicing martial arts.
Now, he has been practicing Wushu for almost seven years and currently trains for about 28-30 hours per week at New England Championship Wushu Academy in Burlington, MA.
"I really like the focus and discipline that Wushu has instilled in me," Hughes said. "Wushu has taught me that failures are an opportunity to learn and improve yourself. I used to lose in all of my initial tournaments, and at first, it made me upset and dejected. But the advice of my coaches Xiaoyi and Calvin helped me identify where I was weak, and helped me improve my performance."
For him, the lessons he has learned in Wushu carry over into his academic life.
"Eliot has attention issues at school. So I found out that Wushu really helped him to focus. He changed a lot by learning martial arts." said Helen Hu, Eliot's mother.
"Sometimes when I am exhausted after waiting several hours for my event to take place, or when I am suffering from an injury that makes me reconsider my decision to participate, I have found that I am able to gather the strength and courage to forge ahead and try to do my best," Hughes said. "This spirit of perseverance has helped me at school also, especially with its value of exceeding expectations for both the teachers and students."
"Martial arts focus on the body and the mind. They can help kids build respect, self-control, focus, etc. which leads to new life skills, better grades, reduced ADD/ADHD issues, less Bullying, self-defense, and better at-home behavior." New England Championship Wushu Academy (NECWA) coach Wang said.
"Watching kids change lives by learning martial arts is one of the greatest joys of her work for many years. Whether or not they come in initially to gain self-confidence, they gain it." NECWA head coach Xiaoyi said.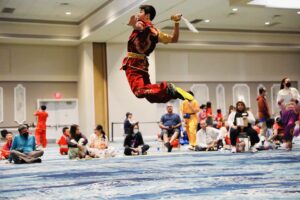 The team is leaning on friendship, and friendly competition to get stronger.
"If we want to win, if we want to get number 1 in worlds we have to practice, we have to get down on it," said Cindy Ma, Hughes's partner, a 15-year-old world qualifier competing on Team USA.
Decked out in Team USA gear, 10-year-old Jayden Hao will compete in forms and sparring at worlds. Hao said, "it's a big deal because not everybody gets a chance to do this."
Coaches Wang said they've never taken a team this far. "We have to rethink how we present, how we present our forms, how we fight, we have a couple of fighters that are going to be competing in sparring and it's a different world completely," said Calvin Wang.
The 35th Compete World Martial Arts Championships will be held on Feb 24-26, 2023 in California. We will follow the athlete's journey life, and keep updated and let you know how they do when they get there.
Martial arts can help kids build physical, respectful, self-control, focus, and mental strength. Although being a fighting style, Kung Fu advocates virtue and peace, not aggression or violence. This has been the common value upheld by martial artists from generation to generation. Its value in body-building and fitness is also highly appreciated.
Although being a fighting style, Kung Fu advocates virtue and peace, not aggression or violence. This has been the common value upheld by martial artists from generation to generation. Its value in body-building and fitness is also highly appreciated.
Eliot Hughes knows his academic load will increase when he enters high school, but he wants to continue balancing classroom time and homework with Wushu.
"Yes, I definitely want to stay involved with Wushu even in high school and beyond, because it is one of my best passions that I really want to pursue." said Hughes.