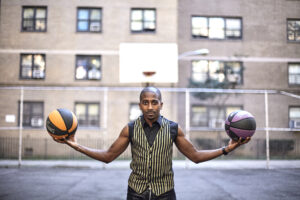 By Aiden FitzGerald
Paris "The Hip Hop Juggler" doesn't want to be defined by race. But he also doesn't want his race to be ignored. And he's not alone under the Big Top.
"I don't want to be viewed as 'the Black juggler.' But the other side of that is that I am a Black juggler. It's unfair to not acknowledge that I am a Black man and with that comes having to break down many barriers to get to where I am."
What Paris does want to be defined by is his work— "all aspects of my work," he said, "the entire story of what I've done and how I got here," the 39 year-old juggler said over the phone from his home in Harlem.
Paris has been juggling since he was a kid. At nine years old he began acrobatic training with the Big Apple Circus outreach program, "Beyond the Ring," at his elementary school in Harlem. When his teacher, Russell Davis, encouraged him to personalize his act, Paris began incorporating hip hop choreography.
"Hip hop is not something exotic where I'm from," said Paris. "It's a homegrown African American art form. It is natural for me to think in that direction. Basketball and hip hop are basically religion here in Harlem."
Paris was christened "Hip Hop Juggler" by Al Roker during an appearance on The Today Show at age 14. He has also appeared on Sesame Street, Morning Joe, The Daily Show with Trevor Noah and has performed at the White House and in the all-Black UniverSoul Circus.
As a Black entertainer working in a mostly white art form and industry, Paris believes he is frequently profiled— he gets flagged at gigs, his credentials are questioned, and people seem suspicious of him. When asked to specify an example Paris was initially reluctant. Later, he cited an instance when he was almost denied entrance to a client's apartment building despite having been there many times before because a new doorman didn't recognize him and wouldn't check the admit list.
"If I push back, the fire extinguisher is put on me," he said. "It's common practice to be encouraged to stay quiet and to be easy to work with."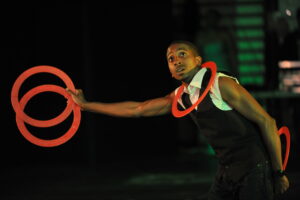 Following George Floyd's murder in June 2020, Paris created a video, "Alright – BLM," depicting his experiences as a Black juggler. The three-and-a-half minute video begins with Paris kissing his baby daughter goodbye before putting on a Covid-19 mask and heading outside. When he sees a police officer across the street he turns the other way to avoid potential trouble. He juggles basketballs on a neglected court that is missing a hoop.
The goal of the video, Paris said, was "to genuinely enlighten" viewers about the Black experience. While the general feedback Paris received about his video was positive, the International Jugglers' Association (IJA), of which he's a member, never featured it.
"They said they're an apolitical organization but when the Taliban took over Afghanistan the IJA posted about that," Paris said.
A former member of the IJA board, Eric Shibuya, said he wasn't aware of the association's policy on political posts. He hasn't seen Paris' video so couldn't comment on it but said that the IJA supports Black Lives Matter.
"The IJA is making strides to increase diversity, but we're nowhere close to where we'd like to be," said Eric Shibuya, an Asian American, who recognizes that juggling is a predominantly white, male profession.
"My job is to make people happy, but I actually live in a very different world than that," Paris said. "The moment I step outside, the world has a completely different meaning for me (than for white people)."
"It became fashionable after George Floyd for many businesses to be on the side of Black people," said Paris. "But many were disingenuous."
After nationwide protests erupted following George Floyd's murder, corporate America acknowledged it could no longer stay silent and promised to take an active role in confronting systemic racism but it's not easy to track measurable results.
Darielle Williams, a Black aerialist in Los Angeles, said she has been in increased demand since the renewed racial justice movement spurred by Floyd's murder. But the demand is leveling out.
"I was almost too busy last year so it's okay, but I'm also concerned," she said. "I have no idea how long this wave is going to last, because I really do feel it comes in waves. Was it just a trend?"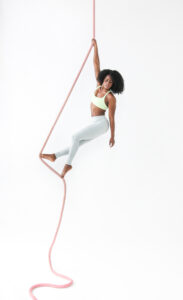 Williams was the aerialist in Beyonce's Formation World Tour in 2016 and performed for two years in Las Vegas' "Le Reve," as the only Black female.
Of the "Le Reve" experience, she said, "I could only describe it as a kind of frat boy environment and humor" where everyone was picking on each other. "All the jokes pointed at me were about being Black and it was all the time, and it was just exhausting."
This month Williams will be performing in the all-Black "When the Rainbow is Enuf" at the San Francisco Aerial Arts Festival. 
"When the Rainbow is Enuf" is based on the play, "For Colored Girls Who Have Considered Suicide," by Ntozake Shange and features six Black people's experiences with race. The aerialist show is choreographed by Veronica Blair, who created the Uncle Junior Project, a digital exhibit on the history of Black circus performers.
"It's very rare to have an all-Black circus show in general, and especially for it to be on topics that affect the Black community," said Williams. "We're hoping it's kind of a healing experience for anyone watching."
Williams believes she has been turned down for many jobs because of the color of her skin. "I just want to be treated fairly and just have a fair shot at everything, like everyone else," she said.
Critics say racism has been part of the circus industry at least since the nineteenth century.
"Circus arts has a history of exploitation in which Black bodies were used without their consent for entertainment, and as a spectacle," said Amara Berry, a Brown University student who is researching race in circus for her Royce fellowship. She has interviewed 35 Black circus professionals for her project.
"Right now circus as an industry has an opportunity to right those wrongs by creating more inclusive performance spaces," said Berry, co-founder of the New England Black Circus in Rhode Island. "And yet all of the Black circus professionals I've spoken with have felt that there was barely space being made for them and that the door closed behind them."
That opportunity to create racial diversity hasn't yet been seized, according to Black aerialist Shenea Booth, whose stage name is Shenea Stiletto.
"I still don't see a lot of black and brown bodies onstage. I am looking for them very avidly and very pointedly because I want to see that change and I want to see it quickly, but I don't," said Booth.
Currently a freelance hand balancer, Booth balances her body in flexible positions while in a handstand, on a sparkly rotating platform in the shape of a stiletto shoe. There have been many experiences in her career, she said, when she has been passed over for a job by someone who is less experienced and white.
"Most of my conversations before this were always about just my love of the sport, my love of circus, and just how grateful and fortunate I am to be in this environment, which I really am," said Booth. "But now it's important to speak on all of those other things that have made it really difficult and have shaped my career too, and kept me out of a lot of things."
Booth starred in "Varekai" by Cirque du Soleil. She was a finalist in the first season of "America's Got Talent" and appeared on Australia's "So You Think You Can Dance." In addition to performing, she hosts the podcast, "Live Like an Acrobat" and is working toward getting circus arts to be recognized as an art form by the National Endowment for the Arts.
Despite the International Juggling Association not featuring Paris' video, he said he has developed a great partnership with the association over the past two years and is encouraged by conversations about racism in the circus community, in general. He helps to facilitate discussion groups on "race in juggling" and said he is seeing an effort to include and showcase Black performers.
"We don't want race to be used as a reason to exclude us," said Paris. "But make no mistake about it, we have to talk about it."