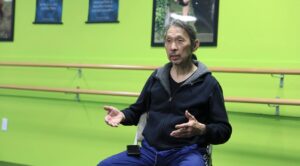 By Wenjing Ding
Hate crimes against Asian Americans have risen dramatically since the start of the pandemic. Elders are not just afraid of the virus, they're afraid of being attacked, learning martial arts is the best way to gain confidence and good health as hate crimes increase.
At the age of 70, Michael Zhang is the oldest known practitioner of the New England Championship Wushu Academy in the Boston area. But just a few years ago, he had lots of health issues.
He has bad hips, shoulders, and knees but has a great attitude that keeps everyone motivated on the mats and a smile on their faces.
"We're in troubling times," said Zhang. Elderly relatives have been "menaced" around town recently, he said, while friends are outright scared to be defenseless out on the streets.
Now life in his beloved hometown is unrecognizable these days. While the Boston native of Chinese descent always felt safe living in Chinatown, life here has changed radically since the pandemic first overwhelmed the city in March of 2020, which prompted unprecedented — and unwarranted — violence against Asian citizens due to COVID-19 having originated in China.
"I'm not just afraid of the virus, I'm afraid of being attacked — it's sad," said Zhang, admitting that his sense of well-being has been affected as well.
"I always felt relatively safe all these years — I'm a pretty independent person," he said. "I used to go out for a walk late at night and now I don't go out anymore — it's a seriously safety issue."
In addition to the physical training, Michael Zhang said the most important thing she has learned from the classes is "to be very aware of your surroundings."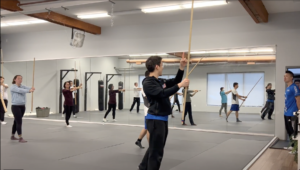 Michael Zhang was born in Hong Kong. He has liked watching Bruce Lee's movies since he was 8-year-old. Wing Chun and Tai Chi is his favorite kung fu style.
"You are never too old to train or start martial arts. "Michael  said.
Zhang and approximately 15 other seniors are learning fundamentals in street smarts with martial arts instructors. Zhang was a lifelong dancer, and always preferred dancing shoes to boxing gloves, but he's embraced his newfound sense of power. "I watch Bruce Lee and martial arts movies. That stuff works," he said.
Calvin Wang, Michael Zhang's martial arts head coach – started martial arts at the age of 5. He is a multiple gold medal winner in various competitions. He wants vulnerable populations to be proactive and works with students well into their 60s-70s on striking and punching drills during the weekly Tuesday class for seniors.
"The simple goal is just to empower the elder's students to be able to go outside, to do their chores, go to walk, and just get home safely, be aware of threats before they happen, and give yourself time to get away," ​Calvin Wang said.
"I definitely feel that we've empowered them — they may not turn into Black Widow, but they can go out and have more freedom." wang said.
Zhang said that his family member too has been the victim of harassment in the city recently, and his daughter was verbally assaulted on public transportation, where he was told to "Go back to your country."
​Calvin Wang said his students — many of whom are lifelong residents of the city or immigrants — all confide in their newfound sense of fear. "They say, 'I'm watching these videos online and I'm scared — I don't know what to do if someone attacks me,'" said Wang. "They don't leave the house unless it's absolutely necessary."
Wang is happy to share the fundamentals of self-defense, focusing on striking and spatial awareness drills. He believes that avoiding dangerous situations — by staying in groups and being aware of one's surroundings — is the best way for seniors to stay safe.
Michael favorite martial arts is called "Wing Chun". The Wing Chun style is known for placing emphasis on technique rather than strength. This style also calls for practitioners to stay relaxed while fighting, allowing them to achieve a kind of "softness" or flexibility.
Zhang said that he insists on taking martial arts classes twice a week. After two years of practice, martial arts tremendously help him with building that muscle strength as well as overall endurance. His previous health problems have been significantly alleviated.
Martial arts not only can significantly help alleviate memory loss or slower reactions symptoms. But also can help build muscle strength and protect their bones from atrophy through practice.
"Now I know what to do in case something happens — I won't be caught flat-footed," said the septuagenarian, adding with a dash of bravado what a quick study he is. "I'm 5-foot-4, but I can pack a punch. Sometimes when I fight, I'm strong — I can really hurt someone. I try not to punch them back too hard. I look like a weakling, but I'm not."
Not only that, Michael Zhang mentioned enlisting in and taking martial arts classes gives him a chance to make new friends and build a community. People in martial arts classes share a common interest in the sport. This all builds teamwork and a sense of camaraderie. This is also a key reason for him to join martial arts classes because he needs to be able to socialize and feel welcomed in things that foster that type of behavior.
The weekly classes are bankrolled by the New England Championship Wushu Academy, which focuses on sustaining mental Health for elders, physical fitness, and helping elders make friends and build community. "We both have elderly parents who are very deliberate about the hours they pick to be out in the streets," said ​Calvin Wang.
While Zhang said he'll continue self-defense classes for the foreseeable future, he does have one plea. "We are one big family, we should care and love each other. It's a terribly anxious time — I hope we all unite and endure this together."