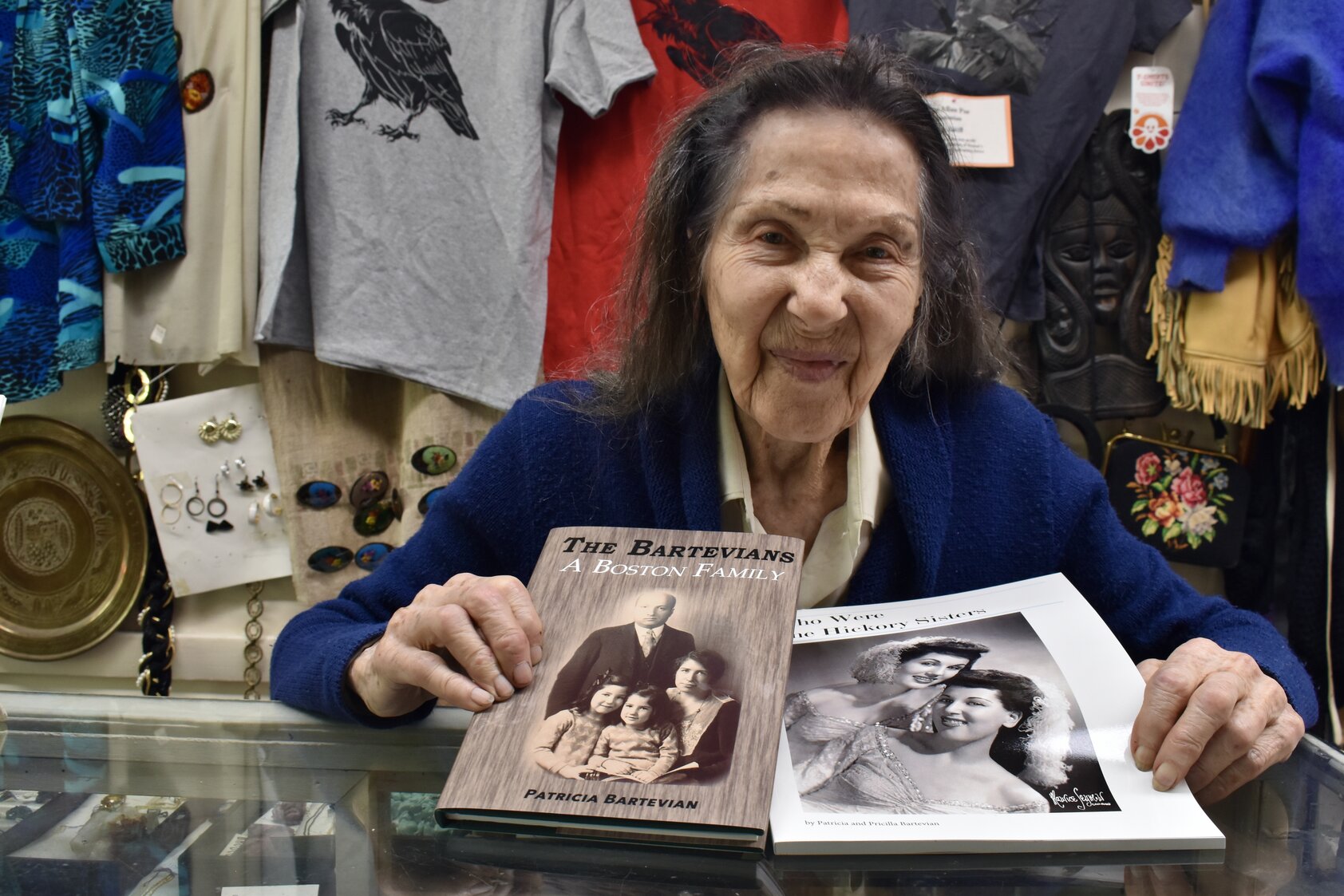 By Mina Rose Maurnais
Boston's oldest antique shop owner is about to turn 100.
A thin arm reaches the doorbell buzzard. A loud BZZZ informs people they can open the door. They walk into the building. Some walk upstairs to the other businesses while others walk into the antique shop.
Some take notice of the woman to the left. The woman behind the glass door, the one behind the glass showcase, the woman in the corner looking at pedestrians pass by. She's Patricia Elizabeth Bartevian, known as Pat.
"I find people absolutely fascinating, each person is so unique and different," said Bartevian.
Who is Patricia Bartevian?
Bartevian turned 99 years old on September 23, 2022. She lost her sister, Pricilla Genevie Bartevian, to lymphoma cancer about 20 years ago. They were only two years apart.  She lost her father first. Krikor "Gregory" Bartevian died in 1982. He was 102 years old. Her mother, Vera May Retan, died later. She was 98 years old.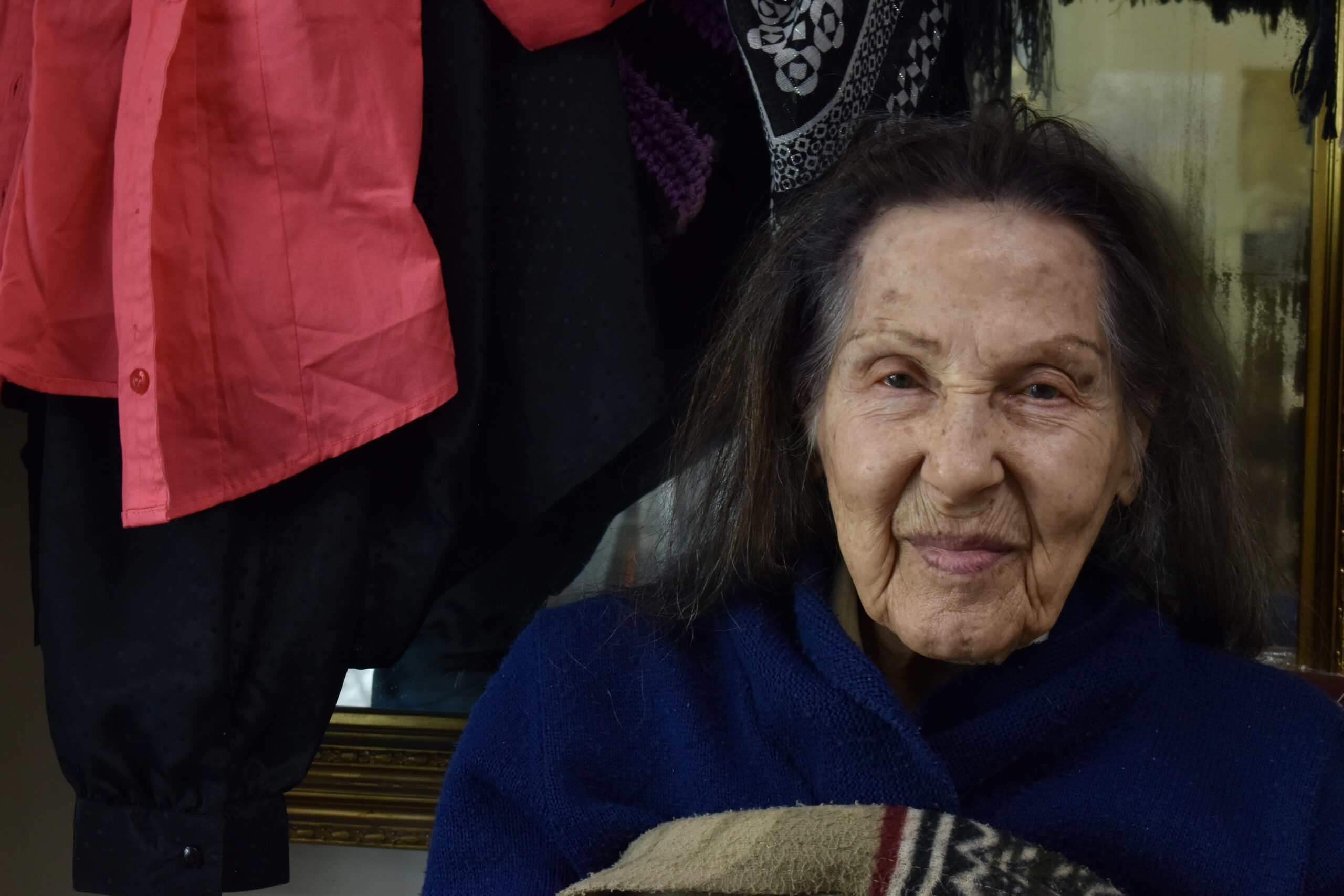 Before dying, her father held Bartevian's hand and said, "It's up to you to bring the ship safely to port. Now, it's my time to go," according to her book "The Bartevians A Boston Family."
Her paternal aunts and uncle never had any children. They lived and died in New York. Only one of her mother's sisters had a child—Robert H. Goodwin known as "R.H." He was a lieutenant colonel in the air force, had a motorcycle accident while stationed in Germany, lost his memory due to the accident, and committed suicide due to his loss of memory. Like her sister, Bartevian never married or had any children. She is the last Bartevian in her family.
"Me? I haven't had anything. I'm a tough, old girl," said Bartevian when asked if she's had any illnesses.
Before taking over her family's antique shop, Bartevian and her sister attended Emerson College and graduated with degrees in theatre and radio writing. She and her sister formed the performance group called The Hickory Sisters. They made it to Hollywood but came back to Massachusetts to help their father with their antique shop, according to Bartevian.
The Bartevian Patriarch Lands in Boston
Gregory Bartevian first came to the U.S. in 1905. He was 19 years old when he left the Ottoman Empire. He was an Armenian man. He landed in Boston, Massachusetts in 1905 via the RMS Empress of Britain from Liverpool, England. In 1910, he opened an antique shop and helped people through consignment. Retan who worked nearby as a secretary to the editor of The Atlantic would visit Gregory's antique shop. They eventually married and had Pat and Pricilla.
"This is papa, and mama, and the two little girls," said Bartevian in a childlike voice while pointing to the people on the cover of the book she wrote about her family.
"I'm the only one alive," said Bartevian.
Becoming an American Shop
In the 90s, when a hotel was moving next door before Emerson College bought it, Bartevian was having problems with the hotel's construction.  John LaFleur heard about Bartevian's concerns with the construction next door and stepped into her shop to offer to buy her place.
"Nope, I'm leaving it for charity," was Bartevian's response recalls LaFleur.
The Bartevian Inc. is an antique and consignment shop. It is located on 160 Boylston St. #160, Boston, Massachusetts, 02116. Prior to moving to 160 Boylston, it was first on 51 Charles St. in 1910 when her father first opened the shop. After Charles St., he moved the shop first to upper Boylston, 480. The shop was located first upstairs and then it moved downstairs. He also had a store on 118 Newbury St. in the 50s or 60s, which Bartevian and her sister managed. Later he moved the shop to lower Boylston, 385. Until finally he set shop on 160 Boylston where Bartevian is located to this day.
Bartevian's antique shop contains two rooms plus an upstairs. In addition to her antiques and the jewelry her sister made, the rest of the items in her store are consignment.
"She's helped out a lot of people," said Scott LaFleur who has known Bartevian for about 20 years.
"With every person, you help you are helping yourself," said Bartevian, after thinking, shortly after Scott left her store.
 The City Doesn't Do Much for Pat
Scott met Bartevian through his brother John LaFleur. He visits Bartevian often at the store to check how's she doing. She sells Scott's plush toys in her store. She also sold LaFleur's books in her shop.
Scott refers to Bartevian as the city's "hidden gem."
"It's a shame that the city has never done anything for her," said Scott.
The city hasn't done enough to recognize Bartevian, according to Scott.
She helped the city of Boston recognize poet Edgar Allen Poe by raising the funds to create and erect his statue at the intersection of Boylston Street and Charles Street. She also helped GrubStreet Inc., which is a writer's guild, get started. She helps people through consignment, according to Scott.
"You know why? because she helps people," said Scott when asked why people like her so much.
People upstairs rent office space from Bartevian. English First is an organization dedicated to teaching English to immigrants. Emerson College rents from her too. She gives each business a modest rent deal for a place like Boston Common, according to Scott.
Emerson College has been trying to buy her entire building for years, according to Bartevian.
Legacy Will Continue Through Shop
Bartevian realizes that she is the last Bartevian in her family. At 99 years old she is thinking about how her family legacy will continue. She needed help making her store into a nonprofit. LaFleur is helping her turn the antique shop into a foundation for when she is gone. The foundation will be called the Bartevian Nonprofit Family Trust. It will also consist of her family farm in New Hampshire—the Jaquith Homestead.
She envisions the entrance of the shop remaining like what the store looks like today filled with showcases containing antiques. Bartevian wants the backroom to be The Poe Room, reserved for artist readings, book signings, etc.
The foundation will maintain an element of antiques, but LaFleur doesn't know what component yet.
"She is one of a kind and she is a dying, no pun intended, she's just a dying breed of a human being. Everyone who meets her just falls in love with her, and wants her to you know live forever, and so my goal is to ensure that her legacy lives forever," said LaFleur.