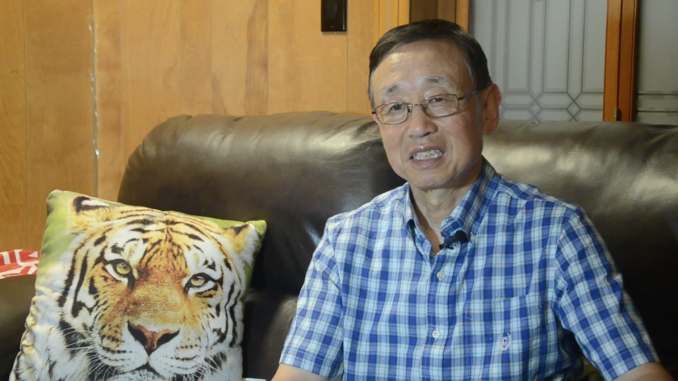 By Yaling Hou
Meet Anping Shen–A feature video about a Chinese-American educator's parenting stories
Anping Shen steps out of a brand new building with spacious floor to ceiling windows in Malden. The educator who works in the Department of Elementary and Secondary Education as a specialist. He presses the button of his car key to head to Newton where he and his family are living.
Shen was born in Jiangsu Province, eastern China. He experienced and witnessed Down to the Countryside Movement and missed an opportunity to go to colleges until the Cultural Revolution ended and reopened university's recruitment in 1977. These personal experiences deepen his thinking in education.
Getting into Suzhou University at 25-year-old might be abnormal but never too late. After taking a job at the school as an instructor, Shen looked at his potentials and put his eye even farther. He applied to Boston University's grad school program in Education. After separating from his wife and his one-year-old son for around 2 years, in 1989, the family reunion in America and started a brand new life as a Chinese-American immigrant family.
Thirty years later, besides an educational specialist., he is also a member of the Newton School Committee elected by local citizens in 2018. He was a board member of Newton Chinese School and president of the school from 1994 to 1995. Among these titles, "Dad" is the proudest one he has.
His son, Yue "Jason" Shen, went to Stanford University and now lives in New York City as an entrepreneur. His younger daughter, Mao "Amy" Shen is currently a sophomore student at Cornell University.
"Jason's book Stanford Spirit was still at the Stanford bookstore when we visited last time," Shen said in Mandarin. "I was so surprised! His book was put beside other outstanding authors."
Working for the government, playing an important role in the community, and having two children who went to Ivy League schools are all signs of success.
However, Shen said he hasn't felt relief after achieving success. He has reflected on himself. During these 30 or more years as a father and an educator, he said he is wondering what more he could do to offer some suggestions or helps to Asian parents.
"I am very lucky to have been given eastern and western educations and also study education from both sides," Shen said in Mandarin.
He said that the more he was involved in America society, the more responsibilities he had that could serve the community and help other new immigrants understand cross-cultural parenting. He has walked that path himself before, and he is still learning as a first-generation immigrant. He feels for these parents and knows what they're going through.
Identity confusion—Losing the heritage language
After moving to another country, facing language and cultural barriers, and acquiring limited social networks and resources, parents in the Asian community need help from professionals.
"My wife has communicated with other South Koreans in the community, I only communicated to… a few people in my job," said Young-Yun Kwon, a South Korean-American father, "I really like, I really want to talk with other people. But I cannot because of my poor language skills."
Children use English to meet more academic needs as they grow older. At the same time, their first-generation immigrant parents are unfamiliar with these academic words and knowledge, the conversation around the house will be difficult because of a growing language gap. Over time, children will stop talking with their parents about schoolwork and lives, according to Shen.
"That is also the main reason why some American-born Asians or even other races lose their heritage languages," Shen said. "They feel that they don't need it."
However, linguistic loss brings identity confusion. Most of the Asian American children used to suffer or are still suffering these questions, like "who am I" and "Where do I belong".
Samantha Wong's family immigrated from Hong Kong, China to the United States. She cannot speak Chinese because her parents didn't want her to learn.
"They were afraid I would have a weird accent if I learned Cantonese or Mandarin, and my schoolmates would laugh at and discriminate against me because of that," Wong said. "After I grew up, I realized how important it is for me to have the ability to speak my heritage language."
Even though Wong believes that she is a normal American girl, this kind of conversation happens often.
"Where are you from?" "Boston." "I mean, w-h-e-r-e do you come from?" "Hmm, Boston Massachusetts." "No, I mean like the country, you know? China, Japan, or South Korea like that?" "… I was born in America. So, I guess… I come from America." "Do you speak Mandarin?" "No." "Cantonese?" "No…"
"Americans don't think I am American," Wong said. "And when I travel back to China, they don't think I am Chinese as well. I don't have a strong sense of belonging."
"Thus, I think encouraging children to learn their heritage language is important," Shen said in Mandarin. "It will help children to know their identity better and then bring them more confidence."
Shaobing Su, just graduated from Tufts University with her Ph.D.'s degree, has the same perspective. She interviewed Asian American students and collected over two hundred responses for her raw data.
"We have to talk about it. Even if the child feels that he/she is an American, it is very likely that someone around them will not accept that. This unacceptance is often a part of the child," Su said in Mandarin at an "Asian American youth development" workshop in Lexington.
Su made a metaphor: Chinese cultures and American cultures are the left and right hands of the child.
The Asian faces of children are obvious. It is impossible to get rid of this identity. Parents need to help their child accept, recognize, and even appreciate that identity. If the children don't like their left hand and feel that the hand is not good enough or even defective, it can't be removed. The children may hide who they are, and try to be the kind of person they think others want to see.
It causes cultural stigma sometimes. When others maliciously evaluate their "left" hands. They will think the hand is not good.
How to solve the problem? You can read this Mandarin article Is Chinese second-generation identity a puzzle or confidence by Yaling Hou or watch Chinese American Children's Growth Seminar video (the video courtesy of Shaobing Su).
Teaching and Learning
"I always believe that the best education is from the family. Parents are the best teachers of their children," said Shen in Mandarin. "However, some traditional education mindsets from my heritage country should be looked at dialectically."
Shen said that Chinese or Asian education focuses more on "teaching" (教) rather than "learning" (学).
Learning is a motivated action and being taught is passive behavior. While the process of learning that can truly intrigue children's real interests is number one.
Parents teach or let their children learn something that they think their children should achieve, but many of them rarely think whether the learning process is a happy or painful process for the children.
"There is a story about my son and me," Shen said. "I know he enjoys reading and writing a lot. However, I still forced him to read and write an article one day. The reasoning that pushed me to do that was not that he was playing a game, instead it was only because he got a B+ in his writing class."
Killing children's interests to cater to the gratification of grades is a common thing that happens in Asian American parenting.
Shen has a "WE CARE" theory to illustrate more details about his parenting philosophy.
Among them, "E" represents enjoy. "I truly believe that learning should be a happy process," Shen said.
Shen, like many other education specialists, is still dedicating his life to improving and developing children's educational opportunities. Helping families with a need to know more about special education in the Asian community has been added to Shen's future schedule.
"We always have that mindset that when children ask 'why' to their parents it means that they are challenging the authority of their parents," Shen said. "Parents and children should learn from each other."