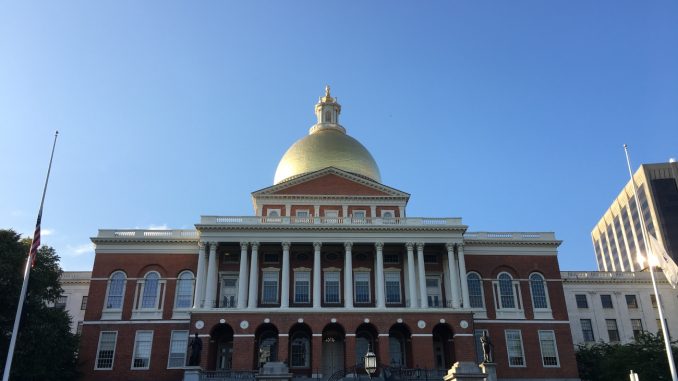 By Nathalie Sczublewski
As the nation reels from two mass shootings in El Paso, Texas and Dayton, Ohio, legislators call for an emergency session addressing gun violence. 
Republican Massachusetts Gov. Charlie Baker, felt "horrified and saddened" upon learning the news of El Paso, Texas. Thirteen hours later, Baker tweeted the following on Dayton, Ohio:
"Difficult to comprehend another mass shooting in less than 24 hours in Ohio that senselessly took the lives of innocent people and hurt many others. We commend law enforcement for their fast response and pray for victims + families. MA's strong gun laws should be a national model." 
Massachusetts gun laws are the strictest in the nation. Giffords Law Center gave the Bay State an "A -" grade on their Gun Law Scorecard in 2018. Measured by every 100,000 people, the gun death rate in Massachusetts is 3.7 — the second lowest in the country behind Hawaii. 
Other states with strict gun laws are New York, California, New Jersey, Connecticut, Hawaii and Maryland. 
Before purchasing a gun, a person must first apply for a Firearms Identification Card (FID) or a License to Carry (LTC). The difference? FID's allows travel, purchase and ownership of non-large-capacity shotguns, rifles and ammunition. With LTC's, it gets complex.
LTC's are divided into two classes: Class A and Class B. Class A permits gun ownership and carrying rights of firearms, rifles and shotguns, including high-capacity weapons, feeding devices and ammunition. Class B do not cover large capacity weapons and it does not cover concealed carry. 
FID's and LTC's are valid for six years. FID applicants must be 18 or older, 15 with parental consent. In order to apply for a LTC, you must be 21 years of age. 
Once a license is obtained, then the person takes a mandatory safety course and become certified. A state and federal background check, finger-based background check and a check with the Department of Mental Health is required. 
For over 20 years, an assault weapons ban has been in effect in Massachusetts. 
After the Las Vegas mass shooting which left 58 dead, bump stocks are outlawed in Massachusetts. A bump stock is a device enabling semi-automatic rifles to mimic a fully automatic weapon. The bump stock ban took place in January 2018. 
Last July, Baker signed off on Extreme Risk Protection Orders (ERPO), or red flag laws. An ERPO directs an individual to surrender their license. A relative or person with ties to legal gun ownership can petition a court if the individual in question displays signs of dangerous behavior, self-harm or wanting to harm others. Once granted, firearms, shotguns, rifles, stun guns, machine guns or ammunition they possess, control or own are confiscated for a year. 
In 2014, the state passed sweeping legislation increasing background checks, improving school safety, attending to mental health issues and harsher punishment for gun crimes. 
Last August, Massachusetts Attorney General Maura Healey and Baker banned 3D gun printing. Anyone seeking to create, transfer or possess a weapon made with a 3D printer are breaking criminal and civil laws. 
"Weapons made exclusively from plastic or that otherwise cannot be detected by an x- ray machine or walk-through metal detector are unlawful, as are 'covert weapons,' weapons designed to look like something other than a gun (e.g., a key chain, pen, or cigarette lighter)," according to a public safety notice. "They cannot be sold, transferred, or possessed."
The law came after a court order blocked the Trump administration from allowing publication plans of 3D printed weapons. Healey joined a multi-state lawsuit blocking the settlement. 
Massachusetts Congresswoman Ayanna Pressley, explains Massachusetts has one of the lowest clearance rates in the country. A Harvard Kennedy School study found between 2004 and 2011, the Boston Police Homicide Unit cleared on average about 44 percent of the homicides investigated. United State law enforcement agencies cleared 63 percent of homicides within that same time period.  
"What is often re-traumatizing, sort of insult to injury, is not only are we being robbed of life due to the gun violence which is a public health crisis and epidemic in our country, we're being robbed of lives on city streets," said Pressley. "We're being robbed of loss of life due to domestic terrorism, in faith houses, at concerts, at schools, but then there's also very rarely any justice." 
Massachusetts State Rep. Liz Miranda of the Fifth Suffolk District says certain communities are not worried about violence, but emphasizes vigilance. 
"They spend a lot of time saying, 'Well, you know this isn't going to ever happen to me, so why should I care about what's happening in Roxbury, Dorchester and Mattapan?' And I'm here to tell them that it matters that much more," said Miranda. "Because one day, it might be your doorstep. And for people that have experienced school shootings or mass shootings where their bubbles have been burst and their communities have been totally impacted, they're feeling a pain that we have compounded for generations."
What's Next?
Pressley, Sen. Edward Markey (D-MA) and Rep. Joe Kennedy III (D-MA) recently introduced the Making America Safe and Secure (MASS) Act. The bill incentivizes states to adopt gun-licensing standards similar to those in Massachusetts, and make it harder for young people, people with mental health illness and those with a criminal history to purchase or sell a gun. The bill encourages safety and storage standards, background check requirements, and provide states and cities with more discretion on issuing and rescinding gun licenses. 
"Instead of becoming numb to the daily carnage of gun violence that plagues big cities, small towns and everywhere in between, we can change our laws to prevent guns from falling into dangerous hands," said Kennedy in a statement. "By strengthening gun licensing requirements, enhancing red flag laws and involving local law enforcement, we can build on our efforts to protect our communities from the gun violence that has left so many families and communities shattered."
Pressley proposed the Resolution to Honor Survivors of Homicide Victims in conjunction to Gun Violence Awareness Month. The bill honors survivors of homicide victims. Pressley hopes the resolution will promote awareness on the traumatic and lasting impacts of gun violence on families and communities. 
"Gun violence is a public health crisis and epidemic and I've long believed and seen the front lines of this with all impacted persons," said Pressley. "With all impacted persons, for every loss of life due to gun violence, an immediate circle of some 10-20 people are impacted. It is the residual trauma that gun violence leaves in its wake and that is choking."
The Louis D. Brown Peace Institute, a healing and trauma support center based in Dorchester, Massachusetts, supported the bill. The center focuses on caring for families and communities impacted by murder, trauma, grief, and loss. 
"It's important for me that all members of society have access to be able to help point people in the right direction," Miranda said. 
During her first week at the State House, Miranda answered a phone call from an elementary school student asking to help those from self-harm and suicide. 
Miranda plans on introducing a bill on Mental Health First Aid. Mental Health First Aid trains individuals in recognizing signs of mental distress and addiction concerns. The training provides steps in assisting someone experiencing a mental health or substance use crisis and where to turn for help. 
"There's a Plan for That"
Massachusetts Democratic presidential candidate Sen. Elizabeth Warren unveiled sweeping gun safety measures on Medium. 
Her plan will reduce the number of gun deaths by 80 percent. In 2017, nearly 40,000 people died from guns in the United States, according to Gun Violence Archive. 
Utilizing executive action, Sen. Warren will enforce background checks for gun purchases who buy online and at gun shows. Her plan will close the "boyfriend loophole," which current law prevents abusive spouses from obtaining women, but does not apply to abusive dating partners. 
The plan applies the 18-and-over age restriction on gun purchases to more sales, direct the Bureau of Alcohol, Tobacco, Firearms and Explosives, revoking licenses of gun dealers who routinely violate the rules. The last action directs the attorney general to prosecute unlawful gun trafficking and investigate the National Rifle Association (NRA) for alleged corruption. 
Sen. Warren's proposal for gun legislature is: