By Yining Chen
4/25/2016
Janaye Kearns would have nearly died on Tuesday, March 29, if her service dog Colt wasn't barking.
Kearns suffers from a brain injury and often has seizures. Two years ago, Kearns rescued a Labrador/Weimaraner mix dog, and trained it as a service dog that can provide an alert for her seizures.
"I rescued Colt because I knew it would be rescuing me back," Kearns said. And it certainly did.
Kearns was walking in a park on March 29, as usual, when she was alerted by Colt. She called her friend Tami Sansbury and told her that Colt had alerted her to an oncoming seizure. While on the phone with Kearns, Sansbury and her son said they heard Colt barking. Sansbury's son knew something was wrong and called 911.
Due to it being dark and at night, it took police an hour to find Kearns in that park. At that time, Kearns was seizing and not breathing until one police officer quickly performed lifesaving measures.
"Colt saved my life!" Kearns said, noting how much Colt means to her. Kearns said that since she's had Colt, she finally could go out by herself, without the fear of not knowing when she was going to have a seizure. For Kearns, Colt is a treasure, so when an untrained dog barks at or even attacks Colt, Kearns gets angry. It's not safe for her or Colt.
The ADA (American with Disabilities Act) defines a service animal as  a dog. However, on Facebook, people show off their "service cat," "service bird," even "service monkey." Those are easy cases, because more and more people know that a service animal should be only dog. But what about pet dogs that people pretend are service dogs?
Studies show only 0.9 percent of persons with disabilities are partnered with service dogs. However, more and more service dogs appear on the streets, in restaurants, or in the supermarkets. Because these dogs wear a  little working vest, it's easy to assume they're service dogs.
However, not all the dogs with service vests are legitimate service dogs; those vests can easily be bought on the Internet. On one website, a service animal vest costs $50.95, and one service animal ID card costs $19.95. People who buy these service animal IDs can expect their pets to go anywhere with them, making it hard to distinguish between those legitimately trained and those that are not.
For example, Wal-Mart is a service dog-friendly store, allowing service dogs to walk in the store with their handlers. However, many YouTube videos show some Wal-Marts also let untrained dogs enter the store. "Initially we ask people for documents to bring their service animal to walk into (the store), but now we don't," said Qunicy Wal-Mart store manager Leo Desousa. "An average of 12 dogs enter our store every day, and I just keep monitoring them to ensure they are not aggressive. "
"It is not OK to bring a fake service dog to public places," said Kearns. "I was so upset and scared when a fake service dog is going after Colt. It's not safe for me and my working service dog." Kearns said she takes every chance she gets to educate people who have fake service dogs about her concerns.
Last month, Kearns said she met a woman who put her therapy dog in a basket at a grocery store. She talked with that woman and made a video. "It is crazy. So many people are confused about a service dog and a therapy dog. They are different working dogs and have different roles."
Kearns is not the only service dog handler to educate people about service dog roles. One place for help is Service Dog Central, a web community of service dog partners and trainers working together to educated people about service dogs. Its goal, the website states, is "to bring you the latest, most accurate, most useful information about service dogs available anywhere."
Besides offering the latest law changes about service dogs, the website also has a forum to discuss different issues related to service dogs, and the problem of fake service dogs is always the hottest one.
Most service dog handlers are trying to stop fake service dogs. They have solid reason: a service dog is too expensive to be exposed to risky situations involving dogs not trained to provide services.
Normally, a well-trained service dog will cost $ 2,500. If one service dog was attacked by other dogs, it may be forced into retirement due to fear or physical damage.
"Often when we are out in public places, I don't notice until it is too late there are reactive dogs and we are too close, meaning my dog can be growled at, or worse, be attacked,"  said Alexandra Stafford, a Service Dog Central community member, handler of a service dog for vision disability. She said the cost of service dog training is extremely expensive, and protecting her service dog is her priority.
" The average cost is about $1,000 to $2,500," Stafford said. "I have personally spent about $10,000 on my first service dog and I'm at $6,000 on my second. But he is not totally finished yet. In total I expect it to be about the same as my first one, maybe a bit more. "
Stafford added that if people with disabilities get their service dogs from a non-profit organization for free, it still would not help to reduce the expense.
"The total cost to train the dog really depends on the tasks your dog is required to do. Mobility dogs are the most highly trained, followed by the rest of the pack of psychiatric service dogs, medical alert/response type, and signal dogs, like hearing alert dogs," she said. "The hardest is when you need what is called a 'cross-trained' service dog, which means training in multiple disciplines such as my boy is. It takes anywhere from six months to two and a half years to properly train a service dog."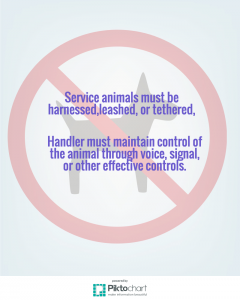 Stafford is wary of the fake service dog business and warns against showing people how easy it is to get fake credentials or badges. Instead she urges "explaining the effects about how hard and expensive highly trained real service dogs are."