By Ashley Fountain
4/30/2016
Advocacy, private support and confidential resources are among the key essentials to providing help for mothers and child witnesses of domestic violence and abuse.
The Advocates for Human Rights, an international group that works on women's rights among other causes, has stated that women who reach out and use domestic violence program services are taking a courageous step. Advocates of Windsor County in Vermont follow this group's guidelines and agree that reaching out for advocacy services provides shelter from the "storm of violence" in the form of legal, as well as various long-term counseling therapies. Reaching out helps the domestic violence survivor with mending the fractures within their emotional health. The Advocates for Human Rights promotes the idea that advocacy must remain confidential to provide battered women a higher chance to achieving freedom from the batterer's violence, including taking steps to ensure that a victim's location, telephone number, and other contact information not be revealed, without the consent of victims. The organization provided a helpful document disclosing the importance of keeping advocacy records confidential with domestic violence victim recovery programs.
Megan Place is a victim's advocate for the Windsor County State's Attorney's Office in Vermont. Place has worked eight years as a victim's advocate to provide support to survivors of domestic violence.
"Women who have suffered severe trauma in domestic violence-based relationships always focus primarily on the perpetrator and getting him help, especially if they do have children. Their focus is never on themselves," said Place. "I work to build a relationship with survivors of abuse to come to a place where they do care about themselves as that's a huge part of healing."
The Trace, an independent, nonprofit media organization  is dedicated to producing "daily reporting, investigations, analysis, and commentary on the policy, politics, culture, and business of guns in America." The organization provided statistics regarding the rates of domestic violence deaths in Vermont, from the Violence Policy Center report.  That report shows Vermont has the eighth-highest rate of domestic violence murders by men due to gun violence out of any state, with 1.58 female victims killed per 100,000 people, as gathered from the VPC 2013 Homicide Data Analysis. The data shows that two-thirds of the victims were shot to death and three-quarters of women killed were intimate partners of their killers.
Executive Director of the Vermont Network Against Domestic and Sexual Violence, Karen Tronsgard-Scott, discusses the importance of gun safety as it relates to preventing further homicides in Vermont.  Tronsgard-Scott shared Vermont's struggle with firearm deaths, noting at one point it was only second to Texas in its high numbers. Efforts are underway to develop further preventative measures.
Intimate Partner Violence not only effects the mother, but her children are also secondary victims as witnesses of the abuse. Boston's Futures Without Violence report shares statistics that show that two out of every three children are exposed to trauma and violence in their lifetime.
Nancy Theriault is also an advocate. Theriault has worked alongside Place for two years. With a background in counseling, psychology and a focus in developmental trauma, Theriault brings her experience of working with children and families to the office. In her experience working with victims of trauma, Theriault said she has seen the long-term impact domestic violence has on children who grow up in homes as secondary victims.
Being a witness to domestic violence, seeing their parent being abused, or being caught in the middle is as damaging to kids as being directly abused themselves, Theriault explained.
The Centers for Disease Control and Prevention highlight Intimate Partner Violence (IPV) as a "serious, preventable public health problem." The term "intimate partner violence" is used to describe the psychological scarring, physical damage, or unwarranted sexual acts placed upon a partner.
The CDC shared the The National Intimate Partner and Sexual Violence Survey, which, concluded on average, 20 people per minute are victims of intimate partner violence and nearly two million women are raped in a year.
Executive Director of the Vermont State's Attorneys Offices, David Cahill, said he feels it is important for people to be educated that domestic violence can be a learned behavior passed on from generation to generation.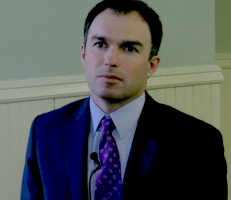 "What has been impactful for me is seeing how a young child learns from the abuser within the home to do what the abuser did," said Cahill. "Kids are so easily victimized by learning the criminal behavior and sometimes they grow to repeat it."
Emergency Department Nurse Manager Cathy Howland agreed with Cahill.  She said children who are around a lot of yelling and loud behavior tend to respond to that in the womb and after they are born as well. She concluded children grow up to reflect the environment in which they were born and raised.
Domestic violence and trauma on children can cause several long-term side effects if early intervention treatment isn't received. One side effect that many don't realize is the likelihood of becoming obese later on as an adult, some experts noted. Along with disrupting the psychology of one's brain function, metabolism is also altered.
"There is an incredible thread of childhood trauma linked with obesity," said Tronsguard-Scott. "The ACES study has shown a connection to obesity in children who grew up around parents with mental illness, lived within domestic violence households or were sexually assaulted during in their youth."
The Centers for Disease Control and Prevention shared The Adverse Childhood Experiences (ACES) Study , a research study conducted by Kaiser Permanente, as one of the largest examinations of childhood abuse and neglect and the impact on later-life health.
Melanie Matson, Director of Violence Prevention and Response at Boston's Emerson College indicated the ACES study is a useful tool to use for children impacted by domestic violence, no matter if they are directly experiencing the abuse or if they are witnessing the abuse. The impact can vary based on the individual, contextual factors, additional childhood adverse experiences and support they receive after being impacted, Matson noted. She continued to explain some factors that aid in victim recovery and feels that not all children will always model the behavior of their abusive parent if they are treated early on for the trauma relating to witnessing domestic abuse.
What are some factors to help victim recovery and what are some helpful intervention services?
Matson: Most importantly, children should be believed and supported. Early childhood and family educators, K-12 educators, child care providers, social workers, and anyone else who works with children should be trained on domestic violence, impact on children, and how to support children and their non-abusive caregivers. If children are believed and supported, they are more resilient to the effects of domestic violence.
If a child witnesses domestic violence are they more likely to become aggressive as an adult?
Matson: If a child witnesses domestic violence, they do not automatically become aggressive in adulthood. Some may witness that behavior and learn those behaviors, others may witness that behavior and seek to do the opposite of those behaviors because they know how traumatic and impactful they were.