By Gwendolyn Joyce Mintz
A smart phone app meant to streamline the process to enter the United States is limiting the number of asylum seekers because of the technology it uses.
Called CBP One, the app was introduced by U.S. Customs and Border Protection's Office of Field Operations in 2020. Right now, the technology can process about 1,450 applications a day –up from 1,000 in May –but the agency typically receives tens of thousands of requests—slowing the process for would-be asylum seekers.
Additionally, in early May, the Biden-Harris administration, through Homeland Security and the Department of Justice, presented a "final rule" in anticipation of a migrant surge with the ending of Title 42.
The Circumvent of Legal Pathways Rule was intended to "incentivize the use of lawful pathways," according to the fact sheet issued by Homeland Security. The rule required persons seeking asylum to have sought it through existing legal processes; or have a scheduled appointment by using the CBP One app and presenting themselves at a port of entry; or having applied for asylum in a third country prior to appealing to the U.S. Anyone not following one of these three courses would be deemed ineligible for asylum.
"President Biden just ushered in a new period of immense suffering for people already enduring violence and persecution," said Jonathan Blazer, director of border strategies for the ACLU, in a comment issued in response to the rule.
In late July, Federal Judge Jon Tigar of the California Northern District Court ruled against the administration, though there are plans to appeal.
Some are surprised that the app said to be created to help the process hinders it instead.
"I think there was some hope or expectation that the Biden administration would be more humane in its approach to this question," said, Neil Harvey, professor and department head of Government at New Mexico State University. "In some ways, it's tried to open up this channel with the CBP One app, but it's also come with very restrictive steps."
For example, Harvey spoke about the requirement of seeking asylum in another country and being denied before a claim could be made to the U.S.
Harvey oversees the National Science Foundation (NSF) Research Experiences for Undergraduates (REU) Site Program on Immigration Policy and U.S. -Mexico Border Communities. The summer program allows undergraduate research and collaborative projects that focus on border issues and immigration policy. Students attend asylum hearings, visit detention centers, and meet with migrants.
"In arguing that migrants need to request asylum in other countries before they reach the United States," Harvey said, "in order to be eligible to request asylum in the U.S., according to the Biden administration right now, migrants would have to show at the border that they did apply for asylum in a third country and that they were denied it."
Students in the undergraduate research program interviewed migrants housed in a Las Cruces, New Mexico shelter run by Border Service Corps, an organization servicing asylum seekers.
Harvey said that in the testimonies collected this summer through the work that they did, it's "obvious" why a person from Venezuela is not asking for asylum in Guatemala or Honduras or Mexico.
"The violence there is not that different from the conditions that they're fleeing," he said.
In political rhetoric, Harvey said migrants often get reduced to an anonymous mass or statistics. "But with meeting with people, face-to-face, listening to their stories in migrant shelters in our border region, you get to hear why people are leaving and what they need.
They're coming to contribute as immigrants have for a long time and they're fleeing conditions that anyone who knew, or heard about, would not wish to be in themselves, he said.
Under international law, anyone can seek asylum once they set foot on American soil. According to the International Rescue Committee, the right was incorporated into international law following the atrocities of World War II.
The approval rate for asylum seekers in the El Paso Sector is low, said Kenneth Ferrone, executive director of Catholic Charities of New Mexico in Las Cruces. In other parts of the country, the approval rate is higher, he said.
"What that means is if you come to the border checkpoint and ask for asylum, your chances are, as the process moves forward, of getting approved is only as low as three, maybe 4%. So, most migrants, most immigrants understand that it's a very difficult process," he said.
Listening to the national media does not give a "true understanding of how difficult it is to get asylum," Ferrone said.
Still, most immigrants that are coming here to the border are very hopeful after their long journey that they can receive asylum, he said, though that may not always be the case.
Syracuse University maintains a site called Transactional Records Access Clearinghouse, TRAC, which monitors asylum hearing decisions. One can compare how asylum court decisions vary across the country.
Title 8 and the implementation of CBP One had a "chilling effect." Some immigration advocates, Ferrone said, feel that Title 8 and other Biden administration changes are similar to those of the Trump administration.
Ferrone pointed out the judge's ruling on the Biden administration's asylum policies showed how the policies were "not in congruence with the immigration policies of the United States," he said.
The CBP One app was created to have a more orderly process, he said, but it fell short for several reasons. "They were only taking about 1,000 applications a day whereas you had tens of thousands of people trying to get on the app. Immigrants were on their phones 24 hours a day trying to schedule an appointment, with no luck."
Another problem with the app, according to Aaron Flores Morales, one of the directors of Centro de Esperanza, a migrant center in Mexico, which assists persons with their asylum applications, was the technology. He said they had to increase lighting in one area because the app would not recognize darker tones of skin. Still, the organization is up to 25 applications accepted for asylum hearings in the U.S.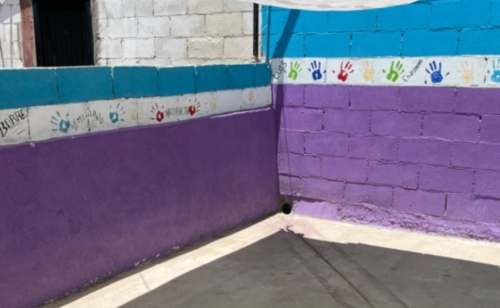 Ferrone thinks there is an anti-immigrant sentiment that is both pervasive and persuasive in the society. Done through xenophobia, it "means to scare people about the stranger, the other."
He said he believes there are certain pockets or groups that feel they gain by "demonizing immigrants and migrants."
"Now I'm not saying that every one of them is perfect. There are individuals that we know have come across the border that shouldn't be here. Most of the individuals we work with are good people. This negative border narrative is very destructive for our country," he said.
Anti-immigration, though, Harvey said, is part of this country's past. Periods of anti-immigrant sentiments have been "quite strong and violent" at certain points in history.
"We've had Republican presidents, Democratic presidents, and still after 36 years, there's been no comprehensive immigration reform. That is unacceptable," Ferrone said.
"What we're seeing currently is that immigrants are being used as what we feel are political pawns. That's allowing elected officials to get to raise money and votes based on the plight of these poor immigrants and asylum seekers. That is just not right," he said.
Harvey said in the past 30 years, there has been a shift in the direction of anti-immigration. He said particularly in the past six to seven years, the feeling has become used politically and in national elections as the tool to win votes from people "who may not know a whole lot about what is going on, but are swayed by arguments that the border is too open and we need to have a wall."
Migration to the U.S. comes in waves, said Mica de la Rosa, engagement and education director of Border Service Corps. The numbers of these waves are determined partly by federal policies that the U.S. has implemented and largely by what is going on in peoples' home countries, she said.
Ferrone said there is a need to get at root causes on why people are migrating.
"Many of the problems that we're dealing with across the border start in other countries. The United States does provide diplomatic support, monetary support for countries in Latin and South America," he said. "However, we really feel that they need to reevaluate those policies."
People are not coming, traveling thousands of miles with family and young children because they feel it's a good thing to do, he said.
"They're being pushed out of their countries. They're trying to escape violence, torture, gang-related violence, repressive regimes," Ferrone said. "I know from the people we've talked to [from Colombia, Venezuela, Cuba] they're glad to be here because the United States has so much to offer, but really they'd rather be at home with their families."
————————————
For more on the National Science Foundation Research Experience for Undergraduates (NSF REU): Collaborative Site Program on Immigration Policy and US-Mexico Border Communities, go here.