Boston Calling Music Festival is a music festival that takes place in Boston. Like all of the events in this series, this is a highly anticipated event for not only Boston locals but tourists. Bringing in hundreds, this event is back and better than ever.
Previously held in City Hall Plaza twice a year in May and September, the event made its debut there in May 2013. In previous years, the festival allegedly drew 20,000–22,000 people, finally reaching about 40,000 festival visitors in 2017. Boston Calling announced in May 2016 that it would change to a single event year and relocate to the Harvard Athletic Complex in Allston in May 2017. The more prominent location would allow for the installation of more music stages and the participation of stand-up comedians. After two years of postponements, Boston Calling finally returned to the Harvard University Athletics Complex this may. For a brief period, as the main gates opened on Friday and the cloudy morning gave way to a sunny afternoon, it seemed as though the festival's fortunes might be turning for the better.
Three difficult years had passed: canceling the festival in 2020 and 2021, locating three substitute headliners for 2022, and organizing a significant event amidst rising COVID variations. However, the atmosphere was upbeat as Paris Jackson and Pom Pom Squad warmed up Friday's early attendees. It had already started to feel positively festive when British glam-rock band The Struts strutted onto the main stage. The three-day event included more than 50 performers, including Metallica and Nine Inch Nails as the headliners. Metallica gave festivalgoers their money's worth by playing two hours of their biggest songs in front of an audience that was more than twice as large as on Days 1 and 2 of the festival. James Hetfield, Lars Ulrich, Kirk Hammett, and Robert Trujillo tore through headbangers including "Whiplash," "Ride the Lightning," and "Seek and Destroy" after a visual introduction that featured Ennio Morricone's "The Ecstasy of Gold" (Boston Calling 2022 recap: Live updates from the festival.")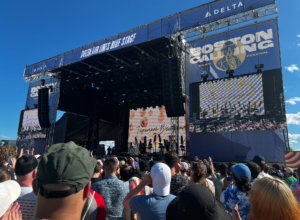 While both Friday and Saturday saw sizable crowds, Sunday saw a steady stream of visitors who provided a vibrant audience for local acts Oompa and Cliff Notez's early afternoon concerts. Japanese Breakfast, who recently appeared on Saturday Night Live, made a name for herself as one of the day's most notable highlights by providing shimmering indie-pop with '80s influences. The fields in front of the main stage area became congested later in the day, between Weezer's singalong-heavy set and Modest Mouse's duty-bound greatest-hits hour. With one of the most prominent Boston Calling audiences, Metallica entered the stage and played a series of classics from the 1980s and 1990s before ending the event with "Enter Sandman(muller, 2022). The festival's busiest year yet, but a success; in the end, it was an appropriate way to wrap things out.
According to most of the updates, most of the crowd got an experience they were looking to find and found value for their money. The presence of the band Ripe was an excellent experience for the public.  The Boston and Berklee-born band Ripe more than made up for their lack of brand awareness with tremendous star power. A crowd that couldn't stop dancing at Boston Calling resulted from a combination of appreciation, comedy, and stage presence. Although there weren't many spectators in front of the Delta Airlines Blue Stage at Boston Calling when they started playing, by the 15th minute, there was a sea of hands raised. Their alma mater seems to have significantly increased their popularity.
However, others were excited to see artists from other walks of life come play at the festival. "My favorite band was Glass Animals. I was stoked they would come here. I don't know why I was surprised but it's cool seeing Boston attracting indie artists." Matthew Barker said on his way to prowl through the food tents. Another excited music enthusiast was Sarah Gibbons, "I never had heard of Japanese Breakfast before. I've already added all of their songs to my running playlist. I never would have heard of them if they hadn't played here."
Fans and musicians sought to make the best of Boston Calling Day 2, even though many used social media to vent their displeasure. Many others suggested on social media that Nine Inch Nails would still save the day after rain on Saturday, causing the event to be postponed for two hours. Boston Calling resumed their performance on Saturday after a two-hour rain delay, with a new timetable and a second set by Nine Inch Nails. At Boston Calling, Nine Inch Nails came to the rescue on a day when nothing else went well. With the original lead singer After a two-hour rain delay and The Strokes' cancellation owing to a positive COVID test, Trent Reznor and company played a nearly two-hour headline concert for the second night in a row.
During the festivals, people got to enjoy a variety of cuisines. The festival's offerings will make you want to dive in. This year's eclectic vendor selection combines long-time fan favorites and ten brand-new additions. Stop by some tried-and-true restaurants, including Roxy's Grilled Cheese and Chicken and Rice Guys, while you're taking in the musical favorites being performed. Jews' delicatessen Mamaleh and the creators of Love Art Sush's Tuesday Sandwich Co., a concept for Cambodian food, are among the newcomers. Walloons will provide sandwiches made with buttermilk fried chicken, while Buenas will offer mouthwatering empanadas from South America. Top Shelf Cookie and The Farmacy Cafe offer "Naughty Waffles," so check them out if you want sweets. Jaju Pierogi, FoMu Ice Cream, and The Smoke Shop BBQ are the final three places on the list that Boston Calling deserves special notice. The best chefs in Boston will be designing specialty dishes ("Everything you need to know about Boston Calling 2022"). Platinum cardholders get access to a more varied dining selection. The event had no covid rules in place; there was no need for proof of vaccination or evidence of negative. However, the event also had nursing stations for pumping or nursing mothers; the event will include private areas. Head to the information tent at the big entry arch, where personnel will direct you to the exact location. All four of the festival's stages are ADA accessible, and ADA restrooms are provided. Therefore, the Boston event was a success. As Sarah Jacobson, a 30-year-old lawyer, said "I've been looking forward to this. I've been cooped up relying on my AirPods and Spotify. Thank God for Boston Calling."