By Jiao Xu
04/27/2014
In March, PeopleForBikes, a nationwide bike advocacy group selected Boston as one of six new U.S. cities to join the Green Lane Project, a two-year program that will assist Boston to build more protected bike lanes, along with Atlanta, Denver, Indianapolis, Pittsburgh, and Seattle.
Protected bike lanes are on-street lanes separated from traffic by curbs, planters, parked cars, or posts. "Protected bike lanes will make a huge difference in terms of making people safer," said Kim Foltz of the city's Boston Bikes program. In 2007,Mayor Thomas Menino established Boston Bikes that aims at transforming Boston into one of the best cities for cycling.
From 2008 to 2013, Boston increased its bike network from 55 to 120 miles, but during that time, only one protected bike lane was installed on Western Avenue in 2010. On Western Avenue, bicyclists are separated from traffic by parked cars. The protected bike lane only exists on one side of the street for one-direction bicyclists. It exists on partial street with two sections.
"Building  a protected bike lane is harder, because they take more space from car lanes," Foltz said. "It takes a little bit more political will to get it done."
For Foltz, the most helpful part of the Green Lane Project is that project staff will train the planners in the Boston Redevelopment Authority and the city's transportation department as well as some policy advisers to the mayor. Project training will help them understand what protected bike lanes are and what benefits they could bring.
"It's a huge piece in moving the needle," Foltz said.
Besides that, Michael Anderson of the Green Lane Project said project staff will also facilitate conferences with peers in other cities, guide city staff and other influential people on study tours in Denmark and the Netherlands where protected bike lanes abound, and offer small grants, about $20,000 to $25,000, to each selected city.
The first major step in Boston's protected bike lane development is the Connect Historic Boston program. It will create safe and easy-to-navigate pedestrian and bicycle connections between Boston's public transit system and historic landmarks.
In the fall of 2013, the Connect Historic Boston program received a $15.5 million Transportation Investment Generating Economic Recovery (TIGER) discretionary grant. This federal grant will fund four transportation projects around downtown Boston. The CHB Bike Trail is the one mainly focusing on building protected bike lanes.
The first phase of the CHB Bike Trail will install two-way bike tracks along Staniford, Causeway, and Commercial streets, as well as Atlantic Avenue. The majority of the bike tracks will be installed on one side of the street. Plus, a small part of Causeway Street will have bike tracks installed in the middle of the street.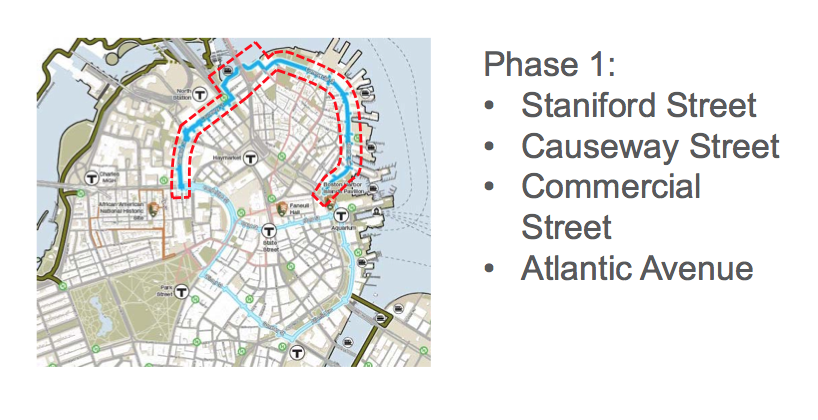 Foltz said the federal grant puts the project "on the fast track." At the end of February, the project team completed its 25 percent design task, and it held a public hearing. By the summer, the design will be finished. In the fall, construction will start.
The grant is also a big reason that Boston was selected. "$15.5 million would only pay for 0.1 percent of the Big Dig, but it'll pay for quite a lot of protected bike lanes over the next few years," Anderson said.
In addition to funding, Boston also has an administrative commitment to the project. Anderson said Boston Bikes Director Nicole Freedman is a highly respected and effective leader, and Mayor Martin Walsh and the city council also seem to be excited about building a better biking city.
"We only work with cities whose leaders are genuinely enthusiastic about biking," he said.
When the Green Lane Project first launched in 2012, Boston applied for the help. At that time, Nicole Freedman left Boston Bikes to become the Executive Director of Maine Huts & Trails.
Anderson said Boston was a strong contender in 2012 but her departure was a main reason Boston failed the first application. Foltz confirmed this.
The fact that there are more than 250,000 students in Boston also helps Boston get selected. Anderson said bikes are especially useful for students, because they tend to live cheaply and close to their destinations. Hubway has been developing by local colleges as Harvard University, Simmons College, and UMass-Boston all have Hubway helmet retail shops on campus. "We're eager to see how quickly protected bike lanes can deliver results in the country's biggest college town," Anderson said.
Boston's age, as a city whose street design pre-dates cars, provided another reason for bike lane development. Today's close and crowded streets bears a resemblance to the Boston streets mapped out in 1857.
"Boston is poorly suited to driving, so biking becomes a more comfortable alternative," Anderson said.
More than 100 U.S. cities applied for the project. "Our goal is to find not only the cities that need protected bike lanes most, but the cities that are ready to lead this trend," Anderson said.
During the application, MassBike, a statewide bike advocacy group; Boston Cyclists Union, a local bike advocacy group; Livable Streets, a local transportation advocacy group; Bikes Not Bombs, a bikes-for-everyone service group; and A Better City, a pro-infrastructure business group all sent support letters to PeopleForBikes.
David Watson, executive director of MassBike is excited about the result. "The expansion of protected bike lanes is just what Boston needs," he said.
Besides Connect Historic Boston, another big project will be the Public Garden project. It will build protected bike lanes circling the Public Garden. It's still in the planning stage.
One-way streets surround the Public Garden. If bicyclists want to go to the opposite direction, they need to go through the Public Garden, which is not very convenient. So some cyclists choose to ride on the sidewalk. "They are either not safe or legal or both," Foltz said. To solve this problem, Boston Bikes proposed a design to build protected bike lanes for both-direction bikers on the street. "It would be a transformational project in terms of transportation impact," she said.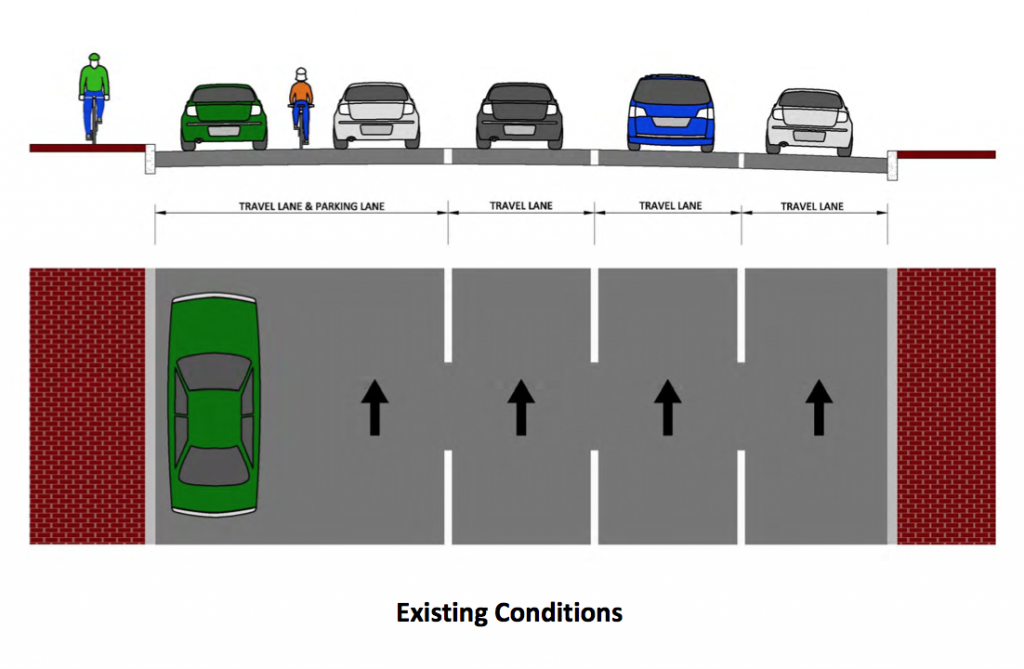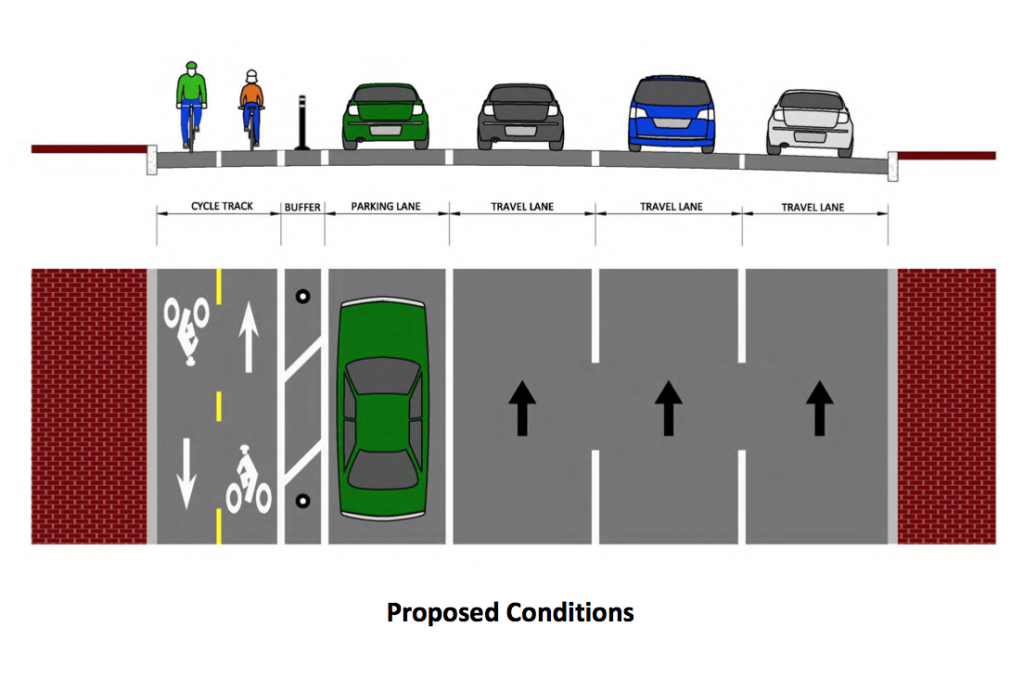 "Mayor Martin Walsh wants to transform Boston to one of the best cycling cities in the world and recognizes protected bike lanes as key part of doing that," Foltz said. "But it's still a bold step."
An important motivation behind Boston Bikes' application is that the project could bring a lot publicity for the work they do. "Getting recognition from the Green Lane Project will help make the political process easier," Foltz said.
According to PeopleForBikes' data, since 2012 when the Green Lane Project launched, the number of protected bike lanes on city streets nationwide has increased from 80 to 142, with more than half of all growth coming from the first six selected cities: Austin, Texas, Chicago, Memphis,Tenn., Portland, Ore., San Francisco, and Washington, D.C. When the project term is over, PeopleForBikes still keeps in touch with the first six cities and updates their new development on its website.
Foltz said she didn't particularly look what the first six cities had done, but this doesn't mean Boston only pays attention to its own development.
"For example, Portland gets a lot recognition, but it's completely different from Boston," Foltz said. "We look to New York City a lot, because we both have crazy East Coast streets."
In 2007-08 Gehl Architects was hired by New York City's Department of Transportation to redesign New York City streets. The designers introduced pedestrian plazas, protected biking lanes and other facilities throughout Manhattan, including Times Square and Broadway.
According to the New York City Pedestrian Safety Study & Action Plan in 2010, from 1990 to 2009, annual fatalities involving all road users have dropped by 63 percent, and 2009 was the safest year on record in New York City history.
"If we point to the decrease in crashes for all users in New York City, people may accept that as a good example for what could happen in Boston," Foltz said. "Protected bike lanes and other facilities don't only make bikers safer, but all users."
Without facilities for biking, bicyclists often ride on the sidewalk. This could be dangerous for pedestrians. Foltz said pedestrian advocacy groups might historically oppose bike programs in general, but now they are allies with Boston Bikes.
"We try to explain what the benefits this project could bring, and work hard to build good connection with pedestrian advocacy groups," she said.
Helle Søholt, founding partner and CEO of Gehl Architects lectured at the Boston Society of Architects Space at the end of January about the New York City project. She said it proves if facilities are available, people's behavior could naturally change.
"In 1960s and '70s, Denmark was like America now," she said. "It just needs time to allow the changes happen little by little."
Foltz, who used to live on West Coast, and biked all the time, noted that bicycling in Boston can seem scary. "When I first moved to Boston, I felt intimidated to get on the streets, so I understand people who don't ride bikes for the same reason," she said. "I hope good infrastructure would encourage people to try biking and do it more regularly."
In the Five-Year Action Plan mentioned in Boston Bike Network Plan, Boston Bikes plans to add 105-mile-long bike lanes. The length of protected bike lanes is about 21 miles.Foltz said now about 2 percent in all commuter trips in Boston are made by biking. Boston Bike Network Plan sets the goal to increase the number to 10 percent by 2020.
"I hope the Green Lane Project becomes the start of the second chapter of Boston Bikes," she said.