By Christina Griffin
When Jennifer LaSala thought she had some food allergies, it got her thinking about how her favorite baked goods could be made just as tasty without the milk, eggs or butter.
The experience left LaSala inspired to open an allergen-friendly bakery so people with food allergies could enjoy a treat when out with friends. "I like being different and helping people who are ignored," said LaSala.
Jennifer's small baking business, then called Sugar Coated Heaven, changed to Jennifer Lee's Allergy Friendly Bakery located inside the Boston Public Market. It is completely vegan and almost completely free of coconut and soy—except for the "cream cheese" and "marshmallows" LaSala makes from scratch with soy ingredients.
LaSala experienced a rough trial period with making vegan desserts. "The first year, it was disgusting," LaSala said.
She threw her cookies at the wall because they were as hard as hockey pucks. She had the passion for people with food allergies, but she lacked the knowledge on what to substitute. She spent free time writing recipes out in a composition booklet, trying different substitutes for eggs, flour and dairy.
Her dad, Pat LaSala, saw the brick cookies thrown time and time again. He said, "You've got to make it daily, or it's like a brick," which means LaSala uses fresh pastries every day.
Her egg replacer is a blend of baking soda, baking powder and tapioca startch. She uses fruit as a sweetener. Her flour is a blend of rice, tapioca and potato. Her butter is oil-based and her milk is from rice.
The Challenge of Opening a Bakery
LaSala started the bakery as a pop-up on the side and worked additional jobs to keep the bakery going. She left her full-time job as Supervisor at J.P. Licks in 2016 when she opened Jennifer Lee's Allergen Friendly Bakery in 2016.
"I started the bakery with $50 in my pocket. Between going to school full-time and working three full-time jobs on top of having the bakery as a pop-up on the side, I definitely spent most of my time growing up just working non-stop to afford the bakery and keep it going," said LaSala.
LaSala was sad to leave her job at J.P. Licks in 2016. But she was working 130 hours a week. She was startled when she fell asleep behind the wheel driving at 3:00 in the morning. She woke up going through a red light at an intersection.
"Nobody was on the road, but I went through one of the intersections in Everett that was like a rotary, very dangerous, and I woke up going through a red light in that intersection and I knew right then and there that I couldn't keep it up. So, I just made that leap and quit my job and just full-time did the bakery," said LaSala.
Jennifer Lee's Allergen-Friendly Bakery debuted at the Boston Public Market in 2016.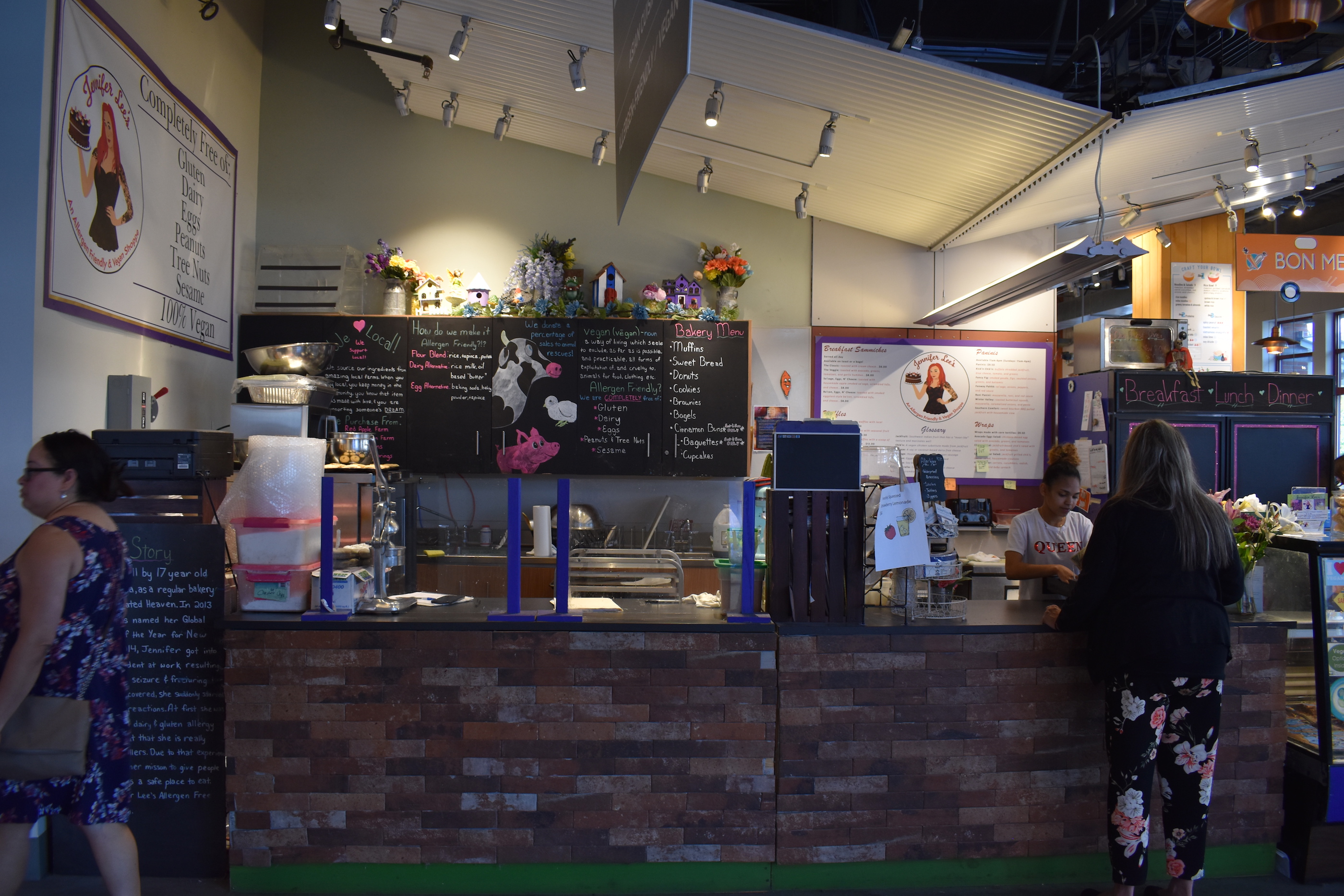 She was then a baker full-time. The first product in her allergen friendly bakery was apple zucchini bread. The recipe was already gluten free and making it vegan was not too difficult.
The hardest product to replicate was LaSala's mom's banana bread. "It was vegan already, but it was hard to make it gluten-free," LaSala said, "It would fall and cave in!"
Two years of testing led LaSala to figure out how to make it just as delicious as her mom's but without gluten. Now it's her best-selling bread and muffin.
Surprisingly, LaSala is not a sweets person—she prefers salty. She loves the aesthetic of baked goods and tries the products she bakes, but a fudgy brownie isn't her decadent choice. She prefers home cooked classics—made vegan—like her vegan eggplant parmesan she sells in the Boston Public Market.
To have an allergen-free bakery, LaSala needed to have her own kitchen because allergen-free products cannot be made in a commercial space. To source items, she buys most of them at Market Basket because supply chains do not keep up with the current trends. Surprisingly, Restaurant Depot isn't selling giant bags of rice flour.
"I still buy a lot of my products at the grocery store because supply chains haven't met up with the demand of allergen-friendly," said LaSala.
On top of these alternatives, LaSala says sometimes employees at stores do not know what she's looking for. It's difficult to find a chocolate made in a nut-free facility. It's a lot of headaches for LaSala.
"There's a lot of headaches to it, because the market has not kept up with the needs of allergen friendly, but it's such a big deal to so many people who just want to feel normal that it's worth all the extra stress for me," said LaSala.
LaSala says people can't believe she's still here.
"A lot of allergen-friendly bakeries have gone downhill, and only last a couple years and then they don't have enough customers as a customer base. It's more of, do you know what you're doing as a business, than who you're targeting and being in such a niche market," said LaSala.
60% of Jennifer LaSala's customers are new, whereas 40% of customers are returning. "I know all of my customers might not have all of these allergies, but it tastes good, so they don't care," said LaSala.
LaSala says her success is due to her customer base, knowing the customers she's targeting, and making delicious products that those with or without food allergies enjoy. "I have customers that have this entire list [of allergies], I have customers that have just one or two, customers that are just vegan, customers that just want to eat a little healthier, and I have customers that have no allergies and just really love my stuff," said LaSala.
Several little kids call her bakery "their bakery." Many of the kids who come by have never enjoyed a cupcake before stopping by her bakery in the Boston Public Market. LaSala doesn't feel like she's a minority amongst bakers.
"I see myself as different, I see myself as an option for people who bakeries neglect," said LaSala. In fact, bakeries in the North End and the Boston Public Market send customers asking for vegan, gluten-free products to LaSala's bakery.
"They send them to me, which is amazing, because you would think that they would brush it off because I'm not a direct competitor," said LaSala. LaSala hopes bakeries in the future will expand their products to meet the needs of those with allergies.
Even though people without allergens eat her products, LaSala does receive scowling looks from passerbys. They scoff at LaSala's three dollar cost for a chocolate chip cookie.
It's more frustrating when people tell me they feel bad for not purchasing anything. It's kind of weird when they do that," said LaSala. Part of the cost is because baking allergen-frinedly is expensive. Her flour blend is three times the cost of regular flours, sometimes six times the cost depending upon where she purchases it.
It's difficult to get prices down, but customers in the allergen community are shocked at how inexpensive her products on. LaSala keeps the cost as fair as possible because she does not think hitting people with a high cost is right.
LaSala broke through a multitude of barriers as a teenager opening a bakery with no capital. She's found her career path to be extremely rewarding because she gets to eat cookies at six o'clock in the morning, be creative, and make people really happy.
"That's my sink, my oven, my everything. It's so nice to feel like this is my child," said LaSala.
The future is daunting for LaSala because she can truly do anything. "It's the scary part of being an entrepreneur—there's no rules and no boss," said LaSala.
For now, LaSala plans to open up a second location in Worcester in August, a third location in the South Shore of Boston and a fourth location in Southern New Hampshire.
Eventually, she would like to open a family farm style place where customers can pick apples and have allergen-free apple cider donuts. The farm will be complete with a petting zoo, "with animals you know won't be on a barbecue next month," said LaSala.
"It's hard to find places that are safe for you and your kids. So, to be able to travel to a place and hang out on a farm with animals and events going on and know that everything is totally safe would help so many people," said LaSala.
https://youtu.be/cAI8KcYY-3E
Watch to see the decadent allergen-friendly pastries Jennifer LaSala whips up in her Boston Public Market stall–and hear how she opens and operates her allergen-friendly bakery successfully.