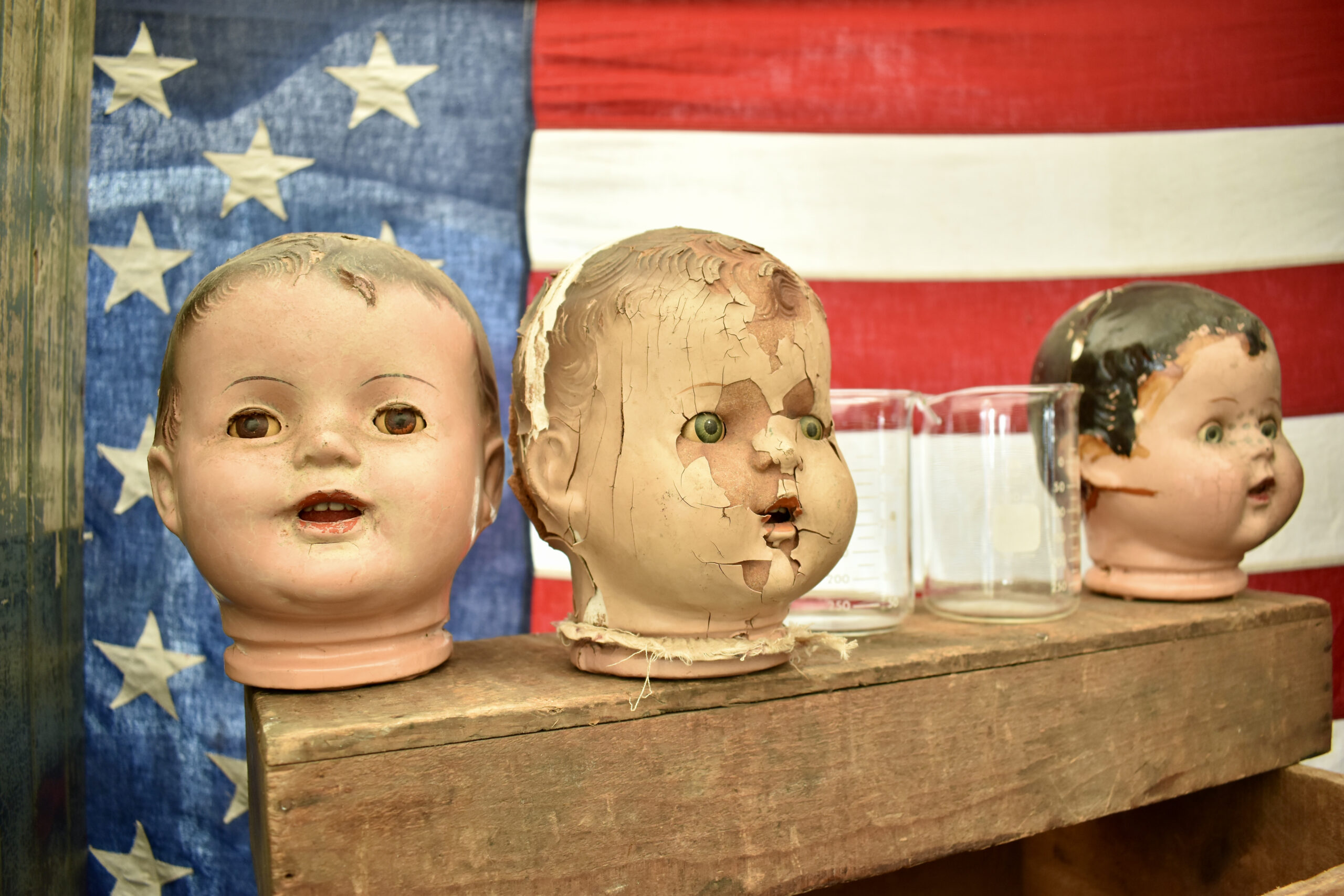 By Mina Rose Maurnais
Brimfield, Mass—The Brimfield Antique show returned in July where loyal vendors and shoppers go to find treasures.
The Brimfield Antique Show is every year in May, July, and September. This year the summer show was for almost a week from July 12-17, Tuesday through Sunday. The antique show is comprised of 23 antique shows and 17 fields. The show was not always as big as it is today.
How It All Started
Ted Bacyk remembers Brimfield when it first started. He knew Gordon Reid, the founder of the Brimfield Antique Show, who died in 1974. Bacyk used to go to auctions in Brimfield with his uncle John Ozut when he was about 15 years old. He became a runner for Reid at auctions in Brimfield. He remembers Reid telling him that he was going to start a flea market. Bacyk did not know what a flea market was but decided to go. He remembers the first antique show had 90-100 antique dealers. The vendors had no tents like they do now. Instead, they all sat and placed their items on blankets, according to Bacyk.
Bacyk is 79 years old now and has been going to the Brimfield Antique Show since the first one when he was 15. He collects vintage advertisements that have to do with hunting, fishing, and trapping.
"Because I've got collecting, if it's in your blood, it's hard to stop, you're just going to continue doing it," said Bacyk as to why he continues to go to Brimfield.
Bacyk admits finding the items he collects is very difficult and expensive but that he still does it.
"You have an easier time finding gold," said Bacyk when speaking about vintage advertisement memorabilia.
Finding Treasures
David Bacyk, Ted Bacyk's son, remembers being pushed in a stroller at the Brimfield Antique Show. He is now 57 years old. Like his father, he also collects sporting advertisement memorabilia, except he's been collecting since he was eight years old. He also collects beer and whiskey from the turn of the century. David also remembers skipping school Tuesday through Sunday whenever there was an antique show.
"I'm not proud of it, but if I didn't go, I wouldn't have some of the pieces I have now," said David.
He still has some of his favorite posters from when he used to skip school to go to Brimfield. Some of those posters are from the Hazard Powder Company, which has closed, Smith & Wesson, Winchester Repeating Arms Company, and others. Some of the items he got for $150 are now worth $2,000-$3,000, according to David.
Treasures are found at Brimfield, according to David. Swords from Civil War generals that contain their names engraved on them have appeared at Brimfield. Famous oil paintings by Philip R. Goodwin have been found at Brimfield.
"If you find some of those paintings, you won't have to work anymore," said David.
Hertan Vendors Become Hertan's Field Owners
Arthur Crisafulli and Klia Ververidis Crisafulli are show promoters for Hertan's field, a field that is part of the Brimfield Antique Show. Hertan's Field is one of the 17 fields. They bought the field in January of 2020. Prior to hosting Hertan's field, they were vendors at the show for about 15 years.
"Well, we really loved setting up here. We really wanted the field to thrive," said Ververidis Crisafulli.
The Crisafullis bought the field from David Lamberto who owned the field for about 20 years. Prior to Lamberto, the field belonged to the founder, Jean B.Hertan. She passed away on September 20, 2006.
About 200 vendors came to Hertan's opening day on Wednesday, July 6, 2022, according to Ververidis Crisafulli. The Crisafullis charge vendors $330 for the entire week plus vendors need to get a town permit to sell items for $40. They also charge for parking. The Crisafullis charged shoppers $5 only on opening day to get into the field. About 10,000-20,000 shoppers come to Brimfield in May, July, and September, according to Ververidis Crisafulli.
"People save their best stuff for the shows," said Ververidis Crisafulli, when referring to Brimfield vendors.
Some Vendors Making Hertan Thrive
Jerry Gordon has been an antique dealer for 30 years. From those 30 years, he has set up at Brimfield, as a vendor, for over 15 years and has been shopping at Brimfield for about more than 20 years.
Gordon sells a variety of items especially vintage microphones, vintage musical instruments, vintage and antique lighting, and many other items. He maintains his antique shop–Fun Antiques–in Cambridge, by repairing and restoring lighting.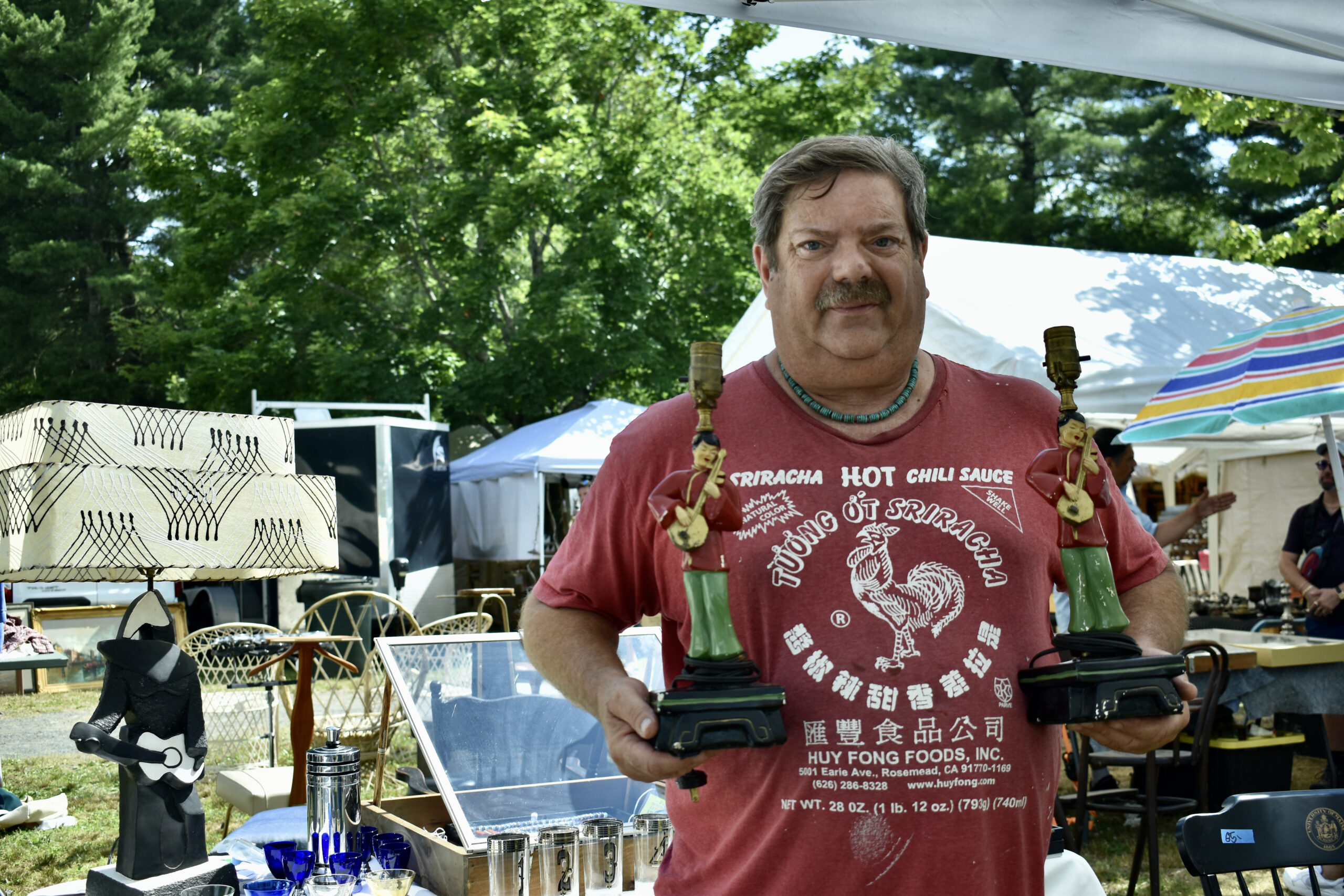 In addition to the July show, he attended the May show. During the May show, he sold an antique microscope for $475 that he got from the widow of a Harvard professor of chemistry.
"Come in. This is the best booth on the field. I think so," said Gordon as shoppers stopped to think if they wanted to look in his booth.
On Wednesday, one of the first items he sold was a half-finished, gold-colored picture frame for $100 and a lemonade. Other items he sold on Wednesday, included a Navajo ring, a candle chandelier from Ben Affleck's mother's house, a diamond ring, light fixtures, and book ends.
"Why Brimfield? It is the oldest and the largest antique flea market in the country, people come from all around the world, and because I've been setting up here for over 15 years, I have a loyal customer following who come and visit me and seek me out and buy my goods," said Gordon.
David Dawson is a full-time artist and welds on the side. He makes art out of vintage objects; antiques; and found objects such as different scrap metals, oil cans, croquet balls, electrical boxes, old springs, old air compression tanks, parts of old toys, coffee cans, etc. His business is called Scrapped and Found.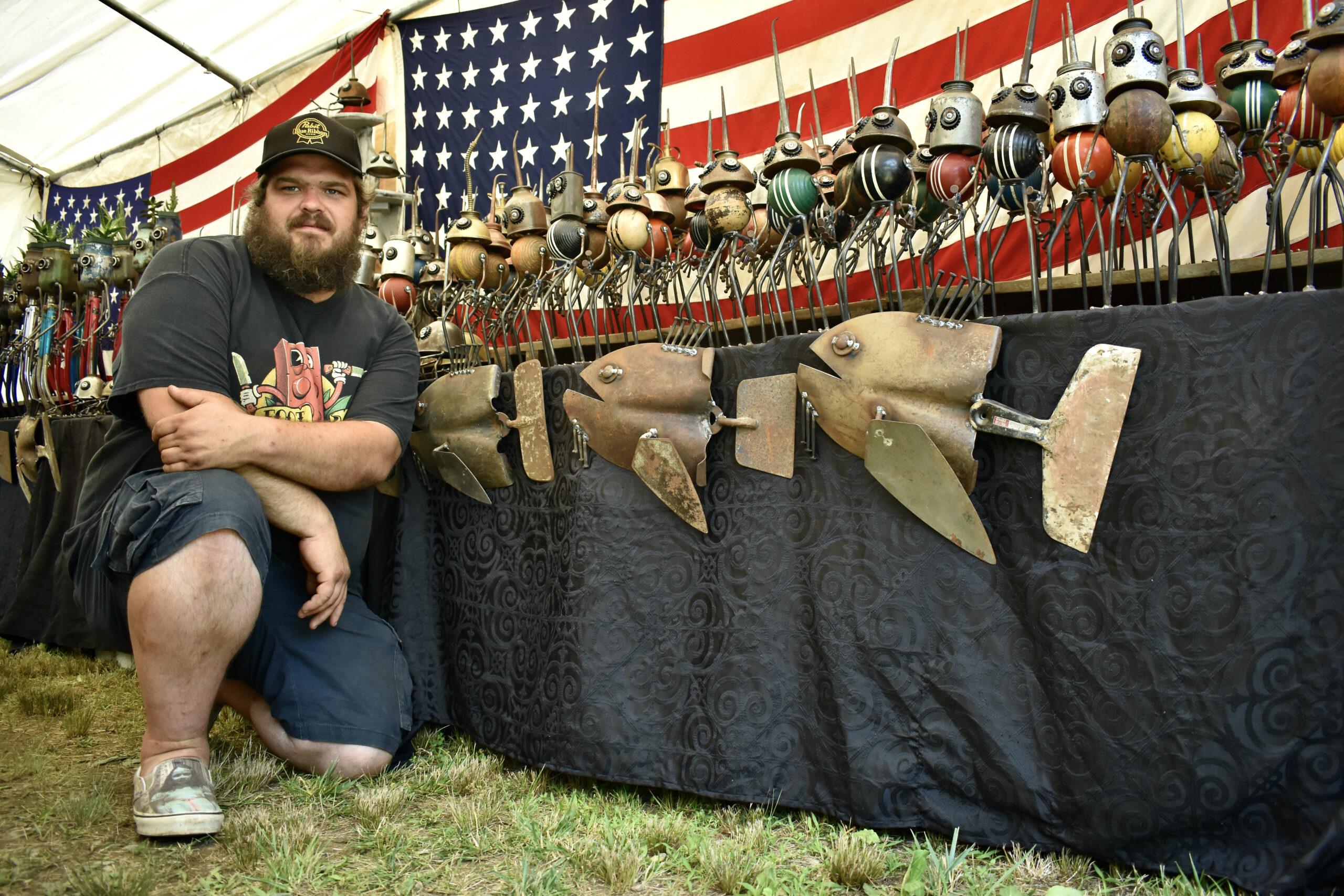 Dawson has been a vendor at Brimfield for seven years. He's been going to Brimfield with his mom since he was a kid about six or seven.
"That's what we would do for fun," said Dawson when referring to going to the Brimfield Antique Show with his family.
He's been shopping at Brimfield since he was 18 or 19 years old.
Dawson comes to Brimfield because it's a historical market, there's a large crowd, networks with people, customers contact him after the show, and he buys art supplies from other vendors.
"If you're into flea marketing, Brimfield is the king of it," said Dawson.
Daniel Silverman and his family have been coming to the Brimfield Antique Show for 25 years. During Wednesday's antique show, he also brought his granddaughter Domenica Lopez who was selling her handmade jewelry and tiles.
Silverman comes to Brimfield because many people from all over the world come.
The most interesting item he was selling was a poster of the movie Hotel Paradiso from the 60s. The feature starred actress Gina Lollobrigida and actor Alec Guinness. Silverman was selling the movie poster with framing for $1,000.
"Well, everyone walking around is looking for something, everyone has a particular like whether it's jewelry, toys, you name it," said Bacyk.