By Steve McGuire
FALMOUTH, Mass.—For some folks, the association of candy with therapy is carried by ingesting the sweets. For the Ghelfi family of Cape Cod, candy as therapy has a different connotation.
Scott Ghelfi is the proprietor of Ghelfi's Candies, one of many handmade candy businesses on Cape Cod. But Ghelfi's Candies sets itself apart from the competition through longstanding tradition.
Scott attributes the company's longstanding success to its people-first approach to business.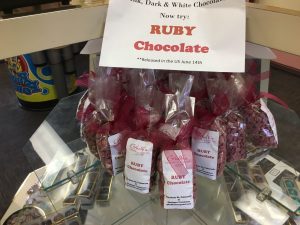 "When I was a young kid and my parents owned the business," says Scott, "that is what they stressed: outstanding customer service. The customer is always right. I think that's our mantra, I guess you could say."
Scott was 12 when his parents purchased Trahan's Candies in Falmouth, Mass.
"I learned how to make candy at a young age," says Scott. "I grew up in it."
His parents, Tony and Rosalie Ghelfi, ran the candy shop with Scott's help for decades before he decided to take a brief hiatus and attend college. Scott entered the workforce shortly thereafter, and his parents sold Trahan's Candies.
In 1988, Scott made his return to the candy industry by opening Ghelfi's Candies with some financial help from his parents. Although it was no longer their shop, candy making was still their trade, so Tony and Rosalie often helped out at Ghelfi's.
In the company's Falmouth location, the first candy shop in generations to bear the Ghelfi name, a long bank of shelves laden with chocolate-covered everythings takes up the bulk of the right-hand wall. The shelves lead customers back toward the ice cream counter.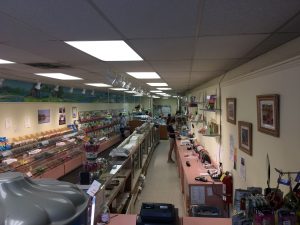 Beyond the tubs of ice cream, an impressive kitchen stretches backward out of sight. The kitchen is the Ghelfis' confectioners cauldron where they conjure up the goods to stock both the Falmouth store and the nearby Mashpee Commons location.
The candy-making methods made their way to Scott's hands from his parents. His parents learned the trade from the Trahan family. According to Scott, the Trahan family learned the trade from the Hilliard family, who have been making candy in the Boston area since the early 1900s.
According to Scott, their business practices at Trahan's Candies set the standard for excellence at Ghelfi's. The Ghelfi family takes a person-first approach to the industry, from production to sales.
"My favorite candy to make is probably almond butter crunch," says Scott. "It takes two people to make, and there's a few different processes to get it all done. It's kind of a social activity. You and whoever's making it, you have a dedicated hour, hour and a half, where you're just with that person."
According to Scott, the process of making almond butter crunch has helped tighten the Ghelfis as a family unit. For years, Scott's favorite partner during the butter crunch making process was his dad.
"Family problems get solved during the process of making butter crunch sometimes," says Scott.
Rosalie Ghelfi passed away Aug. 5, 2019. Scott says the time he spends with his father making candy has taken on a new meaning in the wake of his mom's passing.
"For years, it was just the two of us who made it," says Scott, "so there were a lot of family discussions during that time. Especially with my mom and her illness, it was kind of a therapy session for the two of us."
Beyond the tangible gifts his mother passed on to him as he carried on the family business, Scott received heaps of intangible gifts that have helped make his business successful. According to Scott, one of the greatest takeaways from his mother's operation of the family business was the value of investing in the community. Rosalie was heavily involved with the Falmouth Chamber of Commerce and the Village Association, organizations to which Scott now contributes. He also sits on the board of directors for the Falmouth Road Race.
"Having my own family business, I can make my own schedule," says Scott. "I can find time to do these things. But when it's your business, you feel more invested in the community because it's your name. You want to be out there making the community as good as possible."
Maureen Faria, who manages both of the store's locations, says that Scott is "always giving something to the community."
Although candy production has been part of the family for generations, Scott does not foresee either of his two children taking over the business. Even though his own flesh and blood may not take on the mantle for Ghelfi's, Scott has broadened his concept of family when it comes to his business.
"I think as I age," says Scott. "I'm going to need some candy making help. I'm hoping to hire someone to train to make candy, but I'm hoping I can do this for another 15-20 years anyways. I have had some really good employees that have worked for me over the years that I could maybe in 15-20 years set up someone."
He says he and his family developed and maintain close relationships with their employees, even long after they have left the store. One employee, whose wedding Scott and his family attended, drove from New York in August to attend Rosalie's funeral.
"That part of it, owning your own business and treating people well, you have the big work family that you sometimes overlook. But in times
like I've had recently, you really appreciate them."
Faria is one of Scott's longest-tenured employees, having worked at Ghelfi's for almost nine years. She shares in the tightly knit community that Scott and his family have worked for generations to create.
"[It's the] camaraderie with everybody, his family, the young ladies," says Faria. "They start working for us when they're of working age, and most of them stay all through high school and into college when they come home from the summer. It's pretty tight, and it's nice because everyone knows each other. Everybody has each other's back, and if there are any issues or anything, we can all feel free to go to each other. It's a nice feeling."
The family atmosphere that Scott prizes as the hallmark of Ghelfi's Candies does not go unnoticed by the local customers, like Alexis Pascal, a Mashpee, Mass. native.
"I think it makes a difference," says Pascal. "We'd go there every time we walked the Commons in high school, and I think every cute town needs a candy shop."