Boston Chinatown is losing people due to the pandemic, the high rent has driven Chinese away from their home
Boston's Chinatown is a large community that is always facing challenges. "Our culture, our tradition is losing because Chinese immigrants are leaving the Chinatown," Baolian Kuang, the manager of the Chinese Progressive Association, said. Residents of Boston's Chinatown were already threatened by increases in rental costs and limited employment opportunities when the pandemic started. Now, many residents are on the edge of eviction.
"We are afraid, one day, Boston's Chinatown will become the Chinatown in Washington." Kuang is a mother of two children and a community organizer with the CPA. When she first arrived in the U.S. in 2004, she could not speak English. She stayed in the apartment building with other low-income families, and she was five months pregnant at the time. "For the immigrants who cannot speak English, Chinatown is the only place you can make a living," Kuang said. However, Chinatown is one of the communities that have the most expensive housing markets in Boston. According to the data case for AAPI ANTI-DISPLACEMENT, 73% of people in poverty that are living in high housing cost areas are Asian Americans and Pacific Islanders (AAPI).
The organizations like CPA and ACDC are promoting building the new cheap apartments in the Chinatown area for low-income people. This crisis did not just happen in Boston, and other cities' Chinatowns face the same problem, or even worse, said by Wingkai-To, a professor from Bridgewater University, who has been studying Chinatown's history since 2009.
"The landlords want to evict the Asian immigrants living in Chinatown because they want to build luxury apartments on their lands," Kuang said. Professor To also pointed out that this is a problem that the community has fought for a long time. "The gentrification process will harm the history of Chinatown and the relationship between the immigrants. The old generation of immigrants has lived in Chinatown for almost their whole lives. If they left Chinatown, they would not be able to see their old friends daily anymore, and they had to spend more time going to the market that they had been visited for decades. The community will fall apart just like the Chinatown in Washington DC."
The epidemic just makes this problem worse in the Chinatowns around the country. Without a job to make a living, many low-income Asian immigrant families are at the edge of getting evicted.
A new study from UCLA reports that since the start of the pandemic, 83 percent of the Asian American labor force with high school degrees or lower has filed unemployment insurance claims in California. As of the 2010 U.S. Census, Asian-Americans were 13.6% of California's population, and it is also the state's highest population of Asian Americans.
"Working in Chinatown's restaurant will be their (the Chinese immigrants who cannot speak English) first choice," Kuang mentioned.
According to A Profile of Unemployed Workers in Massachusetts from Bostonindicators, "as of October 11, 2020, restaurants and hotel spending by all consumers decreased by 21.8% compared to January 2020. "
Due to the spread of the virus, dining in has been replaced by taking off most restaurants. Most restaurant owners also don't feel confident about their business's future if the epidemic still exists. National Restaurant Association's COVID-19 Restaurant Impact Survey V mentioned that "83% of full-service operators expect their sales to decrease from current levels during the next three months. "
This is winter for small Chinese restaurant owners. You can easily find restaurants along Washington Street that are temporarily or permanently closed.
The restaurants that are still surviving also have to lay off staff to stay. According to COVID-19 Restaurant Impact Survey V's report, "89% of full-service operators say their current staffing levels are below normal." Losing a restaurant job is harmless to most citizens, but this will be a terrible strike for low-income Chinese immigrants who cannot speak English. They cannot even apply for the Emergency Relief Fund because of the language barrier.
Due to this severe problem, CPA( Chinese Progress Association), ACDC(Asian Community Development Association), Vietnamese American Initiative for Development, Asian American Resource Workshop, and Greater Boston Legal Services united together and set up a fund called ASIAN COMMUNITY EMERGENCY RELIEF FUND. The goal of the fund is to give "direct financial support to people in our community who have lost work and are having trouble meeting their basic needs."

It had accumulated $10000 since January 11th from the donation. The hotline of the relief fund could speak Cantonese, Mandarin, Khmer, Vietnamese, and English. The residents who cannot speak English also can apply for this relief fund without difficulties. To protect the unemployed people who will be evicted from their homes, ACDC also uploaded a guideline called Protect Yourself from Eviction During COVID-19, which helps Chinese immigrants still have a roof over their heads. ACDC and CPA have spent years fighting against eviction for years, and 2021 will be a challenging year.
"What you see today is a result of a long-term fighting," Kang said, feeling confident about the challenging future.
Professor also has a similar opinion. He believes the gentrification will also bring new cultures to Chinatown too. "The places that the food culture in Chinatown also change in the past is very traditional China Chinese Chinatown food, but now they have all kinds of Chinatown food, they have hot pot, they have bubble tea, they have Cantonese, you know, roast duck, they have wonton soup they have, you know, they this like all mixture,"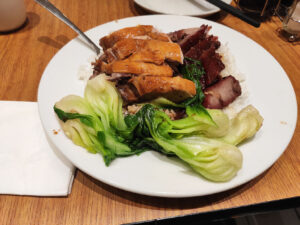 He also remains optimistic about Chinatown's future and believes the community will revive quickly after the epidemic ends. In his mind, Chinatown will still exist if the international students are still there. It will evolve into a Chinatown with a more diverse cultural environment, just like today's Shanghai.