By Yiping Yang
4/29/2013
When Lucia Tian was four years old, she left China with her parents and lived in France, Germany and other countries. Finally they settled down in New Hampshire. Her mother, who at that time was around 35, came with her.
"I think it would be hard to come at 35 and be able to have friends who are of other cultures the way I do,"  Tian said.
Tian's mother was a medical doctor when she was in China. But to take care of her family, especially Tian, during their travels, she gave up her career and became a stay-at-home mother.
"I don't think that was really a big problem for her, being able to function in this society," Tian concluded when she thinks about her mother's life overseas. "But in terms of close friends, or being able to really integrate into American society, that's certainly hard when you came as an adult."
Tian thinks this not only happened to her mother, but it also happens to other Chinese women emigrating to the U.S. "There is such a huge Chinese community, especially in cities like Boston, so it's possible for them to make friends with or hang out with only other Chinese people."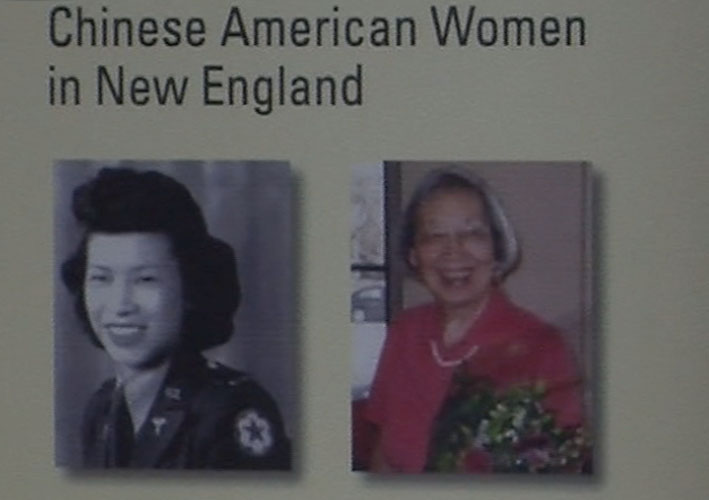 Nancy Eng, the Executive Director of the Chinese Historical Society of New England said in the past, Chinese women have come to America and generally worked in two professions: Chinese laundries or in Chinese restaurants. Although this has changed and women are now working in a variety of careers, some still keep their life, and even their perspectives, in traditional ways.
Yoyo Li has been in Boston for almost 10 years. She is one of those women who value their Chinese identity and want to continue living in a traditional ways.
In 2004, 21-year-old Yoyo Li said farewell to her home city of Fuzhou.  She, along with her mother, brother, and sister followed her father and emigrated to Boston. Even though she had been prepared for this journey, Li was still nervous and scared of living in a city with so many people who look different from  her. She said she is lucky to live in a foreign country with her family around, but this situation also helped her understand her responsibility to her family. As soon as they settled down in Boston, she worked in a Chinese restaurant to supplement her parents' income.
The first year in Boston was hard for Li. She understood that English is an important skill she had to learn to live here and what she learned in China was not enough. To improve her English, she studied English as a Second Language or ESL for two years. Sometimes Li would miss Fuzhou and everything there. Every time she felt lonely, she would call her friends in her hometown and look back at her days in China. This loneliness went away when she met her husband.
As many Chinese mothers do, Li's mother told her not to fall in love too quickly or jump into a relationship too soon. The first time Li had a boyfriend, she was 23,  two years after she came to Boston. Li and her boyfriend both worked in the same restaurant, and their friends introduced them to each other. Soon after they met, they fell in love. One year later, they got married. Another year later, when Li was 24, she had her first daughter.
In China, the traditional preference of boys over girls still exists in some people's minds in some Chinese American families. When Li had her first daughter, she loved her very much. But she still wanted a son. Two years later, she was pregnant and gave birth to another baby girl. She has had a baby every two years since then.
Now Li is 30 and a mother of four children, all girls. The oldest one is 6 years old and the youngest one is only 5 months old. She said four girls are enough for her. She doesn't plan to have another child.
Li thinks her four daughters are so young that they need her every minute. She decided to be a stay-at-home mother to look after them. She treats raising children as her full-time job. In the old days, Chinese wives used to live together with their husbands' families. So does Li. She now lives in Brighton with her  in-laws. She also prefers living in Brighton because she thinks it has a better educational system and fewer Chinese. She thinks this type of community will help her children get involved in American culture.  "I have to think about their future. When they get a little older, I want them to learn some skills; at least learn Chinese," Li said.
While Li has a plan for her daughters, she has a plan for herself as well. She likes cosmetology and hopes to open a salon in the future.
When she thinks about her life, Li says everything happened so quickly. "If I could live my life again, I wouldn't have my first child so soon. Sometimes I regret this."