By Aiden FitzGerald
Eighteen-year old Ariana Wunderle strapped on her four-inch sparkly stilettos and fast-walked a thin metal wire into the Guinness Book of Records. She exceeded the longest distance thirteen times over.
All this for a high school project.
"My life has not been normal," Wunderle said. "So I thought, 'Why not use this school project as an opportunity to break a world record?'"
On May 16 Wunderle walked 194.983 meters (more than 639 feet) for 55 minutes, on a wire nearly seven feet off the ground. She crossed the wire 52 times. The previous recorded distance was 15 meters, crossing four times. 
Wunderle grew up with her older sister in the circus, with both of their parents working for Circus Smirkus. There she learned to crawl, juggle and soar as an aerialist and broke the Guinness World Record for the Longest Wire Walk as part of her senior project at Bellows Falls Union High School in Vermont. 
"It's a combination of balance, placement and patience," Wunderle said of wire-walking. "The slightest movement could knock your heel off the wire and if you haven't distributed your body weight correctly, you will fall."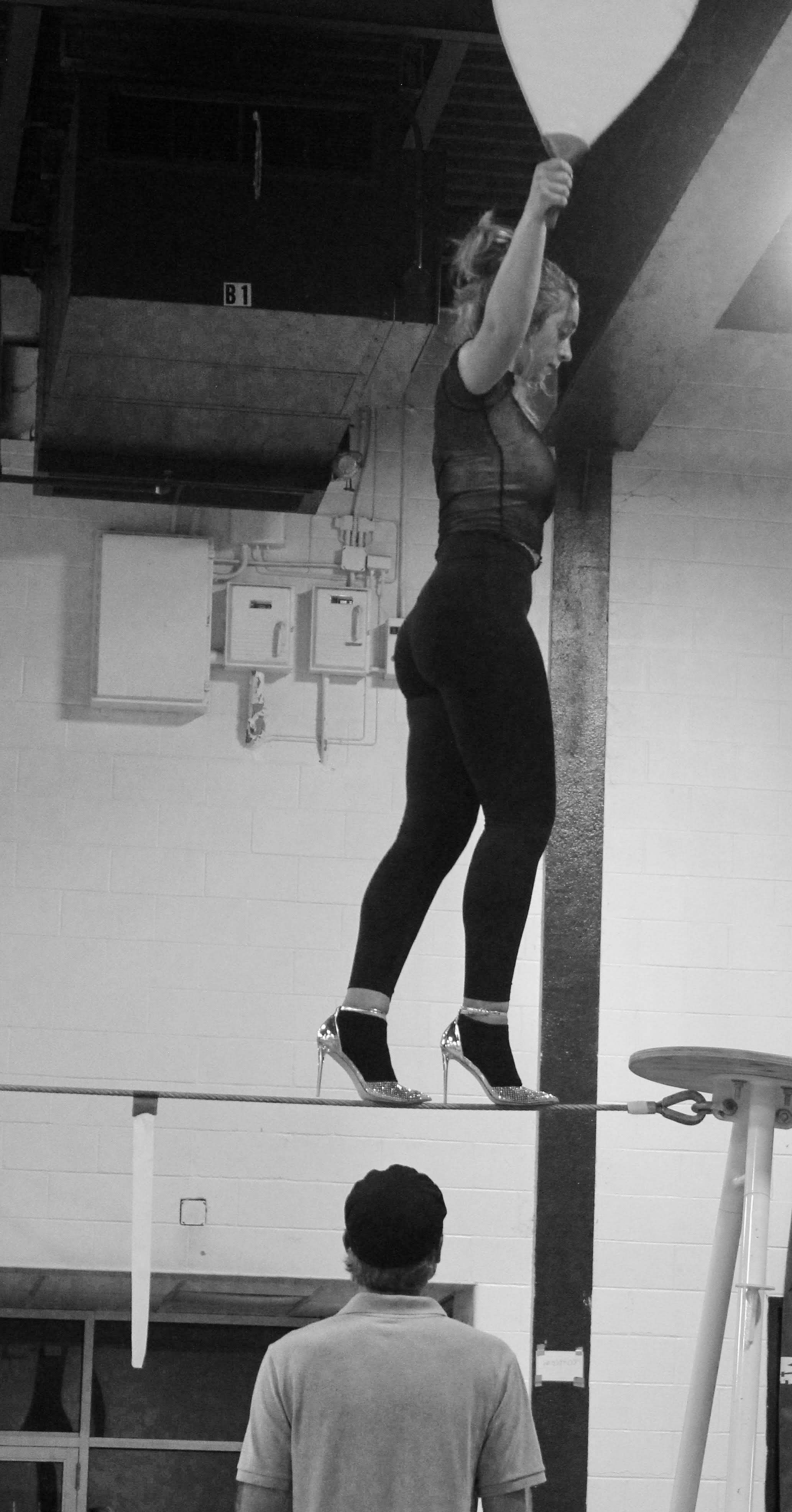 When walking on a tightrope, Wunderle keeps her gaze focused on the end of the cable.
Wunderle raised more than $3,500 to benefit Circus Smirkus, the big top children's circus that has been Wunderle's itinerant summer home since she was a baby traveling with her family in a bunk trailer. America's only children's circus, based in Greensboro, Vermont, Circus Smirkus features performers aged 11-18. 
As a senior trouper, this will be Wunderle's last summer as a Smirkus performer, or Smirko as the performers call themselves, and she's already feeling nostalgic.
"It's hard to understand that something that's been my entire life—I don't know a life without it—- all of a sudden, I now just have to accept that I can't go back. I have such a deep connection with it," said Wunderle. 
The supportive Smirkus environment is unlike anything she has experienced elsewhere, Wunderle said. 
"It's hard to explain what Smirkus truly is to an outsider," said Wunderle. "You're living with these people for ten weeks. You meet and immediately start training. By maybe the second day, you fully trust everyone around you and in three weeks we somehow create a show from scratch."
The show— this summer performed 46 times in 44 days, in four states and eight towns— is directed by Wunderle's father, Troy Wunderle, Producing Director of Circus Smirkus. 
"I'm in charge of basically overseeing the spirit and integrity of the show," said Troy, who began his career in the Ringling Brothers Circus. He attended Ringling's Clown College in 1995 and later in his career was Ringling's Director of Clowning.
Until three years ago, Wunderle's mother Sara, managed the business side of Smirkus as the Assistant Operations Manager for fifteen years. 
"She was basically the nuts and bolts behind getting the show down the road," Troy said of his wife, who currently teaches kindergarten and first grade. 
Troy and Sara were high school sweethearts. Early on, they worked at Smirkus' summer camp— she as head counselor, he as head coach— and then began touring with the summer circus program. Troy's one stipulation before marriage, Sara said, was that she learn how to juggle. 
"I was like, 'okay, I really want to form a life with this guy so I guess I've got to learn how to juggle," Sara said with a chuckle.
Wunderle's sister, Emily, also grew up in the circus and is now pursuing musical theater at Rider University in New Jersey.
"We're a slightly unique family," Troy said with a laugh, over the phone from their home in Rockingham, Vermont. The Wunderles were the first and only traveling family with Smirkus at the time.
"I've had no interest in living a normal life, and we've certainly gone a little above and beyond the average human being's existence," said Troy. "I love the adventures."
The Smirkus production is continually revised the throughout the season, Troy said.
"We'll be making changes even before we do our final show. That's my style," he said. "It's not everyone's style but for me, tweaking and improving the show keeps things fresh and legitimate." 
When he's not directing the Circus Smirkus summer show, Troy manages his own company, Big Top Adventures. 
"The motto of my company is 'spread joy, create memories, and inspire dreams.'
Everything I do gets filtered through those three wishes in life. And I've retained a really positive, enthusiastic, humble attitude by doing that every day."
In the fall, Ariana plans to major in theater at Ithaca College in New York and to keep her foot in the circus arena with local performances.  
"To these troupers, Smirkus is just their life," said Sara. "The rest of the year revolves around their summer away at Smirkus. They're a tribe. These kids really just get one another, you know? And when they leave that tribe, it's really hard to acclimate back to people who don't necessarily understand that."
Sara credits her children's maturity to growing up in the Smirkus environment. 
"Not only do they have their peers, but they work closely with adults and they have to interact with them," she said. "So I think they matured at a faster rate than their schoolmates."
Looking back on summers spent traveling on the road together throughout New England with two young children, Sara is grateful for their unique and bonding family experiences, and for the Smirkus community who helped to raise their daughters.
"When Troy and I had to work in the ticket booth, someone else was watching my three year-old running around the site and I was fine with it because I knew I could trust this circus family."
She remembered dealing with around-the-clock logistics of her work and still almost can't believe the chaos of it all. 
"It was a nonstop job. It's not like you woke up, went to work and then came home to relax. You lived and breathed the circus all summer long. It was crazy," she said. "But in the same sense, I wouldn't have changed anything. It was definitely a positive, life-changing experience for our family to go through."
"It's a traveling show and it's not all sunshine and bluebird skies," Sara said. "There were torrential downpours and threatening winds. We would travel at nighttime, listening to Delilah on the radio and singing songs, and get to sites and see wild skunks walking around and think, do we really want to get out of the truck and set our trailer right now? All these little moments and it's part of all of our lives now, and it's really cool." 
Of her experience as a Smirko, Ariana said, "You are immediately accepted. Everyone is there for everyone and you're supported and that's how we can be so successful as a company and as performers. You immediately fit and it's one of the reasons why it's so hard to leave Smirkus, because it's not like that out in the world, unfortunately."
While Wunderle is sad to graduate from Smirkus at the end of this summer, she is comforted by the lifelong connection she will have to her extended circus family. 
"You say the word Smirko to anyone who knows what you're talking about and immediately you form this connection," she said. "It could be a total stranger. It could be someone from staff or another performer that you've never met before and immediately they just accept you."
Wunderle admits to being unsure of what's next.
"I'm not sure how to move forward," Wunderle said. "I'm just going to have to take it as it comes." 
Just as she does on the tightrope, one step at a time.