By Patricia Nicolas
4/30/2015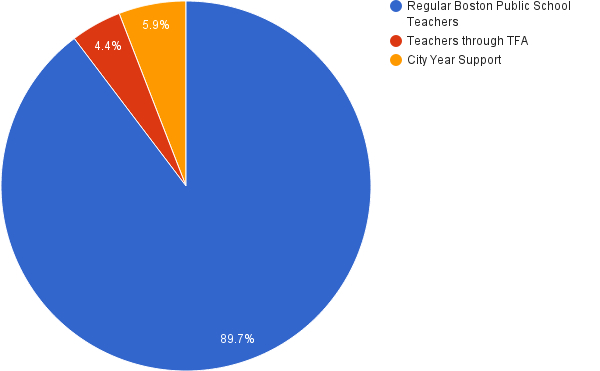 City Year and Teach for America bring new teachers into the Boston Public School system. The two programs offer training and professional development as well as placement in many of Boston's schools.
However, not all Teach for America and City Year participants think the programs did enough to prepare them for the classroom.
"The training was a summer long," explained Ashley Porter, a Teach For America participant. "We attend seminars during the first month. We then began to teach summer school in our own classroom which we share with two to three other people. They call that institute. But it wasn't enough."
The Teach for America website states that 5,300 people participated in the program this year alone. They teach in locations nationwide, from Boston to Los Angeles. The program puts prospective teachers through a rigorous application process.
"I remember filling out an application," Porter said. "If you are accepted then you do a test to determine your skill set, then a phone interview, then an in person interview. The process is long. It takes over three months," she explained.
Participants then attend the summer-long training session before they are put into the classroom.  The commitment is for two years. They are also given a reduced tuition to attend graduate school to get their master's degree in Education.
In comparison, City Year participants must commit for 11 months and they go through a six-week training session before they enter the classroom as teacher's aides.
"City Year was a rewarding and life-changing decision but I do not think they do a great job at preparing you for the challenges you face in the classroom," said Catherine Nwajuku, a City Year participant.
Nwajuku stated she wants City Year to provide longer training. "There is no way I am going to be able to grasp teaching in just six weeks. Especially when I do not come from an education background which is the story for a lot of my colleagues."
In Porter's case with Teach for America, she doesn't like that they train outside of the school district in which they teach.
"We were teaching in Philadelphia for the summer, majority of the students I am never going to see again" Porter said, adding, "I wanted to start creating a relationship with my school district and my students. We need to be training in the district where we will be teaching."
Despite the issue with training, Porter and Nwajuku said they  do not regret their decisions to join Teach for America or City Year.

Teach For America Experience
City Year Experience