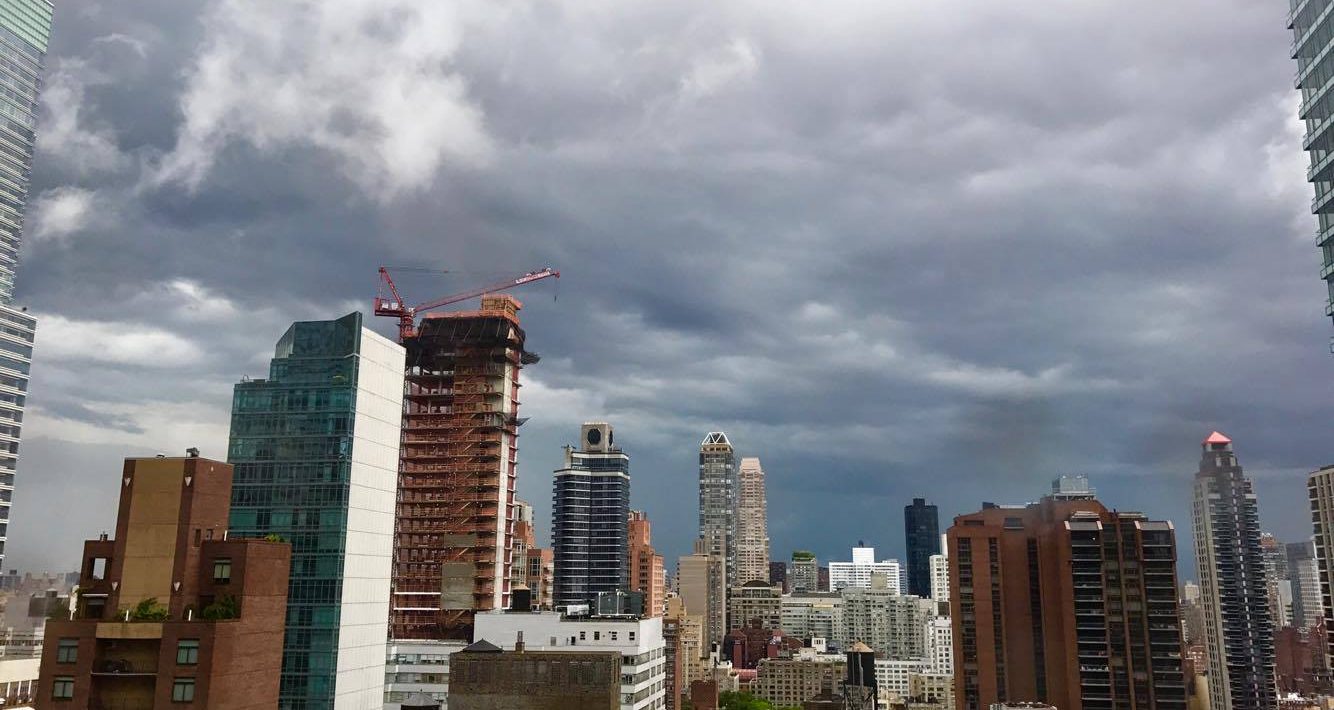 By Corallys Plasencia
08/13/2017
It's October 29, 2012 and Hurricane Sandy makes landfall off the coast of New Jersey and the tri-city areas around New York City. The State of New York has declared a state of emergency around New York City and communities begin taking many precautions to ensure public safety such as subway, bus line, and commuter rail closings. Even with these major preparations, the extent of the aftermath of this "Super Storm" brought awareness to the importance of the effects climate change.
Thousands of people were displaced and many businesses destroyed. Many of the tunnels entering Manhattan flooded as well as the city's subway system. Forty-four people were confirmed dead. Total economic losses were estimated at $19 billion. The timing of this storm played a crucial role as to why the impact was worse. The waters that year in the Atlantic Ocean were warmer than usual that summer along the East Coast. As it shifted to fall the waters stayed warm, especially around the Mid-Atlantic.
June through November is when hurricane season typically occurs, with September being the peak time for numerous hurricanes to form. What made this storm quite different than the others was the fact that it formed towards the last stretch of hurricane season and survived quite far north, which is not common that time of year. A high pressure weather system over Greenland and a storm in the middle of the Atlantic created a blocking pattern that prevented Sandy from moving out to sea.
Most of the damage from this storm came from the storm surges. Because of the current sea-level rise, it delivered greater-than-normal damage. NBC New York Meteorologist Erica Grow, who works at a major outlet for weather news in the area, thinks the biggest threat to life and property in the metro area these days entails sea-level rise.
"There's such a large portion of all five boroughs that are 10 feet above sea level or less so sea-level rise of a couple feet will have a huge impact on the area," Grow said. "It's not just overall sea-level rise, it's also when big storms happen even just like a regular Nor'easter," she said. "It doesn't have to be a Super Storm Sandy."
During Sandy, much of the water surrounding lower Manhattan was being built up towards the coast. With the storm surge right at high tide, it created the extreme flooding conditions. New York's Battery Park recorded its highest water levels of more than nine feet above high tide.
Grow tries to use weather events that happen in our everyday lives and tie them to climate change when possible. For example, she mentioned the greater occurrence of more record- breaking months.
"In February, we had the hottest February on record in the city," Grow said. "I looked back at the climate data that we have on record and I noticed that we've had way more months that are in the Top 10 warmest in recent memory than Top 10 coldest. In fact, the Top 10 coldest almost didn't make the list at all."
Climate Central, an organization of leading scientists and journalists researching and reporting the facts about the changing climate and its impact on the public, explained on its site on how climate change made Hurricane Sandy worse. The group indicated that if a storm like this were to hit New York again within the next 50 years, the damage could be even more severe due rising sea levels.
Climate Central's Surging Seas Risk Finder showed the likelihood of future risks for flooding in the New York area. Using data from local sea-level projections from a 2017 National Oceanic and Atmospheric Administration (NOAA) Technical Report, the group calculated what would be the multi-year risk of flooding above six feet. Now until 2020 shows a 7 percent risk but it rises exponentially to 63 percent by 2060, 10 times the risk.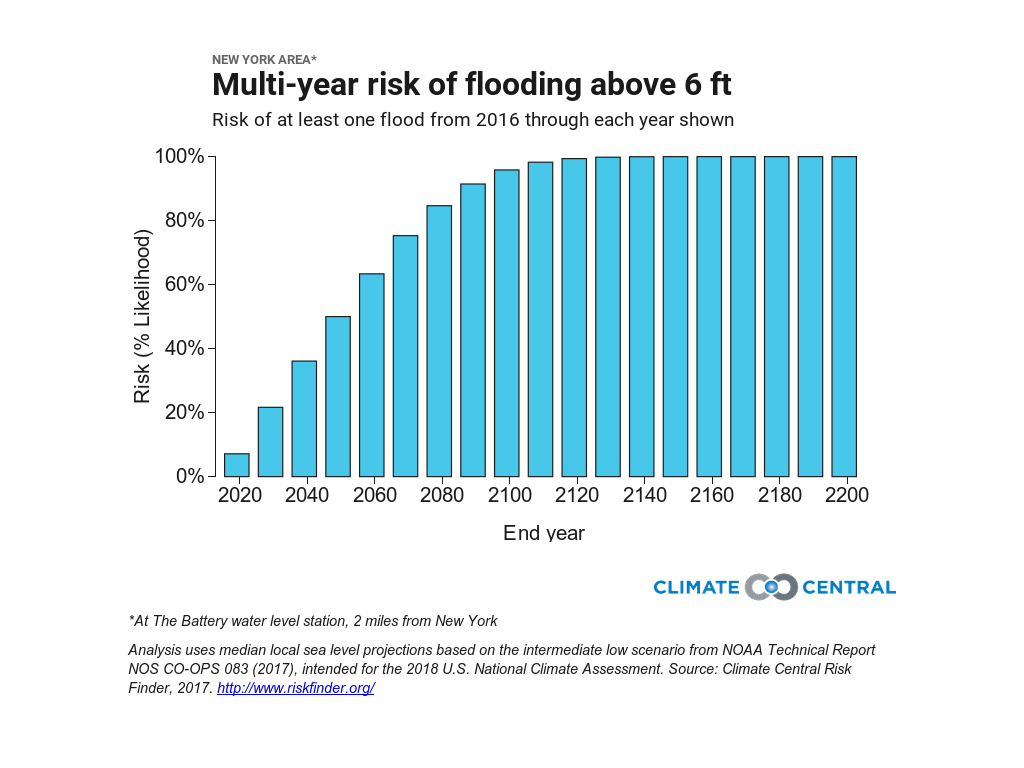 A report made after Sandy in 2012, by the U.N. Intergovernmental Panel on Climate Change (IPPC), concluded that chances for extreme coastal events will increase, and not just for New York City. Man-made warming has caused the ice caps to melt, thus making waters warmer (in addition to happening during El Nino events) and helped alter the frequency of powerful hurricanes.
Over 200,000 people live six feet below sea level in areas in and around New York City. The rising sea level from the warming oceans and melting glaciers may be a gradual risk but it will not be the only environmental risk caused by climate change as shown on Climate Central's Surging Seas Risk Zone Map (below). "There's a clear trend here and those are the kind of examples I like to point out using topical weather events to tie them to the greater climate picture," Grow said.
New York has the economic capabilities to prepare itself for the next major disaster within the next 50 years, But environmental and political experts note the issue may not be if New York is capable of preparing for another disaster, but how it will do so.