By Mukala Kabongo
08/08/2017
Students go to Boston community centers after school to hang out with friends, do homework and socialize but they also provide safety and place for youths to express themselves and gain life skills.
Malik Mitchell, 17, a native of Mattapan and Autumn Johnson, 15, a native of Dorchester who both attend Origination Cultural Arts Center in Jamaica Plain, said they believe that community centers are very important.
"It gives kids my age a positive choice, you can either go out here and do something negative or you can come to origination and dance and stay out of trouble," Mitchell said.
"It encourages people to go out and do positive things," said Johnson.
Shaumba-Yandje Dibinga, who founded Origination Cultural Arts Center in 1994 did so with the purpose of not only giving the youth a safe place to go but also a place for them to express themselves.
"With Origination, we utilize dance as a tool to empower young people one dancer at a time," said Dibinga.
Origination Cultural Arts is not the only organization in the Boston area that works to empower youth. Other organizations such as Hyde Square Task Force, Roxbury Youth Works, Boston Centers Youth and Family Services and Massachusetts Minority Law Association also aim to make Boston a safer place for young people??.
For the past two years, Christopher Byner, deputy commissioner at Boston Centers for Youth and Family Services, has overseen programs he said are essential in keeping Boston youths away from negative activities. 
He's in charge of city programs such as gang intervention, aquatics, child care, summer and yearly employment. "We see over 60,000 unique individuals annually," said Byner.
BCYF helps high school students gain employment each summer as well as during the school year. The summer employment program at BCYF is one of the largest programs in the Boston area for students, Byner said. "We're going to hire 3,300 young men and women throughout the city," said Byner.
Byner hopes that with the jobs program and countless other efforts offered at BCYF youths and adults can engage with each other. Open dialogue is important and being able to get the youth and adults to have an open dialogue about violence is one step closer to finding a resolution, he said.
"The most important thing, in my opinion, to engage with young people is to have a healthy dialogue," said Byner.
At Origination, open dialogue is a factor in students continually returning to the center. Zanyah Dorfeuille,17, a dancer and an employee at Origination, has used the center to speak on what's going on in her life. "It gives a space for people to just talk," said Dorfeuille. "I feel like when people are angry and want to do something, if they can just talk to someone a whole lot can be prevented."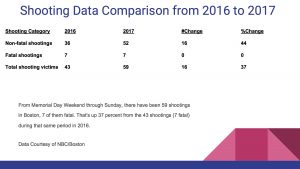 Taalib Dibinga, 15, who teaches hip-hop at the center, agreed with Dorfeuille and uses the center not only as place to express himself through dance but to also get guidance.
"They give us advice on how to get better at what we want to do in life," said Dibinga.  
Origination Cultural Arts Center and Boston Centers Youth and Families are not the only centers that empower Boston youths. Hyde Square Task Force in Jamaica Plain has helped youths get off the street and find different avenues to express themselves for 26 years.
Celina Miranda, executive director at Hyde Square Task Force, has worked for the past year to create more opportunities for youths to be equipped for life as they get older. "We are an organization that combines creative youth development and advocacy and civic engagement," said Miranda. "We support our young people to use their talents in afro-Latin arts which is dance, music, and theater which are the primary art forms that we use."
Students at the task force this past spring created an original musical and performed it in front of the
community. The musical was written, choreographed and organized by students.
"I think it's so critical for youths to have that opportunity to then be able to sort of take from that and transfer it to other aspects of their life," said Miranda.
Hyde Square Task Force also offers mentorship for high school freshmen, sophomore and juniors. Mentors help the students prepare for college and also helping them discover what career path they want to follow if they choose to not go to college.
Miranda said having positive adult figures can have a lasting effect on a young person's life. "One of the most critical things you can do for young people is make sure you surround them with caring adults," saidMiranda.
These community centers and their programs shows that when you provide youths with activities they can engage in then they don't have to make the choice of going down the wrong path, she said.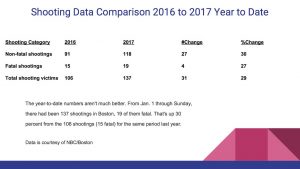 At Origination, Dibinga said she hopes the kids  she comes across will help spread the message of peace and love from the lessons they have learned from her center.
"We want to make sure everything we do in here allows our young people to be able to have their voices heard outside of our four walls," said Dibinga.
As for the Hyde Square Task Force, Miranda hopes to continue to build relationships with the youth and also continually hold events that brings the community together.
"I see us as an anchor to this community," she said. "We've been here for a very long time and we're not planning to go anywhere."