Chinese restaurant owners find their own way to survive in the pandemic
Shrimp dumpling is one of the most important dishes in Guangdong food and one of the important characters on Guangdong people's tables. Its skin is softer than baby skin and shiny like the star in the night sky. Juicy shrimps are hidden inside, and they will "explode" in your mouth on the first bite.
However, the shiny white shrimp dumpling does not have to be red. For Los Angeles people, shrimp dumplings could be black too. Chief Tony He challenges the traditional Chinese food and gives his own answer, a plate of black shrimp dumplings made with cuttlefish ink.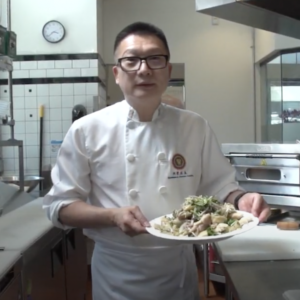 He is a first-generation immigrant. He was born in Zhongshan, Guangdong, in the 70s. He started his cooking career at 15. He spent five years as an apprentice and became an experienced cooker.
"I am willing to try new things. I like the unknown challenge in my life," Tony said. Although everything in his cooking career was just getting started, Tony quit his job and started trying to do electrical device trading in 1985.
Everything was going well in his new business. "However, I still cannot give up the job that grew up with me," Tony said. He went back to his hometown Zhongshan in 1992 and used the money that he gained in the electrical device business to open his own restaurant, which is also the first Chief Tony restaurant.
"I have tried another way of living, and I found out that the original path that I stepped on suited me better," Tony said. According to Tony's friends and people around him, Tony is always regarded as a bold entrepreneur. In 1996, Tony decided to move to Vancouver to start his business in North America.
"At first, most of my friends said my restaurant could be closed in three months if I kept doing things in my own way," Tony said. According to Tony, "order and steam" is one of the key elements that makes his restaurant special. Most Guangdong restaurants will choose to steam the dishes before the consumers order the food to make the waiting time shorter, but Tony believed freshness was the most important thing for steamed food. He only starts cooking after the consumers order food.
"This is exactly what the best Guangdong food cooker would do back in China," Hong is one of the consumers that enjoy Tony's dishes. He is a businessperson ran between Hong Kong and North America. According to Hong, Guangdong food has the most complex cooking system in Chinese food, and it has lots of strict rules for the cookers and consumers, "order and steam" is a tradition for Guangdong food, and even some restaurants in China cannot follow the rules.
Chief Tony Dim is also the first group of Chinese restaurants to use computers to check out in the 20th century, and Tony believes his experience with electrical devices helped him a lot.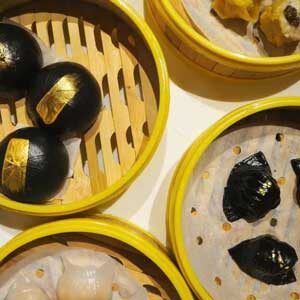 As a result, Chef Tony and his restaurant did not close in three months, and it has lasted for over 20 years. And he opened another two restaurants in LA in 2002 and 2003.
"During the pandemic, we closed the restaurant in Pasadena," Tony said.
One of Chief Tony Dim is in Pasadena, where Phoenix Satellite TV's journalist Qiao Xue lives. Chief Tony Dim has a good location, and every time Xue came back home would pass by every day during the pandemic.
"I can see through the windows that this restaurant does have not only black shrimp dumplings but also has black sweet steamed bun," Xue said. Although Tony didn't open the restaurant during the beginning of the pandemic, he never forgot to change the food behind the windows to keep them fresh.
"The appearance of Guangdong food is an important element in the system," Tony could not speak mandarin well, but his eyes shined while mentioning the food in his restaurant. Since he arrived in LA in 2002 for the new business, he has kept developing new Guangdong-style dishes. Cuttlefish ink is just a beginning, black truffle sauce is also started being used in the chicken dishes, and both are challenging to traditional Guangdong food.
"What I am doing will make the people who like traditional Guangdong food disappointed," Tony admitted that he was losing "old school" consumers. However, he did not think losing consumers during the pandemic would be a problem.
"The thing I want to happen is there are more people from different cultures will start loving Guangdong food," just like what Tony predicted. After he reopened the restaurant in Pasadena, people came back, and this time, there were not just yellow skin people in the restaurant anymore.
"There is still pressure, like the pandemic and inflation, but I believe things will be back on the right track soon," Tony said.
However, the survival of Chief Tony Dim doesn't change the whole situation. According to the president of Asian American Restaurant Association (AARA), Tieniu Wang. There were over 54 thousand Chinese restaurants across America in 2019. However, the Chinese restaurants still survive now are less than 30 thousand, including some family-based old brands. Wang has worked in the Chinese food industry for over 45 years, and he has never faced such a situation before.
Not all the restaurant owners were successful businessmen before like Tony. According to Wang, the price of the material for restaurants has risen 20 percent, but most Chinese restaurants just rose 10 percent on dishes' prices.
"The rent is also climbing crazy. We cannot handle this anymore. Lots of us have already given up," Wang said.
As the vice president of AARA, Wang is in trouble too.
"I just closed a Sichuan food restaurant in Temple City. I just opened it last year. It cost me so much time and money, but I had to give it up," Wang said. The restaurant made a negative benefit every day. One more day, Wang opened it, and more money would be gone from Wang's pocket.
According to Wang, he did not give too much hope the help from the government.