By Sherry Sah
COVID-19 is not just affecting the finances of hair salon workers; it also changed the relationships they have with their customers. With new guidelines set in place, hairstylists make it uncomfortable to keep an interactive relationship with their clients, which has been affecting the business models of these salons. 
 Rumors of shutdowns consume the Hair By Design salon in Manchester, Conn. Owner Nancy Quinn, who has been a hairdresser for 42 years and never experienced anything like before. Her success as a business owner is now threatened by COVID-19.
"I did not know what to expect if the salon was going to close suddenly because of the pandemic," said Quinn, while putting her client under the dryer after preceding to touch up her client's roots.
She reassured her clients that they have nothing to worry about, not knowing that COVID-19 was going to affect her business. 
Nancy Quinn was born into a family of poor Italian immigrants.  Her family did not have the money to go into college, so she decided that she was going to become a hairdresser.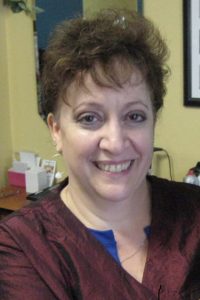 Her shop was doing well until March 23, when she received a text message stating that Connecticut Gov. Ned Lamont was shutting down all beauty salons because of COVID- 19. 
"I stayed away from the news, but a lot of my clients discussed the Coronavirus and how our salon was going to be closed down," Quinn added. "I could not believe what I was reading. A mandatory lockdown? I was not prepared at all. I was thinking, how am I going to pay for my bills? What about my employees?"
Quinn said she believes that she was not given enough time to prepare her salon for what will happen. Due to this, she has not been able to take care of their customers the way they wanted to before they were forced to shut down their business. 
"Only if I knew ahead of time that we were going to close, I was going to give some of my clients a kit to where they can properly color their own hair," Quinn added. "
Connecticut Gov. Ned Lamont closed down non- essential businesses.  The set date to reopen was June 1, 2020. This left businesses closed for three months.  COVID-19 has put millions of people on unemployment benefits. 
When the governor continued the shutdown into June, Quinn began losing clients. "Many clients were nervous about coming in and getting their hair done, because they did not know what to expect," said Quinn.  
There are new guidelines for the reopening of businesses that everyone must follow to protect themselves from COVID-19. 
Hair by Design has guidelines that they have to follow: no one is allowed in the waiting rooms. If a client comes, they can either wait outside or in their cars, and a hairstylist will go and get them. Everyone must wear a mask, and stylists must wear a face shield. Aprons must be changed after every client and rewash every single day. Working areas must be sanitized before and after a client. Employees must complete a wellness test and have their temperature checked every day when coming into work. All the stylists must stay six feet away from each other when bringing in a client. Hairstylists can only do one client's hair at a time. If the rules are not compliant, there are risks in getting shut down or fine. 
One of the employers, Carylon Nelson, has been doing hair for more than five years at Hair by Design and adapts to many changes that she needs to follow.  She has to make sure that she can not physically touch, such as handshaking or hugging her clients. 
Hair by Design is a middle size salon. " I want to hire one other hairstylist, but since we all have to be 6 feet away from each other, I cannot do that," said Nelson.
Some salons can't hire new hairdressers because they do not have enough room to do 6ft social distancing.   
Hair, by Design, has adopted new changes and regulations to keep their salon open. All hair salons need to follow the portal call to keep their facility safe for all their clients.  People are no longer waiting in the waiting rooms to interact with people who attend the same hair salons as them.
"We have to keep the communication at a minimum. It is hard because we are a beauty salon. We were basically like 5 to eight people a day compared to 10 to 18 people a day," said Nelson. 
Stylists want to interact with their clients because of their engagement that they have when doing their client's hair. 
Booking appointments is essential when it comes to clients and stylists.  Due to COVID – 19, it has been challenging to book specific clients because of the time frame. Stylists have to make sure that they are booking promptly without breaking the guidelines of having only one person in their chair. They have to make sure that they still see all their clients looking for that day.
"Booking has been difficult because you do not know exactly when a client's hair is going to be done in time fully," said Nelson.
This has been a challenge for stylists when doing a client's hair when following new guidelines that are set in place. 
Helen Starkweather, a hairstylist at Hair by Design, is called Helen Hair station in Hair by Design. The Coronavirus has affected the older age more than the younger generation. People over the ages of 65 are more likely to not recover from the Coronavirus. People are not ready to retire and still want to make the careers that they loved.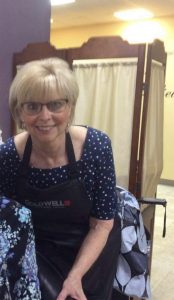 "I am the age that they are telling me to go stay home, but I was not ready to retire. It is a career that you can work as long as you can. I did want to cut my hours," said Starkweather. 
Older people are at higher risks but this does not stop people from working in their field.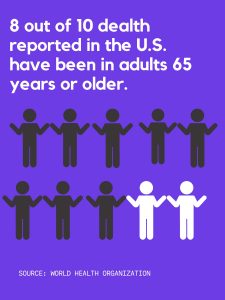 But to protect themselves from the virus.  Some older people are cutting down on hours, which is also cutting down on pay. Some older people are cutting down on hours, which is also cutting down on pay. Cutting down hours has cut down on the relationship between client and employee. 
"We are a big family, and it's sad that we can not interact with them the way we want," said Starkweather.
Employees want to interact with their clients but can not because of the guidelines that are imported to their daily routine. 
"This feels like a television show is ending, and it's just an odd feeling," said Starkweather.  
These ladies are doing everything they can to overcome all their challenges to cope with a new normal. But they are pushing and striving through to keep Hair By Designs Open.