By Melody-Joy Keilig 
The future is French, says French educators throughout New England who seek new and creative ways to bring the language back into the classroom. 
How do you bring a declining language back into relevance? In the region of New England, where the French language was once more commonplace, three French speakers share their ideas about reviving the language and bringing it back into relevance today. 
"In high school, you could always tell where the French classroom was because there was an enormous French flag, there was an enormous Eiffel Tower, very small pictures of Martinique, very small pictures of Senegal and a very small picture of the Bonhomme de neige from Québec," says Clarie-Marie Brisson, a French-language professor at Harvard University.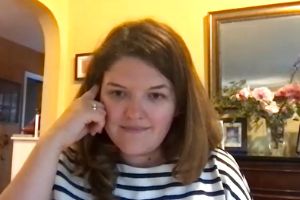 Brisson says that French is often seen as a language to bring along with you on a vacation to Paris, but not as the useful language it is to many parts of the world. 
"But you would see it visibly as being like an outpost of France. And I think because of that, a lot of people think of it as a tourist language."
Once the Petit Canada neighborhoods dwindled, so did the language tightly held by generations of French speakers. Since the decline began around the 1950s and '60s, its value has dropped as a language of education and business. 
"The more that we pull back from teaching French, the more we're disadvantaging language learners," says Janet Shideler, a French professor at Siena College in Upstate New York. 
Shideler is originally from Southern California but immigrated with her family to French-speaking Canada when she was 12 years old. She's been speaking French from a young age and says she sees lots of value in the language in many aspects of life. 
In particular, Shideler says she encourages all students in the Northeast region of the United States, including New England, to learn French for future job opportunities. 
"I think we have very similar, the whole Northeast, very similar circumstances in that one of the major trading partners is Québec, first of all. And for the U.S. as a whole, it's Canada, a bilingual nation. But then we have tourism, we have trade, we have commerce that is rich between our region of the United States and Québec," she says. 
Shideler also says that being bilingual in English and French is not only relevant to the history of New England, but it's useful for many fields in the present. She adds that job opportunities such as marketing, economics, finance and tourism can benefit cross-border communication between Québec and New England.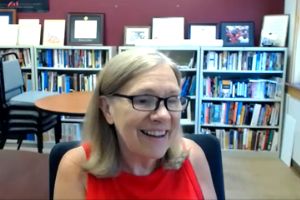 With the decline of the French language throughout New England, Shideler says that the loss of interest in the language can trace back to its history of being devalued as a useful language. She says that she believes much of the French language loss over time has to do with the notion of Americanization being closely tied to language. 
For French speakers in New England of the French-Canadian ethnic group, being able to find better opportunities for education and jobs after the downfall of the mill industries meant speaking English every day. 
"There were families in some households, it was encouraged to 'let's keep the language going,' and in others, there was this inclination, 'Well, we're going to be Americans, we're going to fit in, we need to adopt this language.' So, I think there were the external forces and then there was this internal perception of what it meant to be American," she says. 
According to the Modern Language Association, fall enrollments in college-level French language programs have dropped in Maine, New Hampshire and Vermont. Spanning from 1958 to 2016, the enrollments in each of these states experienced a rise in the 1970s and '80s, only to decline by 1998. 
Even with the decline of French being spoken in these three New England states bordering Québec, Shideler says that there's an important case to be made for learning French in the region to further business relations with our northern French-speaking neighbors. 
Going further with the importance of the French language in New England, Shideler also says that the influx of French-speaking immigrants coming to the region is another strong argument for the value of the language. 
Although fluency in the French language isn't as common for those within the millennial age range, Brisson was brought up immersed in bilingualism. Brisson says that the future of our global world is French. 
"By 2050, the French language is projected to be one of the most, if not the most spoken language in the world based on population trends that are coming out of Africa and also coming out of groupings of people who are coming to North America. Haitian immigrants, for example, African immigrants who are coming here with French and not losing French, which is amazing," she says. 
Because of the population growth in Sub-Saharan Africa, it's estimated that there will be approximately 700 million French speakers in 2050. According to the demographics from the Observatoire démographique et statistique de l'espace francophone (ODSEF), 85% of these Francophones will be in Africa.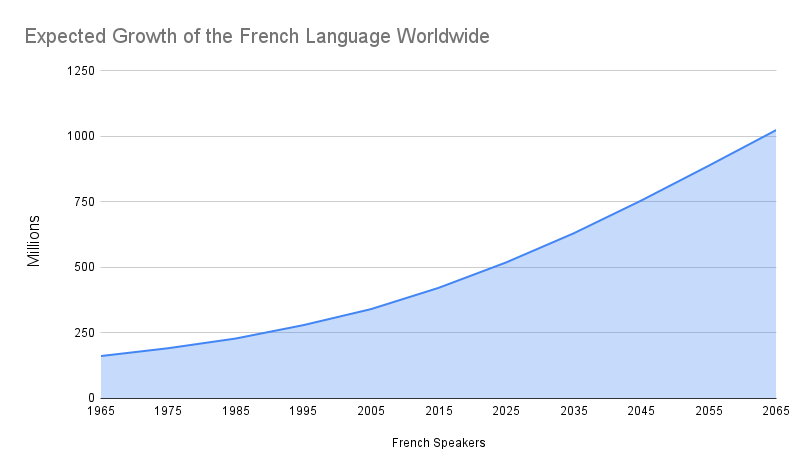 Brisson is one of many Franco-Americans who too often sees the French language in education putting the vast majority of their focus on France. Whereas French is the official language of 29 countries around the world. 
"At this point, 11 million people live in Kinshasa who speak French. I mean, that is like four or five times the size of Paris. It is the heart and soul of where the French language is spoken right now. And we don't talk about that. We talk about Paris. We talk about France," she says.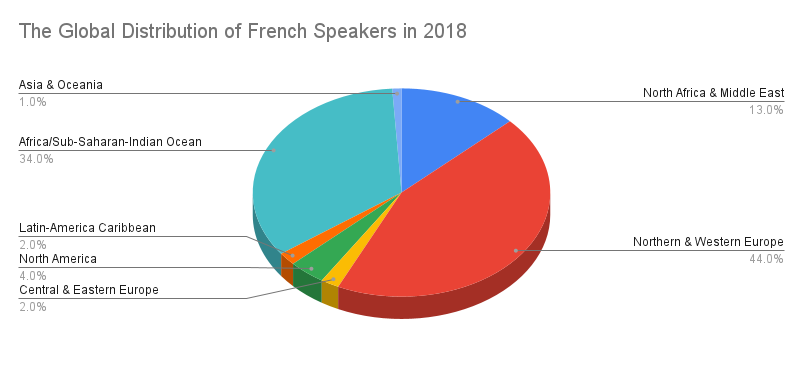 So, if the French language is projected for global success, why has the language been declining for over 50 years? Particularly in New England, where French is a heritage language with a deep history in the region.  
Brisson says it has to do with how we're exposed to the French language in school, work and life. 
In shifting that perspective, Brisson says that utilizing the world of technology can bring the aspects that people are looking for in the French language to local communities. For instance, if a family can't afford the tuition for a French Immersion School, Brisson says making cross-border and global connections is possible through tech like Zoom. 
And, in bringing more attention to New England specifically, Brisson says she has some ideas of how to use French to bring in people for tourism and business in the region. 
"These big questions of why do people travel? What is the impact of travel? How are we traveling and how are we traveling consciously? And I think when we think about tourism, we think about Franco-American cities and we think about what traveling consciously would mean. It would mean traveling or touring to support those communities and to enrich those communities and learn from the communities rather than just touring Paris," Brisson says. 
Somebody who did take the opportunity to learn French and choose Québec over France is a former French teacher and author, Kathleen Stein-Smith. At a young age, Stein-Smith was inspired to learn the language after experiencing family trips to the French-speaking Canadian province during her childhood. 
During her time teaching in Québec, Stein-Smith wasn't yet aware of the history of the French language in New England. But, through her Québécois students, she says that she realized there were a lot more connections being made through language and bilingualism. 
"In recent years, as I've been teaching about French, I've become more and more aware of the fact that French is not a foreign language. It's part of our U.S. cultural heritage, our identity. If we're of French ancestry, absolutely. But also, even if we're not, it's part of our history," she says. 
Today, there are two to three million Franco-Americans in New England descended from the French-Canadian immigrants of the early 19th and 20th centuries. However, Stein-Smith says that this history isn't taught in New England schools even though it's relevant to the region and a considerable amount of its population. 
"That was actually also half of the population of Québec. That was massive. Imagine half of the population of the United States during really a generation or two actually left. I mean, that's sort of like a demographic earthquake. But where did that French go? And there are people who don't speak French anymore because of assimilation, for all the reasons that we talked about in language loss," she says.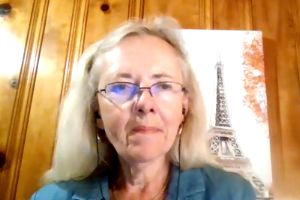 For many French speakers, there is a growing push to advocate for bilingualism through French immersion programs. In New England, there are only five French programs recognized by the French Consulate in Boston and École Franꞔaise Greater Boston. Three of these schools are in Boston, one school is in Rhode Island and the last school on the list is in Maine. 
Although some French immersion programs are available in public and private schools, there are only three public schools in Massachusetts that offer French immersion programs. There are only one of these programs found in a private school, also in the state of Massachusetts. 
That leaves the remainder of the region out and prevents many students from learning the French language. For students with a Franco-American background who want to learn their heritage language or students from a family of new arrivals who want to keep their language intact, practicing the French language and becoming immersed becomes more of a challenge. 
As Brisson stated above, not everyone has financial access to the available French Immersion Schools in New England. Not to mention the locality of the available schools that offer these French-language programs. If French Immersion Schools became localized and more affordable to other income brackets, the possibilities for reviving the French language in New England could become endless. 
Beyond the accessibility of French Immersion Schools, Stein-Smith says that learning or re-learning the French language becomes an individual choice. But, she says that people could become inspired to speak French from what she calls the "bilingual revolution." 
"It's about reacquiring a heritage language, even if it's been totally or partly forgotten," she says. 
According to Stein-Smith, she says we are at this point with the French language and it's up to each individual to decide whether to rectify that lost language within their family. 
"We are at this point where we can actually choose whether or not to re-embrace our linguistic past, our linguistic history and to kind of essentially make ourselves whole again, make ourselves complete again. And I think there are a lot of great ways to do this," she says. 
In bringing the French language to all students in the New England region who want to speak their family's lost heritage language or keep the language going in their family, finding creative ways to get around financial barriers would be a start for dwindling French-speaking communities. 
By utilizing tech to virtually teach the language to students, discussing the future job opportunities in tourism, conducting business across the border, and inspiring them to speak the heritage language of New England and the language of many new arrivals, the French language can be successfully brought from the past into the future. 
As Stein-Smith says, "Language is all of life."