By Kathleen Thrane
Farmers markets in Boston now sell culturally relevant foods. 
Culturally relevant foods are foods that are important and significant to certain cultures. Conversations about these foods started in the 1990s as scientists and sociologists researched the importance of certain foods in different cultures. The discoveries since then have found that access to culturally relevant foods improves quality of life and health of those who consume these foods.
"We grow a ton of snap green beans," she said. "And a lot of red speckled beans. We take the outside off and inside are these beautiful speckled beans that you have to cook down. And those are hugely hugely popular with the Cape Verde neighbors in our area here. So we grow as many of those as we possibly can, followed closely by snap green beans."
Danielle Perry is the lead farmer at The Food Project, a local farm that works with other local farms to grow and distribute local produce. The organization tries to sell fruits and vegetables sustainability by distributing within three miles of their farm. The farm also has a youth program that teaches young adults how to farm their own food.
"We are a youth development food systems organization. And that our core program involves high school youth, urban and suburban, coming together on our farms to learn how to farm to build relationships, to learn about the food system. And as they progress through the programs, they get more and more involved with their communities, and helping out at farmer's markets, that kind of stuff. " said Kathleen Sykes, the director of communications at The Food Project. "When COVID hit, we switched our focus to growing as much food as possible, and getting it to the people who need it the most. So we grew close to 200,000 pounds, which is 600,000 servings of fruits and vegetables and we got them to food insecure people through farmers market and, and direct distribution. And I would say probably 65% of that went to people with food insecurity."
The farm practices sustainable water practices and teaches participants of the youth program about sustainability. By the end, the farmers have a new appreciation for growing food and the climate.
"I think urban farming connects people with the land. I think it can also help people become more aware of where their food comes from," said Stan Rullman, the research director for Earthwatch, an environmental charity. "And so especially with kids to be involved in other for kids there, there's so many rich aspects of getting them involved with preparing the soil and planting the seed and nurturing that so that it grows, and eventually produces the food that those kids can eat."
Other culturally relevant foods The Food Project farm grows include butternut squash, tomatoes, habanero peppers, and callaloo, which is similar to amaranth and used in many Caribbean dishes.
"What The Food Project does is they not only grow the food, but they also distribute and sell food in different parts of the city targeting different populations.," José Luis Rojas Villarreal is the managing director of the Local Enterprise Assistance Fund in Massachusetts. The organization is in charge of giving grants to small businesses who are aiding the fight against food insecurity. 
The Local Enterprise Assistance Fund and The Food Project teamed out to help the grocery store, Ernie's Harvest Time, in Lynn. 
"It's a bit bigger than a corner store and a smaller independent grocery store.. This grocery store is somewhere in the middle of a very small supermarket and a very large corner store," he said.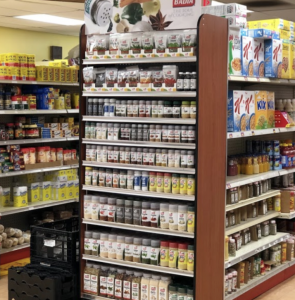 Ernie's Harvest Time was awarded $10,000 to advertise and develop their culturally relevant produce program. The program was developed with The Food Project. The Food Project previously received funding from the Massachusetts Food Trust Program. 
"This program is designed to make it more attractive for people to come in and shop at the store. It also provides more information to customers about the different things that the store is selling because different people are interested in different products," he said. "They've also identified that they should be reported back to the Food Project about what is selling the most. Then, the Food Project can potentially grow more of those items and bring them to the store."
This grant also means Ernie's Harvest Time is able to provide fresher, higher quality produce at a lower price. 
The Food Project's partnerships at farmers markets makes culturally relevant foods more accessible.
"The Healthy Incentives Program is for SNAP users only. Depending on the size of the families, you can earn back a certain amount of money, like up to $80 a month," Perry said. "The wicked fresh coupons did two things. One, it was just kind of a support for folks who might be outside of the snap. The snap world, you might not be snap eligible for different reasons that might still need support. The coupons could purchase honey and fish and dairy products and meat. And so part of that program was to try to get these coupons to folks who need them to increase their buying power at farmer's markets."
The coupons also ensured that farmers had enough customers at the markets, and last summer ended up being a successful year for most farmers.
"This was also about supporting growers and making sure that they were going to get enough income if they came to the market," Perry said. 
Perry thinks it would be ideal to have a market in every neighborhood.
"The markets really struggle. It's kind of like a balance game of having to remember that the vendors who show up at farmer's markets, they're selling a product that has a very short shelf life. So if they show up at a market, and they don't sell enough, it's really hard. There's a lot of effort that goes into establishing a business and sometimes there aren't enough customers for the vendors to actually be able to make a living," she said. 
The effort to bring foods that are popular among residents is partly to get more business for farmers.
"When you are a farmer, you start your day at 5 am and are harvesting and bringing beautiful food to the market. And then people don't show up because they don't actually have enough money to buy that kind of food. It's something that we have really struggled with. The reality is like, over the years, I've just seen so many small markets open up and then there aren't enough customers."