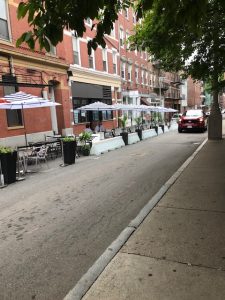 By James Gatlin
After months of only takeout, every state is now allowing dine-in eating in some capacity. Over the past few months, many businesses have been sheltered in Massachusetts to flatten the curve. As the state has gradually reopened, owners are happy to be welcoming back customers, despite numerous changes. Like restaurant workers, customers are adjusting to a new normal.
While there are still risks to dining out, restaurants are taking every precaution to make it a safe space for customers. Some protocols include disposable menus, spacing tables six feet apart, and no parties greater than six. In many parts of Boston, such as the North End, outdoor dining has given residents a new dining experience.
"I've been hesitant about eating out. I love the food in the North End and having outdoor dinning has made me feel safer about eating out. The staff also followed all the safety steps and it was a nice experience," said Johnny Kwasek, a resident of Somerville.
Additionally, restaurants have been advised to create one-way entrances and exits. While bars that only serve alcohol cannot reopen until phase four, restaurants can repurpose bar areas to fit more seats. Self-serve stations are also not allowed and all utensils must be single-use or sanitized between uses.
"We have had to change a lot with how we engage with customers. It's taken a couple of weeks to get used to, but it will be the new normal for the foreseeable future", said Max D' Amico, a server at Masiminos.
While customers have to wear masks before being seated, they are allowed to take them off after. In the North End, this has been particularly important due to tight spaces and, in some cases, small restaurant space. Many are the restaurants have had to be creative with how they section of their space by using plants to separate tables installing strings of lights on railings outside of their businesses.
"Talking to customers with a mask on was weird. It does kind of take away from the experience and is a reminder of what is going on. Right now, everyone is trying to make the best of the situation", said Jake Stetson, a server at Quatro.
Although dining may have changed restaurants in the North End are doing their best to give customers a memorable experience. Sidewalks that were once lined with cars are now filled with tables and flowers. Customers can now enjoy a cannoli or other classic Italian deserts while sitting on Hanover street with downtown Boston as a backdrop.
"Eating outside on Hanover street was a great experience. Given what is going on having the city in the background was a nice aspect and it was a memorable night out after being stuck at home the past couple of weeks." Said Phil Tor, a customer at Fiore.
Outdoor dining, however, hasn't come without its roadblocks as an emergency meeting was held in late June to deal with residents complaints. Some of the issues included "lack of social distancing, people smoking, pets on outdoor extensions, and loud music;"  officials said. While those issues have been addressed, it shows how important following the guidelines is to giving customers the best experience possible.
Despite the complaints, the North End has still been able to thrive as residents feel more comfortable dining out. Many restaurants such as Fiore that were closed for months have reopened as the neighborhood  has come back to life. However, its continued success will rely on how the state continues to battle the virus as other states have had to pause their reopening plans.
"The noise from residents above us took away from the meal a little, but it was still nice to be out in the city," said Megan Levine.
The key now for restaurants and customers alike will be staying vigilant as Massachusetts has made tremendous progress over the past few weeks. The state is currently in phase three of Gov. Bakers reopening plan. Phase four will bring back concerts, sporting events, and night clubs will not be underway until a vaccine or treatment is available. However, the focus is for North End owners is giving customers the best experience in a transformed North End.
"We know it is hard for a lot of people right now, but pastries bring a smile to people's faces. Just being able to do that means a lot to us right now," said Vicky Kluse, a manager at Bova's bakery on Salem street.
"It's been hard, but people want to eat outside. It allows us to provide a unique dining experience regardless of the virus since the city has never allowed us to do outdoor dining in the North End, said Paul D' Amore, the owner of Massimino's.
While in-person dining still has some risks, restaurants were preparing during the shutdown on how to keep customers safe. Many restaurants have instilled hand sanitizer machines for customers and offer online menus to limit contact with the waitstaff. This has reassured customers and shows the proactive steps that city officials are using to keep residents safe.
"Having an online menu made me feel more comfortable. Not having to use a menu that someone else touched made it less stressfully and my food came out great", said Leah Kleiman, a resident of South Boston.
While a lot is still uncertain, the North End has remained one of the most unique neighborhoods in the city. It has used outdoor dining to bring in new customers as residents have accepted the changes and helped their local business thrive in a time when it is needed most.
"The North End has been a special place, and I'm happy that it still can be for a night out despite the restrictions," said Jack Schiderman. "Mother Anna's is my favorite place to go in the city and it hasn't lost it's charm."