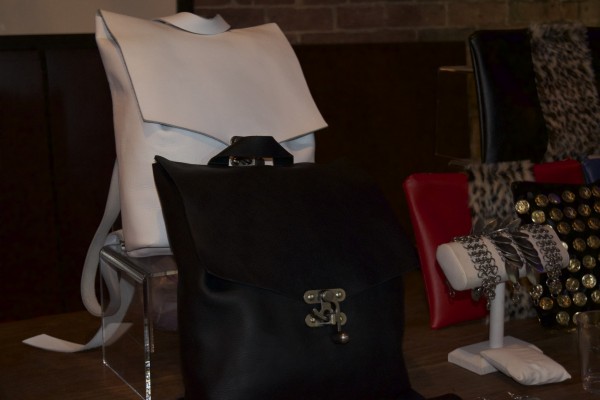 By Lauren Yandow
4/30/2015
Beginning at the age of 5, Taneshia Camillo-Sheffey had already ignited her interest in fashion. It all started with her participation in the entertainment industry as a model, singer, and dancer.
"With my love of performing, fashion was a natural extension for me and from the beginning was always a passion," Camillo-Sheffey said.
An early passion for fashion eventually turned into a trail of jobs in retail, visual merchandising and retail management for top brands, including Thomas Pink and Neiman Marcus.
Building a foundation in fashion, Camillo-Sheffey pushed to pursue the industry as a career and founded The Haute House Design Studio.
The Haute House Design Studio focuses on discovering untapped designer talent. "The show "Project Runway" was one of my favorite shows and a big contributor to my vision," Camillo-Sheffey said. "If there wasn't a show like "Project Runway," we would never know about the undiscovered quality designer talent there is."
Same as The Haute House.
The Haute House Design Studio handpicks its exclusive designers. This is how is works: Designer applicants submit a look-book and garment sample to The Haute House for review. The Haute House then goes through a process of elimination and chooses the designers it wishes to work with. Currently, 20 designers are signed to The Haute House.
The Haute House features designer, Dorothy Mensah's brand l.o.r. "I make my clothes for the everyday woman who's willing to express themselves through their clothing," Mensah said. "I love to use unconventional fabrics like vinyl. I like to think outside the box."
Originally from New York, Mensah said she'd like to see Boston gain a distinct fashion personality. "New York fashion, there's a lot of personality there. That's where a lot of my ideas come from. I want to see Boston step out of the box and express who they are too," she said.
Mensah said Boston fashion is progressing towards competing with New York but noted it's still kind of conservative.
"The beauty of having a business like mine is being able to mentor and promote my designers while seeing them grow as an individual and helping their dreams come true all while providing consumers with high fashion quality options that can be made custom just for them," said Camillo-Sheffey.
The Haute House showcases its designers mainly on a consignment basis. That means that "once a piece from their collection is sold, we both then get a commission portion of the sale," she said.
Camillo-Sheffey said the biggest challenges she faces is finding great designers who are both talented and able to deal with the business side of fashion.
Although the idea of The Haute House sparked in Camillo-Sheffey instantaneously, the name took much longer to develop. "It literally took me three years to come up with the name, The Haute House Design Studio," she said. "I wanted something that was striking and catchy to the consumer and easy to remember."
The Haute House Design Studio suited the business because "it's a house of all things haute and a design studio is used to describe where our designers create their work."
The Haute House is a global brand that attracts customers from New York to Los Angeles and Europe. "We are positioning ourselves to be the premier fashion retailer of all things fashion," said Camillo-Sheffey.
Featured Haute House designer, Rufus Dixon IV of Rufus Dixon IV Designs, is all about leather cocktail attire. "I like to do masculine meets modern meets feminine meets creepy meets fun."
A Marlborough Mass. native, Rufus Dixon IV said Boston's fashion scene needs to be built up. "It's definitely growing which is nice but it needs to expand much more. We all need to come together and build it," he said.
"Boston is evolving into a place where people in fashion want to be," said Camillo-Sheffey. Boston loves fashion but the envelope needs to be pushed more with creative events and product. "I want to make this a place where people from New York and LA will come and support our fashion weeks the way we support theirs," she said.
A look inside: FashionFusion
The Haute House Design Studio's Spring Fashion Pop Up Shop
On March 19th, 2015 the Haute House Design Studio hosted its Spring Fashion Pop Up Shop called FashionFusion.