By Shazia Yousuf
5/1/2013
The hundreds of immigrant Muslim students at Harvard University may have nothing in common: the color of their skin, their countries of origin, or their courses of study. But there is one thing they all do throughout the week. They wait for Thursday evenings when they can share, with their Muslim brethren, a delicious Halal dinner and their life's hardships.
The Thursday dinner is one of the many weekly programs conducted by Harvard Islamic Society for its diverse Muslim student population. The society was established in 1955 to cater to the spiritual needs of Muslim students and to strengthen their bonds as a community. Since then it has been hosting countless religious, educational, and fun activities for its members.
"When we come here, we get happy. And if someone is sad, we try to share his pain and lift his spirits up," said Na'eel Ahmed Cajee, a graduate student at Harvard Dental School. "No one misses his family here because we all make a family," Cajee added. Cajee points towards Abderhman Abushem, an 18-year-old freshman in biomedical engineering. Abushem eats quietly among a dozen of his Muslim friends. When his friends make funny faces and steal food from his plate, he gives them a smile but fails to hold on to it.
Abushem believes he is the only Palestinian student from the Gaza Strip at Harvard University. He earned a scholarship under the Harvard Financial Aid Initiative to do an undergraduate course in biomedical engineering. "It was a huge challenge to make this happen. It involved months of hard work," Abushem said.
Amid deafening sounds of bomb blasts and firing, Abushem recalls spending days writing his application form and strengthening his language skills. The biggest challenge, however, wasn't getting into Harvard but getting out of the Gaza Strip.  He needed special permission from the Israeli government and the US embassy to come here. "I was firm and so was my family because education has suffered in Palestine and I could not have pursued my dreams there."
Abushem entered in the United States in August 2012. Amid severe cultural shock and a language barrier, he made new friends and began doing well in studies. His aim was to blend with different cultures so that people remain clueless about his background. "It was not that I was afraid of my identity, but I wanted to focus on my studies and not to let my roots trouble me further."
But they did. In February, his application for ITIN (Individual Taxpayer Identification Number) apparently got rejected from the government because he owns a Palestinian passport and the United States doesn't recognize Palestine as a country. Without ITIN, Abushem cannot file his tax return, which means his parents will have to pay $3,000 annually, an amount they can never afford.
"I am devastated. My dreams shattered," Abushem said. "The International Students Office is helping me and encouraging me to apply once again but if my application is rejected again, I have no idea what will happen."
While Abushem's dining table is abuzz with laughter and teasing, the one opposite is full of whispers.  23-year-old Anne Myers talks to her Muslim friends about her relationship with her parents. A graduate student at Harvard Divinity School, Myers converted to Islam in 2008.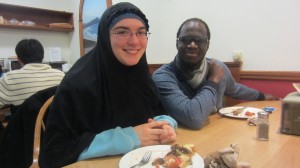 Born and raised in New York as a Presbyterian Christian, Myers got curious about Islam in her school when she read about it in a history book. After 9/11 when Islam became the most discussed religion, she decided to learn more about it.
"I was hearing so many negative stories about it and was curious to see if those are actually true, like if Islam allows men to kill their wives and treat them badly," she said.  After two years of reading about Islam, Myers told her parents that she wanted to become a Muslim, "They were not happy at all. They said you couldn't be Muslim and live in our house."
Myers waited until she began her college and moved out. In 2008, she entered Wellesley College and converted to Islam. Aware of the repercussions, she kept it a secret from her parents for more than a year. But one day, they found out. "Since then I have been trying to normalize the things," Myers said.
Myers joins her parents for all the Christian holidays. When she visits them, she doesn't cover her head or wear her regular veil. "I try to be the same to make them feel that nothing has changed between us." It might take her years, but Myers believes that she will win their hearts back.
As for Muslim holidays and festivals, she will not celebrate them alone. "She has so many friends to celebrate them with," said Ahsen Utku, her friend and classmate from Istanbul, cheering Myers up.