By Ching-Wei Lee
Chinese students in Boston say they often struggle with cultural differences but pushing themselves out of their comfort zone helps them to be stronger, more independent people.
Step out from the comfort zone is not an easy choice, people often have to make a hard decision from the reality and your dream. People have to overcome all difficulties that suffer from and face them alone.
One major challenge for those studying abroad is missing family back home. "It is painful to leave the place I am familiar with," said Victor Chen, a mechanical engineering student from Northeastern University now seeking a full-time job.
"I remember that my grandpa passed away during the pandemic, and I had to stay here to finish my studies and graduate on time to get a job or even stay here to get a work visa," Chen said. "It is the lifetime misery that I can't go home to see my grandpa for the last time due to visa, but it is also something I think must be sacrificed," he said.
In particular, may Chinese students come to Boston to earn a bachelor's or master's degree to get a higher salary working in the United States or back in their hometowns, but the language barrier can make it stressful to learn new subjects taught in English.
"I remember my first class when came to the United States, I couldn't keep up with the professor's speaking speed, and I wanted to cry because it was the first time I studied in a non-native language," said Maddy Lin, sophomore at Boston University. "But then I decided to adjust myself, preview the content of the class before class, listen to the recording during class, listen to the recording after class, and keep up with the things I don't understand, so I gradually get used to the American speaking speed and expression mode," she said.
It shown that English only takes up 8% of the whole curriculum in China, which is less than one-third of the time spent studying Chinese languages according to China government. Chinese students are not used to studying and speaking English when they in school or communicate. Most Chinese students consider language as the very first challenge when study in the United States. Therefore, some of them would go to the language school to improve the English before go to the university. At the same time, it reflects the differences between Eastern and Western cultures, especially in terms of education.
American students don't put in 17-hour days cramming for these standardized tests reported by Walt Gardner, who taught for 28 years in the Los Angeles Unified School District. In contrast, most students from Eastern cultures are forced to go to cram schools after school as urban pupils attend cramming classes for more than 10 hours a week, according to Deloitte, an accountancy firm.
Culture shock can be another issue for students from Asian countries who may no be used to expressing opinions and discussing their point of you in a classroom, so they may listen in silence to others during group discussion. "I think it's weird for me to explain my perspective at the beginning," said Randy Lin, an undergraduate student from Boston University.
"Later, I went to the office hour to talk to the professor or participated in some activities, and it was much better after I got used to speaking with native English speakers." Randy Lin said. Education methods in the East and the West are also very different. For example, in Eastern higher education, the professor usually lectures the whole class and the students absorb knowledge, while in the Western culture, education is more open-ended.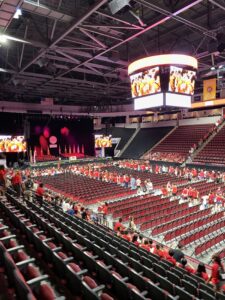 "When I studied in China, I studied from Monday to Saturday and only had one day off in a week which is really different when I study in Boston," Randy Lin said. In China, schools place high levels of pressure on students to compete and maintain high grades. American teachers have a bit more freedom, especially when it came to building a unique curriculum to meet student needs.
"I think the family structure and values are different from those in the East," Chen said. In the United States, people usually pay more attention to their own independent life or autonomy, while Asian cultures are more family-based, he said. "Even though they are already independent, their parents still regard them as children," Chen said.
Asians spend more time working or studying, and overtime is more serious, but Americans pay more attention to work life balance. "Without family members around, you can only find ways to solve problems by yourself or seek help from friends or professionals. No family members are around to give the most direct support and help is also one of the most culture shock when Chinese students study in the United States," Chen said.
Most international students come to the U.S. to study and work might be because the working mode and environment are really different.
The controversial 996 culture in China is really normal, it refers to a system in which employees report to work from 9 am to 9 pm, six days per week, for a total of 72 work hours rendered for their employers. However, it was decided by the government that this was illegal and an amendment was requested.
According to a 2021 World Health Organization study, it's estimated that one million Chinese die from overworking each year. Compared to the United States, it's normal to leave work at 5 p.m. when the workday ends, which helps to maintain good health and quality of life and decrease the high pressure and work overtime from work.
"For Chinese students looking for jobs in the U.S. when they graduate, it is difficult to find an employer willing to fully sponsor the visa application process, including financial resources," Randy Lin said. This is another type of the culture shock that international students' study in the United States found.
It is challenging for international students to secure employment in the United States after obtaining their degree. This is because it's difficult to find an employer who is willing to sponsor their work visa, which is necessary for them to work legally in the United States, otherwise, international students are not allowed to stay in the United States by holding student visa.
It is true that there will be many discomforts or cultural shocks when come to a new environment, but this is also where need to learn, respect and integrate into different cultures. "Don't be afraid to try, be more courageous to participate in teamwork, pay more attention to self-promotion, and chat with others to ask for their opinions to improve," Chen said.