By Mukala Kabongo
08/08/2017
In 2012, the shooting at Sandy Hook Elementary School in Newtown, Conn., devastated the country. The nation grieved with those effected by the shooting while many others tried to find a way to help spread awareness about bullying and violence in their own community.
James Gregory Payne and Spencer Kimball, Emerson College communication studies faculty, were challenged to come up with some that would curb violence in the community.
"Dr. Payne was sitting in class and one of his student said, 'Well, we can talk about this as much as we want but we have to get into the community to actually make a difference,'" said Kimball.
With help from Neil Harris, a volunteer at Bird Street Community Center in Dorchester, they were able to put together an initiative that provided workshops on bullying prevention and violence awareness in the community that the students live in.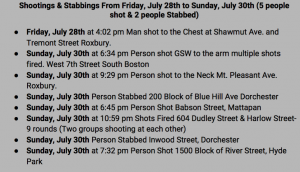 Payne, Kimball and Harris launched the Emerson Bird Street community initiative in 2012 to support young inner city youth of color who are trying to succeed within their community.
"It's been going on about six to seven years and we are constantly trying to find new and innovative ways to provide these kids with workshops with opportunities to see that there is a route towards higher education and a way out of the troubles that exist within their communities," said Harris.
Harris had worked with Payne with a September 11th candlelight vigil back in April of 2002 to remember the lives of those lost after the attack. Through their new initiative, Harris and Payne provided a forum for inner city youths to express themselves in a nonviolent manner by creating public service announcements.
Harris, Kimball and Payne wanted the students to find different ways to stay engaged and have positive dialogue and decided a public service announcement was a way to accomplish this.
"We found it better to go through activity-based learning. We provided workshops. We provided ways for them to learn how to make websites. We provided activities where they could create their own PSAs," said Harris. "In creating their own PSA they're actually creating the voice of reason that we as a society would like for everyone to uphold in order to engage in peaceful encounters and peaceful dialogue."
The initiative did not start off so well with only a few teens coming and going and not much commitment by those who attended. "Initially they were about eight to 10 kids and it was rough at the offset, the first going there were about five kids that dropped four remained," said Harris
Randy Boston, 20, a native of Dorchester began attending Bird Street Community Center when he was 12 years old and is one of the few who stuck around for the entirety of the initiative with Emerson College.
At the beginning, Boston was not too happy about being in the workshops or any other program but he made the most of the situation. "When I first started with those 15 or 16 people I was on the same page as them: 'I'm stuck in this hot room trying to come up with a PSA.' I was just not having it." said Boston.
Boston along with Djamilson Daviega, 18, and Astrid Vega,19, created a PSA on bullying prevention and conflict resolution due to witnessing fights at their school. The PSA focused on how a fight begins among high school students and showed how to resolve an issue a student may have with another student. 
Vega, who spoke on the phone from her home in Hartford, Conn., said that bullying is a problem that needs to be addressed."Bullying is a nationwide thing and something that often happens in the neighborhood," said Vega.
The PSA workshop helped Vega become more social among her peers and making her less temperamental. "With Emerson College, Dr. Payne and Spencer, they forced me to communicate with others even though I'm socially awkward," she said. "Communication is better than our fist."
Boston, Vega and Daveiga stuck together and continued with the program they said became very beneficial.
Daveiga used the community center as a getaway from his neighborhood and also from home. "Grew up in a rough neighborhood, around violence seeing a lot of unpleasant views so that was just to clear my mind away from that," said Daveiga.
By sticking around, Boston and Daveiga said were able to reap the benefits of the initiative such as participating in the "What's Your Dream" speech contest at Emerson in which the students create their own essays inspired by leaders the likes of Martin Luther King Jr., and Nelson Mandela among others.
They also had the chance to come to Emerson's campus to sit in a class with Payne and Kimball, as well as visit Washington D.C. to tour the Verizon Center and watch a NBA game and meet Emerson alumni in the D.C. area. gaining an interest in attending college.
"The conversations we have with students is about going to college and having a career," said Kimball. "It was initially, 'How do I stay out of this gang? How do I not get involved into these fights?' And now we are starting to have conversations where they see different opportunity."
"If it wasn't for Bird Street I'd probably be in a gang or doing something I'm not supposed to be doing. Instead of helping the world I'd be hurting the world," said Boston.
Daveiga and Boston said having a community center with positive male figures has had a positive impact on their lives. Being able to have someone outside of their parents has done wonders for these two young men. "I had my immature moments, we all do," said Daviega. "But I felt like where I needed to be and what Dr. Payne was telling me I was able to soak it in and take it into perspective."
Boston offered a similar assessment. "I wasn't the easiest kid to mentor to help out and Neil did a good job of just listening and putting his input of helping me understand the bigger picture," he said.
Vega will be attending Manchester Community College this fall and plans to major in biology. Boston will be attending Quincy College this fall where he will major in business and Daviega is set to attend Bunker Hill Community College in Charlestown, then plans to transfer to Fitchburg State University. He plans on pursuing a career in the medical field.