Janine holding her mother's hand. Photo By Janine Mecrones
By Katie Mulkerin
Even in this age of COVID-19, not all medical workers are essential.
Folks may think Hospice workers, who generally take case of the sick and dying, might be in demand during the pandemic, but the opposite is true. They typically visit people's homes, but with COVID-19 spreading, families don't want them to enter.
The age of hospice patients makes it especially dangerous for outside workers to visit their bedside. Currently the United States is looking at over 5 million confirmed cases of COVID and 161,000 deaths. The highest at-risk population for COVID-19 is between the ages 65 and 90.
The virus targets the elderly and immunocompromised folks with the average age of death being 82 years old.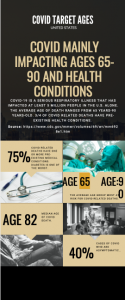 According to the National Hospice and Palliative Care Organization, in 2017 about 64.2% of Medicare hospice patients were 80 years old or older. However, any individual of any age can become a hospice patient. The average age of hospice patients and folks most susceptible to the coronavirus are nearly the same age. The problem is that sometimes COVID-19 can be even more fatal than their terminal disease.
Sometimes hospice staff need to make the decision about whether they will put their own families in harms' way by interacting with patients who may have COVID-19.
"Being a hospice nurse during a pandemic has been exceedingly challenging being out in the community [and] going into strange homes with multiple people in the homes, there's a certain protocol that the community health nurse needs to follow in order to ensure everybody's safety," said Janine Mecrones, a registered Nurse who has been a Hospice Nurse at Hospice of the North Shore for nearly 10 years.
"Being a hospice nurse is very rewarding and humbling, I especially love the teaching aspect of being a hospice nurse and meeting people from many different cultural diversities and respecting their cultural backgrounds. Especially at End of Life.
Mecrones puts on her mask each morning before leaving her home in Medford. She recently moved back to Medford to care for her 87-year-old mother, Ann. Mecrones and is extra cautious to use the back door of her home and avoid close contact with her mother. In order to protect her mom, she's been working on and off weeks to prevent any spread of the virus.
Mecrones drives up and down the north shore waiting for her boss to call and tell her who needs to be admitted. She steps out of her Nissan Altima and approaches a different family's home every few hours. Most of the patients and families are relieved to see her as she's able to comfort the patient and give the families a break.
Mecrones said one important rule of thumb emphasized by all clinical managers is to make sure the patient wears a face mask during the visit and also make sure family members wear facemasks. They try to limit the visit to just the patient and no more than two family members present at one visit
"There are a series of questions that the hospice nurse needs to ask prior to entry into the patient's home which include 'does anybody in the family have a fever–has anybody left the country in the past 14 days–has anyone returned from another country in the past 14 days etc."
Everyday new data and statics are released. Most data that US news outlets report, and reference come from the CDC and the WHO. No data set is one hundred percent perfect. There will almost always be different circumstances for different cases that skew the numbers.
"If a patient should test positive for COVID-19 and they are considered terminally ill, if and when they pass away with a primary hospice diagnosis such as congestive heart failure or chronic obstructive pulmonary disease, their death is considered related to the diagnosis. A lot of patients that did come down with COVID-19 were fragile and terminally ill to begin with–putting them at risk for contracting the virus."
This is the case for most COVID-19 deaths but with an abundance of cases, one can wonder if all hospitals and organizations are following the same protocol as this reputable hospice organization.
The pandemic has also brought new complications for nursing students graduating during the COVID-19 era.
"I was already so timid and scared entering the field cause I'm so new and fresh and honestly really have no idea what I'm doing just yet. But to have a pandemic on top of all of those nerves of being the new novice nurse is terrifying," said Caitlin Catania, a 2020 graduate from Plymouth State University.
Catania just passed her boards to become a certified Registered Nurse. Catania plans on becoming a Hospice Nurse and has communicated with Mecrones to gain insight into the profession.
"To have a pandemic on top of all of those nerves of being the new novice nurse is terrifying. The pandemic adds so much more stress to situations because not only do I not know what I am doing but neither do my higher ups and preceptors given this new and undiscovered virus."
Catania is connected to the nursing field after being inspired by a family member.
"I wanted to become a nurse because of my mom. She is also a nurse and my role model. She would always come home from work and talk about what she does and how she would save people's lives and change their lives on a daily basis."
Catania is just one of many nursing students who have entered into the nursing field during a world-wide pandemic. Veteran nurses share the same fears and anxieties as recent graduates but for many, these health heroes are inspired to help fight the pandemic.
"This virus is ever changing and scary to think even experts have no idea how it spreads. But the only thing we have to fight against this virus is hope. And I truly believe this virus has altered this country to rely on others more and support those in the front lines. This virus has made me proud to become a nurse and hopefully I can do my part to change health care for the better."
While Mecrones is a veteran nurse, her main priority is not just about protecting herself—but protecting her loved ones. Particularly, her 87-year-old mother. Mecrones worked through the pandemic and ultimately waived any leave of absence to honor her role as a hospice nurse.