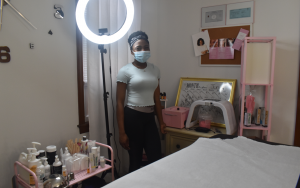 By Annie Williams 
After months of social distancing, who would think that eyebrow treatments or waxing services were on top of anyone's priority list?
But when self-grooming is neglected, estheticians and permanent makeup professionals are in high demand.
"I have clients come from Danbury, Hartford, Bloomfield, and I sometimes have New York clients," says La'Quam Easter, a Fairfield County, Conn.-based esthetician who speaks about clients she's seen since being able to reopen her out of home business that she transitioned to shortly after the statewide shutdown.
"Some of these people are referrals that I haven't met yet and are referred to me by other clients that feel like I do a good job," she adds. "I'm very transparent on my Instagram which is my main page, and I show people how I sanitize everything. It makes them feel comfortable and feel like they can trust me," says Easter.
Easter's most popular service she provides is facials, a practice that hasn't been permitted in the state yet because of the executive order in Connecticut that requires people to wear face masks in any public setting or where social distancing is nearly impossible.
Right now, Easter does full body waxing for her clients, which allows them to keep their faces covered during the appointment. Easter says her routine has changed a lot since reopening and since running a business out of her home, adding that she takes extra precautions to maintain a sterile environment for her clientele.
"So, at the top of my booking page for the clients, I have my guidelines laid out for them and since I'm home-based I like to send my address just 24 hours before the appointments and there I do remind them to make sure you've read and understood the guidelines," she adds, "Since I am a home-based I am the esthetician, the laundry woman, the janitor, everything so I make sure I clean everything that gets touched," says Easter.
Not too long ago, estheticians and permanent makeup professionals were in the same nonessential boat as tattoo artists who were expecting to open up in Phase 3 or Phase 4 in Connecticut.
That was until Truc Vu'u', a licensed tattoo artist, teamed up with Connecticut Association for Professional Tattooists to advocate for estheticians and professionals who do microblading–including herself–to be included in the second-phase reopening alongside them.
"We were making sure that we were on the same page just because we are in the same regulations with everything in terms of tattooing and inking bodies," says Vu'u.'
Microblading is a technique used to tattoo eyebrows onto someone's face who might not have any hair there. It is considered tattooing because permanent ink is applied under someone's skin using the same equipment as a tattoo artist doing artistic body artwork. Because it is the same practice, Vu'u' also follows infectious disease control and blood-borne pathogen guidelines so her routine hasn't changed that much since the pandemic.
"The only thing that's changed in we do temperature checks at the door, having clients wear masks, and us wearing masks ourselves–but I always wear a mask," says Vu'u'.
According to Vu'u', everyone's main concern was figuring out how to maintain a safe environment for customers when the time came to reopen. But for other estheticians and makeup artists reopening was just a general concern for some.
Lesli Patroc is a certified makeup artist and esthetician from Worcester, Mass., who says that self-employed individuals like herself weren't allowed to collect for about a month and a half. But when that day came, she was denied the right to file because she has a retail job and a combined income with her husband.
Patroc's main source of income is her makeup and esthetician business but was able to receive her hourly pay from her retail job during the pandemic. Patroc is considered full time because she works 32 hours a week there. But the mortgage, car payment and other bills haven't gone away and worries that replacing all of her products may affect her business reopening on time.
"The thing is, I deal with product," she says. "So, I need to repurchase everything where at this point in the game I would probably be repurchasing things because I had gone through them," says Patroc, adding that she needs to make new purchases because her products have now expired.
Since then, businesses like Patroc's have been able to resume operation as of June 22. But before then, Patroc says the attitudes her clients had about coming back for services was a split between ready and extremely hesitant.
"Yeah, some of them are like, can I come to your house? Like some of them are knocking on my door asking what's going on and some of them are pretty hesitant, which I don't blame them," says Patroc.
To supplement some of her income, Patroc says she has hosted makeup classes over Zoom–something that she would normally do face to face, now accounts for about 25 percent of her business.
Before starting her own business, Easter was renting out a space to conduct her services. When the pandemic hit, her landlord was concerned about reopening.
"They wanted me to pay rent two weeks early before we even knew that we were getting shut down, and I didn't feel comfortable writing out the check because people were already canceling their appointments with me before the shutdown," says Easter. "I didn't want to write a check for them in case it didn't go through. They didn't like that answer," she says.
Now working out of her home, Easter says, in the beginning, it was hard because she didn't have many clients but has now maintained a steady and consistent clientele.
During the pandemic, independent contractors and entrepreneurs have had to get creative to support themselves and supplement their income. Vu'u' says that people in this industry need more support and representation because even though there might not be many of these professionals, the work they do is essential.
"As a tattoo artist, we have a license that we have to renew every two years, " she says. "We have to get training in blood-borne pathogens, CPR– all those things–so our license has trained us to handle anything infectious including COVID," says Vu'u.'  "I think if anything, we should have been the first people to be able to open."
Vu'u' says she hopes that in the future people in her field as well as tattoo artists will be considered as viable industries so they can reopen just like hairdressers.
Patroc has a client who is a cross-dresser and was turned away by a lot of estheticians based on discriminating factors. When they met with Patroc, she welcomed them with open arms and she says she feels because of this that her work is also considered overwhelmingly essential and therapeutic.
"The world isn't always as accepting,"  says Patroc. "I don't care what you look like, who you are, I'm going to take you in as my own."