By Yuxiao Yuan 
04/23/2014
Mexico and Guatemala accounted for nearly 80 percent of the record number of people deported in the past year, according to the U.S. Immigration and Customs Enforcement. About 240,000 Mexicans and 48,000 Guatemalans were deported in fiscal year 2013, representing 65 percent and 13 percent of the deportees respectvely.
To seek better living conditions, many undocumented immigrants risk their life in crossing the mountainous and desert areas along the Mexican-U.S. border. But they find life is not easy here either. Being undocumented can end up in jail no matter how many years have passed.
Milton Guevara's family: in fear of being back to a country of violent gangs
Milton Guevara, 30, came to United States from Guatemala to get a job in November, 2005. He was hoping to send money back to support his wife, his 2-year-old son and 1-year-old daughter. Hurricane Katrina hit Guevara's hometown in August of that year, destroying his family's entire crops.
Besides unemployment, the other reason that makes Guevara feel insecure about his home country is the criminal gangs there. The two largest gangs in Guatemala are Mara Salvatrucha and Barrio 18. They've been involved in robbery, extortion, drug dealing and human trafficking. One of Guevara's cousins was killed by a  drug trafficker.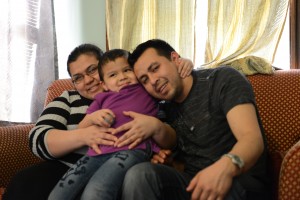 Guevara settled down in Framingham, Mass. and has worked for a carpet company ever since. His wife Araly Viana  followed him to the U.S. four years later. Their third child Jose Guevara was born in 2011. They have not gotten a chance to bring their two elder children here yet, who are  now 9 years old and10 years old.
On June 18, 2013, Guevara's immigrant status was checked when his American co-worker was driving them to work. Their car was pulled over by a state police officer for an expired inspection sticker. Guevara showed the officer his Guatemala ID. Because of the federal Secure Communities program, which allows local law enforcement to hold undocumented immigrants before ICE come to take them, Guevara was taken to the Plymouth County Correctional Facility and held there for four months.
Although Guevara has been released, he needs to check in with the Plymouth detention center every three months and is still facing deportation.
Check the video below to listen to Viana talking about her feelings about Guevara's situation.
Israel Villeda's family: impacts of being detained still last
Israel Villeda finally went home after not seeing his wife and two sons for almost two months. But when his sons jumped to hug him, he stepped back.
Villeda rushed to the bathroom, discarded the clothes he wore and then took a long shower as if he wanted to wash off the two-month experience in jail as well.
His boss, the owner of the Old San Juan Bakery in Springfield, didn't expect him to go back to work immediately, allowing him to take three days off to readapt to the reality.
But Villeda refused. He pretended that life had never been interrupted by those two months.
46-year-old Villeda has lived in this country as an undocumented immigrant for 10 years. He pursued his wife, Mayra Montiel, who was his girlfriend at that time, from Mexico to Massachusetts, built his own family here, not feeling his life was different than other U.S. citizens at all until he was picked up by  ICE last year.
Villeda was driving his two sons, 9-year-old Ian and 6-year-old Erick to school that day. He scraped the car of a woman who called the police right away.  Villeda was arrested for driving without license.
Villeda first sensed an anti-immigrant sentiment when the woman's lawyer threatened him that he would end up in jail for two to three years because he was illegal. "To have someone point at your face and say that you are illegal is not something that I used to," Villeda said.
Villeda said the woman's lawyer reported him to ICE. Villeda was then brought to the County Correctional Facility in Ludlow where he was locked up for two months, an experience that affected him and his family  physically and emotionally.
To pacify her two sons' unease, Montiel lied at the beginning that Villeda would be home the next day. However, when two days, three days and even one week passed and Ian and Erick still didn't see their father they became  more insistent on figuring out what happened to him.
After knowing the truth, Ian and Erick began to pray every day that Villeda would be back quickly. Erick's teacher called Montiel, saying that Erick became increasingly distracted at school. "I didn't want to tell the teacher that my husband was arrested and dealing with immigration, but she knew something was wrong," Montiel said.
Despite the agony of not knowing what his family was going through, Villeda decided not to let his children visit him. "Imagine for months, I was not able to shave because there was no razor there or the razors available were used one," Villeda recalled. " I don't want my kids to see me with the beard and the orange jumpsuit."
Suffering from anxiety, Villeda didn't want to eat anything in jail. He dropped two pant sizes and 36 pounds. The impacts are lasting even after Villeda was released. "I don't taste what food tasted anymore," Villeda said. "It's been a traumatizing experience."
The immigration court will decide whether or not to deport Villeda either in July or November. Montiel said the traffic incident and ensuing  detention have instilled a deep fear in the two children. Now whenever their father is driving, they will warn him and become nervous when they see police nearby.
Check the video below to listen to the two little boys' feelings.
https://vimeo.com/92778960