By Jason Savio
04/25/2016
The Mashpee Wampanoag's First Light casino has certainly faced plenty of outside opposition, namely Mass Gaming & Entertainment and its supporters for a Brockton casino. While the people backing up Mass Gaming & Entertainment's proposed casino have voiced their opinion, there is a whole tribe of Wampanoag citizens who also have an investment in and an opinion on what could be a major turning point for their tribe.
The April 5 groundbreaking ceremony for First Light Resort & Casino encapsulated the collective spirit and energy of the Wampanoag tribe. Inside a packed tent on the future site of the First Light casino in Taunton, members of the Wampanoag community gathered at the ceremony to usher in what they are expecting to be a new chapter for their tribe. Before delivering a rousing drum performance at the beginning of the proceedings, cousins Brian and Attaquin Weeden, part of Eastern Sons drumming, offered their take on the milestone event.
"It's a big deal for our tribe and our people because it's something that will help us and sustain us with economic development for future generations to come such as education, housing, and things like that," said Brian Weeden. "So it has been a long time coming and I'm just happy that I'm here."
His cousin Attaquin Weeden sees the revenue from the casino helping to open up doors for future generations. "A casino opening up allows a lot of opportunities for our people," he said. "As far as the younger generation, we can provide them with more money and stuff to go on trips and travel, to become better leaders. A lot of the funding can definitely go towards leadership for our next upcoming youth council that we're working on today and more so just opportunity," said Attaquin Weeden. "To live in today's society you need to have some type of money, honestly, and we never really had a currency back in the day, but this is actually allowing us to live a comfortable life within today's society."
In the audience with his family, Aneba Costa, a Mashpee native and Wampanoag, came from his current residence in Minnesota to watch the ceremony. "It's part of my tribe. We've been waiting a very long time, almost 33 years, and we finally got our land (into trust), finally got recognized," said Costa.
When asked what he is looking forward to most about First Light opening up, Costa said, "the job opportunities for the tribe and for the rest of the community. For the whole state—it's going to open up so many jobs for the state."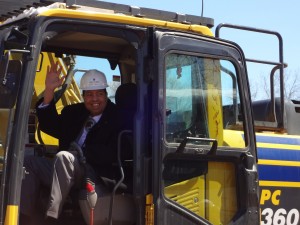 But not every person in the Wampanoag tribe back in Mashpee is all in on First Light. Morgan Peters, director of black studies and associate English professor at the University of Massachusetts Dartmouth, isn't completely sold on the idea.
"I have mixed feelings. I'll lay it out that way," said Peters.
Peters may be unique as a Wampanoag in the town of Mashpee willing to speak openly on the matter of his tribe's first casino. When contacted, the Wampanoag tribe representatives redirect callers to their casino advisor, Mark Forest, who will advise everyone to speak to him and only him and not anyone from the tribe's council. Tribal members working at the Wampanoag museum also stay mum on the topic. Peters, however, has concerns he isn't afraid to voice.
And while supporters of New Light mention the new jobs it will create for tribe members as a selling point, when asked about it Peters isn't so sure how that will benefit everyone."That's the thing," he added. "Not everybody is cut out for that kind of job."
There are those in Mashpee who do support the tribe's casino push and aren't even tribe members. Executive director of the Mashpee Chamber of Commerce, Mary Lou Palumbo, is on board with the Wampanoags having their own casino and believes that it won't alter the relationship between the town and the tribe.
"I don't think that it's going to change anything except that it's a life-long dream for them and I think we're happy to see that come to fruition," said Palumbo. "One of the great things about Mashpee is that it's very diverse and people really get along and have a lot of respect for each other. It wasn't always that way, but we've come a long way as being a diverse community."
Other town officials aren't as forthcoming, however. When asked about the casino, the Mashpee town manager declined to comment, citing that they're still working with them on it.
While it may take time to see whether or not First Light lives up to its promise of economic development for the Wampanoag tribe, Peters noted other pressing matters that should get handled faster.
"When we have a food bank that is seeing high traffic because so many people in the tribe are low income, telling me about a casino that's coming is not doing anything," said Peters.