By Martha Konstandinidis 
Local florists are feeling the pinch when it comes to surviving financially in the pandemic.
The $6 billion industry took a hit in recent years as more e-commerce and supermarkets led in consumer sales. Steering business away from local shops, wholesalers, and farms, there has been a 1.9 percent decrease in the last five years, according to IBISWorld, an industry market research organization.
Many florists are working hard to survive. Some are sustaining themselves with pure passion for his American Dream.
Opening a floral shop in early February was the start of Angel Diaz fulfilling his American Dream. Challenges swarmed the new business only weeks after his debut when the novel Coronavirus hit the United States.
The pandemic wiped millions out of work in the U.S. for safety, but many local businesses like The Centerpiece Flower Shop were not prepared to shut down. Diaz was forced through a trial period where he worked with minimal resources but continued to enhance his craft and build a client base.
"I grew up in Venezuela, and when I was little I used to help my grandmother to do her garden," said Diaz, "She used to bring me with her to take care of the flowers. She loved roses, and she was always telling me how to take care of them."
She would ask Diaz to water the garden, cut perished leaves, and apply mulch among other care tips. Growing up in a full house pushed the florist to spend more time with his grandmother, inspiring his life path.
"I opened a week before Valentine's Day, Feb. 7. I won't forget that day," said Diaz.
As a new business owner, he as excited to begin this journey especially so close to one of the biggest holidays for the floral industry. Having taken over a previously established floral shop, Halls of Tara, Diaz had to find ways to gain clientele to make up for those who weren't interested in his designs.
While working through the challenges of opening a business, more coronavirus outbreaks were being reported in the U.S. leaving many confused with what was on the horizon. With numbers increasing daily, The Centerpiece Flower Shop was forced to close like all other businesses that were deemed unessential.
"They were talking about old businesses but no new businesses at all and I said, what's going to happen now? Because I didn't have any documentations and I couldn't use the previous owner's documentations to support a new business. They said I'm sorry, they replied to me saying I don't qualify for anything," Diaz said. Being denied loans and Payment Protection Program checks, the flower shop was facing challenges on multiple ends to stay open.
Adapting was the only option in order to move forward. With no employees, no government funding, and a positive mindset, Diaz began to make plans to start gaining sales again.
"Just because there's a virus doesn't mean the bills stop coming," said Stephen Guerrero, Diaz's husband and occasional helper. With sales coming to a halt for two weeks, Diaz and Guerrero were not only concerned about keeping a new business afloat but also on how this affected their personal lives.
With numbers already declining, the pandemic will be damaging in its effect on annual revenue in the industry, but many are still hopeful in the future.
"We package as much as we can and try to keep the business viable at a much lower level than before. Just anticipating growth, we're going to bring people back as we need them but I don't know what kind of growth to expect," said Bob Hall, owner of Kelley's Wholesale.
Kelley Wholesale Florist was one of the few retailers that Diaz was able to get his daily fresh flowers from since most were shut down. Traveling to these locations was another challenge that piled on to Diaz's list of duties and potential dangers. The trip required the florist to take more time out of his busy schedule to get fresh flowers.
"We had to go to the flower market in Chelsea, like that was stressful for me because we were hearing stories out of Chelsea like extremely hard hit by the coronavirus," said Guerrero.
Many things were required to keep the shop operating, and this kept the one-man band on the run while most were in isolation. The stakes were high, but the dedication to the shop and fulfilling the dream inspired by his grandmother made Diaz push harder. Emails slowly started to pour in, confirming the path was meant to be.
"I start getting emails from customers saying that they were with me on this, and people were saying keep doing because your work is amazing, we love your work."
The supportive emails from those around the West Roxbury area included customers, and other local organizations like the Gormley Funeral Home. The funeral home has been an avid customer of the shop, and even encourages many of their own clients to use Diaz's services.
Centerpiece proved they were there to support the community despite any issues that were taking place in the world, which was why Gormley decided to test his spirit upon meeting. Desperate to get some arrangements in for a family funeral, he asked for Diaz's assistance instead of going to another trust florist just a few doors down. His designs, arrangements, and floral choices kept the funeral home coming back.
"Richie Gormley, the guy who owns the funeral home next door, does a huge Irish dinner at the Irish social club in West Roxbury and he asked Angel to do all the centerpieces," Guerrero described.
With encouragement from the town, The Centerpiece Flower Shop was still able to function but had to follow strict restrictions from the state. As soon as he could, Diaz was waking up early to begin his new routine that allowed him to pursue his love of flowers and bringing people together. All while social distancing, wearing his face mask, and staying protected throughout the delivery and arrangement process.
"I was doing deliveries by myself, I was taking orders, making the arrangements, cleaning out the space, and making things the way you see it now and, of course, I'm with the same energy the whole time," Diaz stated.
As deliveries were underway, the business owner was concerned that public health officials would force him to shut down. Diaz minimized his services to funerals because there weren't any restrictions that didn't allow funeral deliveries at the time.
Weddings, prom, and other special events were cancelled which left many florists struggling to stay open. Funeral arrangements were the only orders that The Centerpiece Flower Shop received for weeks in April.
As Mother's Day rolled around, Centerpiece Flower Shop saw sales spike since they were one of the few shops still open for business. Diaz said, "They [clients] were looking for a local florist because during this pandemic, they said that they wanted to also be part of helping, and I think I was one of the few flower shops in the area that were open, and I was able to take those orders and work with those customers."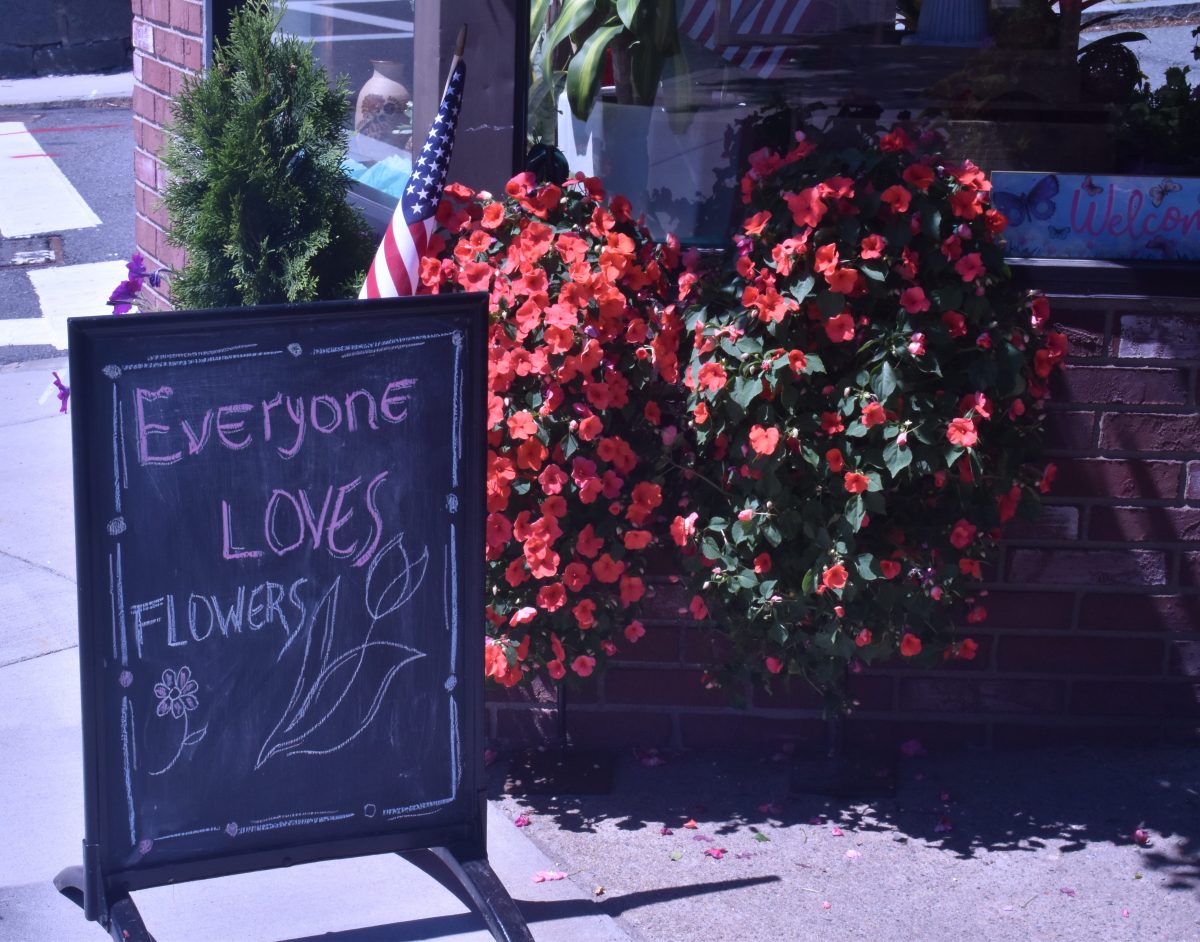 Moving forward with no contact deliveries, Mother's Day marked the beginning of the positive sales trend for the new businesses. The new business is still building its client base, but those who have purchased arrangements from Centerpiece were extremely impressed with the services.
"I had no idea this amazing shop was right down the street, and my colleague told me they were wonderful to work with. Since then, they have been my neighborhood go-to and have yet to have a complaint," said Casey Kavanagh, new customer at the Centerpiece Flower Shop.
Even as a new shop, the enthusiasm maintained by Diaz has brought the community together in many ways. Connecting with different customers, businesses, and organizations put the florist on the map the last few months. Feeling as though the flowers he designed had an impact on the community, there was a desire to bring light during difficult moments.
A behavioral research team at Rutgers, The State University of New Jersey conducted research on the link between flowers and life satisfaction. Research findings published on About Flowers, stated that flowers have an immediate impact on happiness, have a long-term positive effect on one's mood, and can help people make intimate connections.
Through his enthusiastic nature, the support for the shop is still growing today. Although business isn't running at full speed yet, The Centerpiece Flower Shop is already a town staple. Diaz said, "To receive from people feedback, I said you are in the right spot, making what you love to do, and also making people feel better based on any occasion they were sending flowers to."