By Douglas Yu
4/25/2014
It was a warm spring season at Houston, Texas in 2008, and it was the time for many 18 year olds to get ready to graduate from high school. Kristopher Sharp was not lucky enough to be one of them.
After spending nearly half of his life in the foster care system where he says he used to be bullied and physically abused for being gay, Sharp aged out of the system at 18. Then,  he faced six months  of homelessness.
"When I was in the foster care system, I stayed in about 27 different homes," Sharp said. "When I became homeless, I felt the need to survive, so I was engaged in survival sex to meet my basic needs, such as to find food, a place to stay overnight. I was very vulnerable."
During the six months of being homeless, Sharp also found a hard time reuniting with his family. He said his father is a Vietnam War veteran and suffers from PTSD (Post Traumatic Stress Disorder), and his mom was abusive. Sharp was often found significantly bruised at home due to his mom's violent behaviors.
That is how he ended up in the foster care system at the age of 10. He is not alone. In fact,  more Lesbian, Gay, Bisexual, and Transgender  (LGBT) youth are kicked out of their homes by  parents than those who age  out of the foster care system, according to National Gay and Lesbian Task Force. Nearly 60 percent of them say they became homeless because of family rejection.
The concerns over of LGBT  youth do not end with the homeless statistics. A recent study found an increasing number of LGBT young adults who face  problems involving mental health issues, violence, substance abuse and more.
The U.S. Department of Health and Human Services (HHS) estimates that the number of homeless and runaway youth ranges from 575,000 to 1.6 million per year. The National Gay and Lesbian Task Force's analysis of the available research suggests that between 20 to 40 percent of all the homeless youth are identified as LGBT.  Given that between three and five percent of the U.S. population identifies as LGBT, it is apparent that LGBT youth experience homelessness at a disproportionate rate.
In Boston, several agencies and drop-in centers, such as Youth On Fire, BAGLY and GLAD provide services and support to LGBT homeless youth. However, no single shelter that targets this group of people was in operation until recently; Youth On Fire provides a certain number of beds for them to stay overnight.
Gary Gates, a researcher of LGBT demography at Williams Institute of UCLA, has been involved in many studies of LGBT homeless youth for years.
"I think the situation for LGBT youths varies dramatically depending on where they live. And there are other areas where it's quite a bit of a stigma attached with being LGBTQ," Gates said.
Gates pointed out that it is quite unusual to have a shelter or provider that only serves LGBT people nationally.
Things started changing since Massachusetts Housing Shelter Alliance (MHSA) launched a housing program for LGBT homeless youth earlier this year. This new program will provide 32 units of permanent supportive housing for LGBT young adults between the ages of 18 and 24 in Greater Boston and Western Massachusetts, according to the MHSA's executive director Joe Finn.
"They don't have to go to shelters. The adults shelters are not good places for any young adults, and it's a more difficult spot for LGBT young people," Finn said. "Young adult homelessness is manifested in many different ways. They come up different other ways to survive instead of the traditional shelters."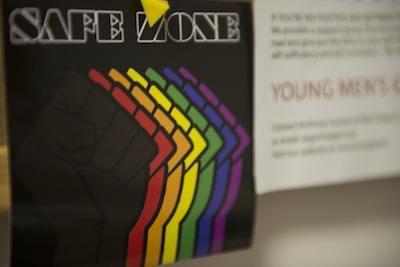 The Cambridge GLBT Commission has indicated many LGBT homeless youth either choose to wander around the street or to survive through couch surfing.
Finn noted that LGBT youth can face a complexity of problems when they are in this transitional age. "A lot of folks are transitioning out of youth services into adult services," Finn said. "So the whole issues that they are facing is that they are better served when they are housed."
Allison Lex, MHSA's director of development, explained by giving an example of why being housed among the general homeless population is better than being in a separate shelter.
"I know when I interview people for their stories, one of the things many homeless people said is that when they are on the street, when they have medication that they are supposed to take for their blood pressure or mental illness, and if they don't have a home or a place, they can't keep their medicine or they can't keep track of whether they are taking them," Lex said. "So when they have a home, it helps increase their health too."
In March this year, MHSA received $20,000 from Boston Foundation to support moving its housing programs forward. And among all the beneficiaries, transgender people's situation will be "dramatically improved."
"Quite honestly, it was discrimination. [Transgender people] didn't fit the paradigm of services," Finn said. "If you have male to female transgender person coming in, you have a dorm full of women (who) may have been traumatized by men. That was very concerning sometimes to those women."
Finn also mentioned that because some training had been done among employers and shelters, the situations of homeless transgender people had improved, but not entirely changed.
Gates, however, thinks that most youth shelters are LGBT-friendly, and it is a better solution to design a homeless youth program that is also accepting to LGBT kids as opposed to building shelters specifically for them.
"However, within certain services, there are programs that are transgender people," Gates said. "There is evidence that transgender kids in particular have difficulties finding employment."
In a Cambridge GLBT Commission meeting, Cambridge City Councilor, Marc McGovern said there is now a new program set up with the Cambridge Housing Authority for LGBT homeless youth to get vouchers for permanent housing.
"Affordable housing is a huge issue," McGovern said. "I can't say specifically we are going to sponsor a program that's going to be targeted at LGBT homeless youth and that's not something you want the city to run anyway. But what I want to see is that the city can support Youth On Fire, because they are the experts and they are the ones on the ground."
Besides the LGBT homeless youth on the street and the ones who have been housed, there is also noticeable percentage of them who live in between."They are not technically on the street, but they are not in a secure place," said Grace Sterling Stowell, executive director of the Boston Alliance of Gay, Lesbian, Bisexual, Transgender Youth (BAGLY).
Stowell said that a high proportion of LGBT homeless youth are exchanging sex for clothing, food and a place to couch surf.  She also noted more than 50 percent of the youth that BAGLY serves are identified as youth of color and they are facing economic challenges.
"They know that they will get money if they're thinking about immediate survival instead of long-term survival," Stowell said.
The direct consequence of sex-for-shelter for many LGBT  homeless youth can be HIV infection.
"It might be because they don't have information, they are not accessible to condoms," Stowell said. "So a big part of funding that BAGLY gets from the Department of Public Health is HIV prevention education funding. We do safe sex training and we also have young people work with their peers."
BAGLY's budget for creating programs and services to help LGBT homeless youth in Boston is over $1 million, Stowell said.  As a result, health-related funding is over half of its budget to pay for prevention education on HIV, substance abuse, suicide and violence.
"We also need to figure the reasons why some of them run away from home and drop out [of shelters] and to recognize that they may have lived in a situation that is really unsafe, and that's actually a good choice for them," Stowell said.
Health issues often develop for LGBT homeless youth.  Brenda Rose, Director of Housing Services for AIDS Action Committee (AAC) said anyone who has no home has difficulty seeing a regular health provider and making a medical appointment.
"I think it's a complicated for people to make a medical appointment when they are homeless, when they spend majority of their time figuring out where they are going to stay safe for that evening, where they are going to access food, resources and to take a shower," Rose said. "They are on survival mode. When you are sleeping in a shelter, you are still in a survival mode… It's not a permanent place. When you are housed, you have a sense of security."
Rose explained that LGBT homeless youth's health issues often disappear once they are housed. "Some of them are able to cook food for themselves and keep their medication," Rose said. "I think it's a right for people to be housed."
AAC is now implementing a housing program for LGBT homeless youth ages 18 to 24 by working with a couple of housing agencies, such as the Metropolitan Boston Housing Partnership (MBHP) and Cambridge Housing Authority (CHA), to provide different types of vouchers for them to have access to apartments in their own community, Rose said.
On Jan. 22, Youth On Fire's announced on Facebook that it was  going to hire a mental health clinician with AAC's assistance, since 10 percent of the LGBT homeless youth are suffering from mental illness, according to the National Gay and Lesbian Task Force.
"Sometimes, they suffer from depression," said Diego Sanchez, director of policy for Parents, Friends and Family of Lesbian and Gay (PFLAG) Nation. "There is discrimination and bias. So it's extremely important to reach out to our youth and talk about their problems."
Sanchez said as part of the effort to create a welcoming environment for LGBT homeless youth, PFLAG is bringing supportive parents to meet other parents to talk about their children. "Being kicked out by non-supportive families can be prevented," Sanchez said. "All the kids should be taken care of. We support families to get together."
"There is a lot of problems in the LGBT community, and I think we are not doing enough to be able to understand that homelessness is a huge issue," Sharp concluded on issues of LGBT community in the U.S., accentuating that homelessness in the community needs to be paid more attention.
"Gay marriage has achieved tremendously in our country. While marriage is important, so is the basic need of those in our community," Sharp said.
After graduating from the University of Houston-Downtown with a major in social work, Sharp now works at Gay and Lesbian Victory Institute as a Congressional intern in DC to support LGBT community.