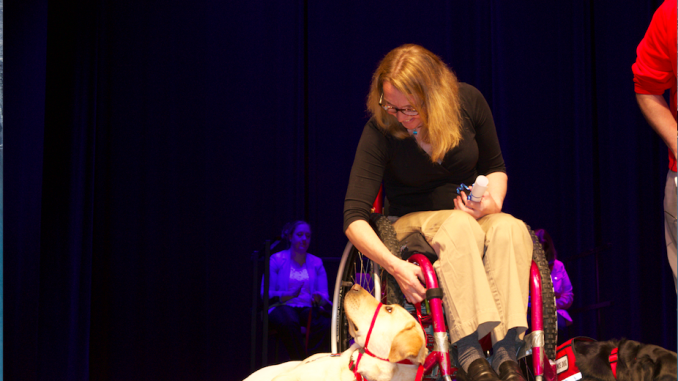 By Yining Chen
4/25/2016
A service dog was not a common sight until recently. The practice of using dogs to enhance the life of persons with disabilities became more widespread beginning in the 1960s.
Timeline of service dog history
Service dog types
There are several types of service dogs providing different services for their handlers. According to Service Dog Central, an online community of service dog partners and trainers, service dogs include guide dogs, hearing dogs, mobility dogs, seizure alert/response dogs, psychiatric service dogs, autism dogs, and more.
Service dogs can do many things. A mobility dog is able to open doors/drawers, retrieve dropped items, and even help pay at a cash register by putting its paws up on the counter and giving their human's wallet to the cashier.
Seizure alert/response dogs are placed with people who have epilepsy or a seizure disorder. They can alert another person when their handlers are going to have a seizure and sometimes they can be the cushion between their handlers and the floor.
Psychiatric service dogs can offer support to people facing the challenges of Post Traumatic Stress Disorder, panic attacks, anxiety attacks, Dissociative Identity Disorder among other mental disorders.
Due to the naturally heightened sense of smell, dogs can also be trained as diabetes service dogs which are able to signal shifting insulin levels, and allergy detection dogs which are trained to alert their handlers when they pick up on a scent that could be harmful.
Normally, a service dog can only match one client, but sometimes, one service dog can service many.
Beth Keane is a special needs teacher at Nathaniel Morton Elementary School. Late year, Keane applied for classroom a service dog for Austin through the NEADS (National Education for Assistance Dog Services or also known as Dogs for Deaf and Disabled Americans) Program, so a yellow Labrador, Beamer, became a special staffer in the school. Beamer quickly joined the classroom and became children's best friend. On NEADS's 2016 spring graduation day, Keane said, "Beamer has so far exceeded our expectations. He has helped us in those accomplishments that we never knew would possible to accomplish."
Service dogs can also work in hospitals to comfort patients.
The fight of service dog public access
Although the ADA (Americans with Disabilities Act) protect service dogs and their handlers in very considerate way, the fight of service dog public access is not over.
The ADA stipulates a public accommodation or facility is not allowed to ask for certification or proof that the animal has been certified, trained, or licensed as a service animal. When a person with a service animal enters a public facility or place of public accommodation, the person can only be asked by two questions:
Is the animal required because of a disability?
What work or task has the animal been trained to perform?" (ADA, part I-title II).
However, the laws don't help to distinguish service animals at all. People can't rely on a vest or ID tag because service animals don't have to have these. They can't ask people with the animal for proof their service animal really is a service animal because it is against the law. They also can't ask service animal handlers about their disabilities.