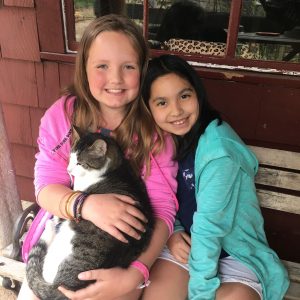 By Renee Taylor
08/12/2018
Jessica and Eddie Russo are enjoying a Sunday afternoon in the backyard of their North Easton, Massachusetts home. Their four children are close by making waves in their backyard swimming pool. Animal lovers, their three rescued pit bulls can be seen watching the family by the back door, while two horses are galloping in the distance within the safety of their large fenced in area.
Nothing appears out of the ordinary with this family, except for one detail not visible to the naked eye; they are being raised vegan.
Eddie and Jessica have both been vegan for a little over a year, and they have said that they would never go back to meat and dairy. "Only vegan, nothing else is served in my house," Jessica said.
However, many people disagree with the couple's choice to raise their children vegan and have even been vocal about their disapproval to the couple.
"I think that just the term "vegan" is just a term that's always been outcasted with society," said Eddie. "And it's something like, 'Oh, you're weird, you're vegan. You must be a weirdo.'"
Jessica and Eddie Russo discuss if they feel the term "vegan" is viewed negatively
Eddie said he also used to  believe that veganism was weird. But, he added, "doing the research and becoming more educated has really helped me open my eyes to all the benefits."
Jessica said the love for their three rescued pit-bulls really had changed their lives, and was part of their inspiration. Eddie said he also went vegan for his health, adding that since being vegan he has seen a major improvement.
"I have asthma, among other things,"said Eddie. "It was a big health concern.  Alzheimer's and dementia runs in my family too. So I really took a long hard look from a health standpoint what the benefits were, and results were amazing."
Jessica credits the documentary "Cowspiracy" as well as social media for her decision to become vegan. She feels that there is definitely a generation gap when it comes to people going vegan.
"I think a lot of it has to do with social media," said Jessica. "When we were younger we didn't have it, and we didn't see what was going on inside slaughterhouses. We didn't see how animals are being tormented in their everyday lives, and now that people can see that, I think it's changing a lot of people and opening their eyes."
Although Jessica has support from some in her family, she said not everyone is behind her choice to raise her children vegan. Jessica said she can feel the tension sometimes within friendships, and among other mothers. She said that she often has to bite her tongue in order to avoid further conflict on the subject.
"I do feel like there's a lot of resistance toward it, and I think it's because people don't understand.  We're all naturally afraid of what we don't understand," said Jessica. "And that's why I try to kindly and lightly educate people about how I feel about things, and not push it."
Jessica also stated that nearly all her favorite foods can be made vegan and kid-friendly. Some parents counter that their children are picky eaters but she encourages parents to give meat and dairy alternatives a solid chance.
Jessica & Eddie Russo share their thoughts of families who say their children are picky eaters
Eddie said he feels a lot of tension at family gatherings and dinners when he refuses to eat the food prepared. The couple often bring their own vegan options to  gatherings and encourage others to try their food. "You don't have to cook for me in a certain way," said Eddie, "but if you'd like to learn about it, I'd love for you to."
Jessica  said she feels uncomfortable when family members bring up the health issues they are experiencing, because she feels their diets have a lot to do their ailments. "They refuse to make changes and they'd rather pop a pill and help the pharmaceutical companies," said Jessica.
Jessica and Eddie Russo discuss being around family who are not vegan, and may not understand of the couple's choice. 
Eddie explained that watching the documentary "What the Health," also changed his perspective. "There was a woman there who had asthma similar to me, she was on an unbelievable number of pills and medications, couldn't walk for more than two minutes. She completely changed her diet and started weaning herself off the medications," said Eddie. "I'm seeing the same things happen with me after changing my diet, and the health benefits are real."
Jessica said that a lot of parents act concerned that their children will not grow up healthy without meat and dairy, but she said it's exactly the opposite. "Our kids are -knock on wood -healthy as could be," said Jessica. "They've been vegan for over a year and they're happy."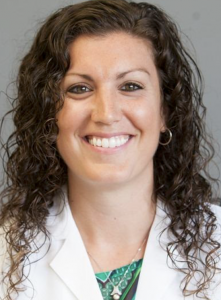 Laurie Garabedian, an osteopathic and family medicine doctor in Foxborough, Massachusetts said she feels children are better off leaving meat off their plates.
"Children don't need animal foods any more than adults do," said Garabedian. "In fact we know that children show signs of the earliest stages of cardiovascular disease as young as the age of 10,  and the sooner we start on a plant-based diet the better.
Garabedian added she plans to raise her own children plant-based and  she encourages patients with young children to do the same within her practice.
"The icing on the cake in regards to children is that Dr. Spock, who was arguably the most famous pediatrician of all time and the author of what is one of the best child care guides of all time,  "Baby and Child Care," actually recommended a plant-based diet for children in the 7th edition of his book before he died," said Garabedian. "Plants are for the health of everyone!"
Ten-year-old Rylee Russo said she and her mother lost a lot of weight going vegan, and she said that feels much better. But although she is very proud of her choice to follow in her parents footsteps, Rylee said some of the kids at school make fun of her for not eating meat. "I sometimes ignore them, but I kinda tell them to back off," said Rylee. She said it sometimes makes her feel out of place and uncomfortable, and she hopes that someday her classmates will change their minds.
Rylee Russo sits to answer a few questions about being vegan from a 10-year-old perspective 
Ten-year old-Gabby said she feels the same way as her sister. However, she added that she does not eat animals for health reasons.
Ten-year old Gabby Russo explains what she wishes non-vegans knew
Both children said their favorite foods included Beyond Meat Burgers, vegan mac & cheese, vegan pizza, and fruit smoothies. Both girls are active, into sports, and Rylee says loves running and swimming.
As for the cost of eating vegan, Jessica and Eddie agreed they actually spend much less feeding a family of six. Eddie said he feels strongly that if people didn't care so much about brand names and bought store-brand products than they would save a lot of money. "I mean how much is a head of lettuce, 16 ounces of asparagus and spices? You don't have to spend a lot of money."
Jessica and Eddie Russo discuss the financial costs of being vegan.
Eddie also found eating vegan isn't difficult when traveling for business. He recommends people call a restaurant ahead of time, ask about options or see if something can be made to order. "It never hurts to ask, and most of the time I have pretty good results while I am out," Eddie said. "People make more of big deal of it than it actually is."
The couple agreed that they will never go back to their old eating habits and hope others make the change.
"I wouldn't say 100 percent, but I do think the percentages are climbing every day," Jessica said, "and I think we are going to get pretty close."