By Marcelle Hutchins
4/ 21/ 2015
For many black women, hair is more than just an expression of style. It's an important part of their identity; it's a way of life. So it's unsurprising that many African-American women spend thousands of dollars and countless hours on their hair.
According to Mintel, a market intelligence agency,  "Nearly six out of 10 Black consumers wear a wig, weave or extensions," giving everyone the opportunity to switch up their look.
Thanks to the growing demands for hair relaxers, wigs, and weaves, beauty salons in Boston and surrounding areas are providing a wide range of services, including treatment for hair loss, up do's, braids, hair extensions and chemical relaxers.

(This graph above shows the cost of black haircare industry in the United States beginning in 2009 when it was at $9 billion. Source of information is Good Hair, the Huffington Post, and Mintel.)
"We're very diverse, we get every ethnicity in and out of our salon. We cover every aspect and texture of hair," said stylist Shellee Mendes.
Mendes is the owner of Salon Monet, a full-service hair salon and brow and lash boutique business on Newbury Street. As more women are opting for hair relaxers and weaves, Mendes' goal is to achieve the desired style in a healthy way. Oftentimes she said over-processing the hair can lead to hair loss, "but I use a very gentle relaxer and don't apply it to the scalp. A lot of it is knowing what your hair can take."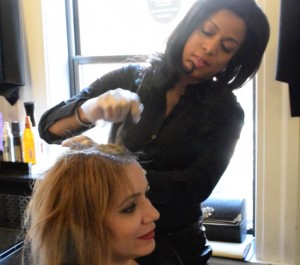 Situated on Dorchester Avenue, Princess Cedino's salon helps women and men everywhere feel their best. About 25 years ago, Cedino opened Princess Hair Palace and like Salon Monet she caters to all races. "We offer braiding, weaving, hair cutting, hair color, hair transition, but emphasize mostly on hair care because a lot of women keep losing their hair through chemical process, braiding, and all types of stuff they do," Cedino said. "Our goal is to get our clients happy. This business takes a lot of time, dedication, but it's worth it."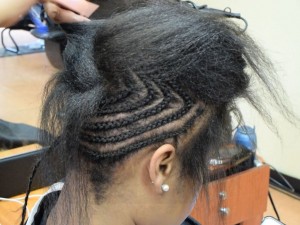 Many women place a lot of trust in their hairdressers, and for some they rely on their hairdressers to keep their hair looking somewhat decent. For Erica Tvon, that's exactly what she aspires to do at Empire Beauty School in Hyannis where she wants to become a certified beautician.
Tvon's passion has always been to do hair despite teaching Spanish full time. "Doing hair is something I've always wanted to do, and to be honest I'm not making a lot of money as a teacher," she said. "Once the school year is over I'm going to start working at a hair salon," said Tvon who's learning to cut, style, perm, and relax hair.
"What we learn mostly is to work on straight hair and hair that's not thick, like women of color," said Tvon who acknowledges that she's not being taught to deal with black hair. Ironically, she gives her classmates permission to practice on her hair knowing that they'll come across a situation where they'll work with black women.
"If I were to go to school in Boston I'd be learning a wider range of skills. But it's hard to if your teacher specifically works with Caucasian hair," said Tvon who stresses about working with natural hair.
As a matter of fact, Mendes said, "I think black hair is high maintenance, much more than white hair. Black women are serious about their hair and they'll pay whatever it takes to achieve the style they're looking for."
For this reason, African-American women primarily use a keratin treatment to straighten the coils in the hair, making it easier to comb, and to give the hair a healthy sheen. This procedure is known to cost up to $400, but Mendes said everybody wants long, beautiful hair and recommends the treatment to her clients.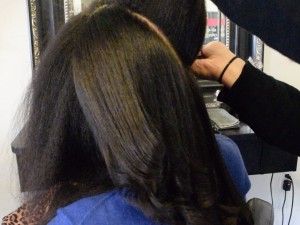 In the United States, Eurocentric beauty standards have been the ideal, and many black women have considered silky soft hair the epitome of that beauty standard.
"The thing about black women we like to look beautiful. Even if we're not wearing makeup, our hair is our beauty," Cedino said. "When our hair is not done right you don't feel right, you feel ugly. The reason why we're taking more time getting our hair done is to enhance our beauty. It's all about hair these days."
Under these circumstances, Mendes and Cedino sell hair extensions to their clients from India "because it's the best. You can blow dry it, straighten it," said Cedino who charges $140 to $160 per pack. "I know the difference between good hair and synthetic hair because all you have to do is color the hair, put a hot comb through it and see if it will go back to its natural state. There's a lot of scam out there."
Getting "good hair" often means giving in to chemicals and hair extensions for African-American women adjusting their hair to meet straight and smooth standard. In some corners, relaxing one's hair is even seen as wishing to be white, said Michael Jeffries, associate professor of American Studies at Wellesley College.
"The Eurocentric beauty standard combined with standards of femininity produces a particular model that privileges white women at the top of the hierarchy and places black women at the bottom," Jeffries said. "The further you deviate from the standards – light skin, long hair, light eyes – the further down the hierarchy you go."
Jeffries added that these beauty standards are "enforced and promoted by makeup companies and fashion companies that sell these images as kind of standards of beauty.  It's enforced by all kinds of institutions and rewarded economically."
Although more black women turn to hair relaxers and extensions, hair salons are specializing in natural styles and are seeing more black women working with their natural hair.
"Most women want to be natural and enjoy the transition. There's a huge support team to help black women find the right products and treatments," Mendes said.
A number of useful websites are available to help black women through their hair journey with tips and support. YouTube has 114,000 channels devoted to natural hairstyles for black women.
As for Tvon, who used to spend $300 on a pack of hair, going natural is just as expensive. "I've always spent a ton on money on my hair. And a lot of it has to do with wanting something that wouldn't tangle and was closer to my hair texture. But I have to say that I spend more money on natural hair," Tvon said. "I'm always experimenting with different products to see what works and what doesn't. But for now I prefer being natural."