By Shazia Yousuf
04/24/2013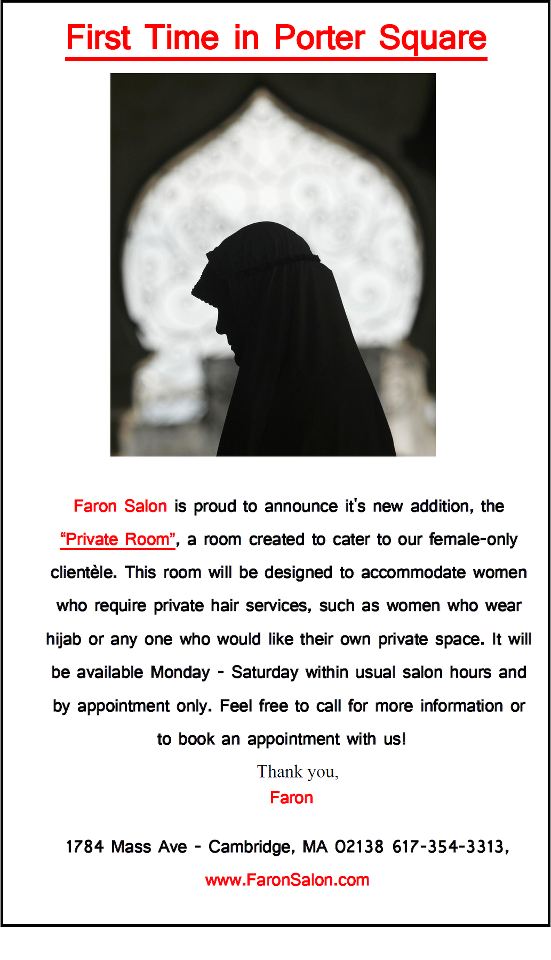 Even though described as a perfectionist by her clients, Faron Fares knew she was not. There was much more to do.
For more than 20 years, Fares, a Cambodian master hairstylist, served her clients at her salon in Cambridge. While people praised her for a vast and diverse clientele, Fares was uneasily aware of that one section of society she was not catering to: Muslim women who wore hijabs.
Every time, Fares engaged in a discussion with her Egyptian husband and his Muslim friends, they would raise this issue of hijabi women and their difficulties in finding a private space in Boston hair salons. Also through her husband, Fares had lot of acquaintances in the Harvard University Muslim community. Whenever she joined them for an event, she listened to the stories of hijabi women and how they managed their haircuts.
"They had difficulty finding hair salons that could accommodate their needs," Fares said.
Fares developed an urge to do something for these women so that they would not have to resort to being hidden away in the basements or back rooms while trimming their hair.
So she began with "Women's Day Sundays." At her salon in Cambridge, she decided to take appointments on Sundays only for the women who covered their heads or wanted privacy during their haircuts.
With the help of her Muslim friends and ads to the Harvard Muslim community, Fares received a pleasing response from hijabi women. Just a week after the initiative, she began to have a line of clients. Behind blocked windows and pulled curtains, Fares gave them peaceful haircuts and ensured complete absence of male staff.
"I wanted them to feel special and pampered like everyone. It is not something to be ashamed of. It is something to embrace and respect," Fares said.
But for women in general, Sundays come with lot of family obligations. At Faron Salon, thus, Women's Day Sundays became difficult to manage-both for Fares as well as for her clients. Also it pained her that her hijabi clients were limited to just Sundays.
"I wanted them to have the option of coming in anytime and day at their convenience like the rest of my clients," Fares said.
So when the salon was moving to Porter Square in February, Fares thought it was the time for a permanent solution to the problem. A separate mini-salon with a washbasin, a full-length mirror, hangers for clothes, and decorative candles was made in the back of the salon.
Fares said she wanted to make sure that the place provides a comfortable feeling and warmth to her clients."The effort was to make the private room look like a part of the salon and not the odd back storage room," she said.
The response from her hijabi clients was amazing. As soon as the salon shifted to its new location in Porter Square and threw the private room open to its Muslim clients, Fares saw the news making a buzz on social networking sites. Muslim hijabi women were posting it on their Facebook walls and sharing with their friends.
"I was recently able to experience the Faron Salon magic for myself. Usually, I get my hair done by a friend in Richmond when I happen to be in town," wrote one of  Faron's clients on her blog.
The blogger writes how like any girl, she craved pampering, "especially if the said hair is constantly covered."
While searching for women's-only salons, the blogger wrote, she found that while some salons were female- focused they occasionally had male clients and stylists.
She added: "And how awkward is it to call up and ask, 'Hey, so when I make an appointment with you, could you not book any dudes at the same time?'" And as a side note add, "'I promise I'm not a crazy man-hater, but they can't see my hair so please have that one hour of your appointments revolve solely around me.'"  It was then one of her friends who told her about Faron Salon.
"As soon as I met Faron, I expressed my gratitude for creating such an accommodating atmosphere specifically for covering Muslim women," the blogger writes.
The hijabi blogger is not alone to thank Fares for her initiative,
"Hijabi women who have come in for services have been thankful for having this available for them and the Muslim community has been very excited," Fares said.
Last week Malika MacDonald turned to Facebook for help. She needed a haircut but her husband who usually does it for her was out of town. "Does anyone know of a Boston area hair salon for hijabis, she wrote on "Boston Muslim Women's Organizing Initiative," a Facebook page that brings Boston Muslim women together. "That is why I have started to do my own hair," responded Sidra Mahmood.
About five years ago, Mahmood came from Pakistan to study in United States. Like many international students, she found herself struggling with the living costs and began cutting down on her personal expenses. "Cost was one of the primary reasons that I started doing my own hair. Alhamdulillah (Thanks God) I do art, so it wasn't that great of a challenge as it would be for others," she said.
In October last year, Mahmood graduated from college and moved to Boston to start her new job."I thought it was a time to go for a transformation."
Her roommate told her that she could go for a haircut at a time when there are less people in the salon. Mahmood didn't like the idea.
"I personally feel quite uncomfortable to even go on such a hunt because unlike in the east, the salons always have see-through windows here and it makes me really uncomfortable to even think about sitting in one of those places," she said
The absence of private salons for Muslim women prompts many women to do their own hair. Sometimes they get it trimmed from their friends, sisters or mothers in their bedrooms or basements, away from the gaze of men.
NIFAS salon at Harrison Avenue in Boston and Atlas Beauty in Revere are some of the salons that offer private service to women. However, it usually takes months to earn an appointment with a female stylist for a day when no male client is scheduled for haircut.
Faron Salon has come as a respite for many women who want to feel secure in a private room and enjoy a haircut without the fear of any male walking in anytime.
"I have been to her salon and I have seen her room for Hijabis. It is very secure and I am not afraid of somebody just walking in," said Samia Hassan. Samia's husband, Ihab Rashad, who used to be business consultant for Faron, told Hassan about her initiative. "I love it," she said.