By Kieran O'Connor
Haunted Tours are year-round activities with aspects to entice anybody.
Ghost tours were once considered an activity for only society's most unconventional and bizarre people. An activity that popped up in the autumnal months to envelop individuals during the Halloween season.
Dark tourism can be traced back to Victorian England, an era that was plagued by death and hardship. People turned to the paranormal to try and connect with lost loved ones. Also, they found entertainment from the rush of adrenaline that rushed through their blood after hearing a terrifying story.
Companies such as Ghosts and Gravestones and Haunted Boston capitalize on these strange obsessions. Anf they are continously creating more ideas in hopes of delivering a product that everyone can enjoy. Ghost and Gravestones tickets range from $35 to $50 per person for a 90-minute tour.
Haunted houses at a fair for the children, ghost hunts for the paranormal investigators or midnight walks around a cemetery for the history buffs. Companies are continuously creating more ideas in hopes of delivering a product that everyone can enjoy. This is exactly what Ghosts and Gravestones have done.
Ghosts and Gravestones tour guides stand along Atlantic Avenue trying to entice potential customers onto one of their spooky decorated trolley buses. The tour guides also gain great pleasure in scaring any passer-by while dressed as haunted characters.
Petunia Pickman and Jack Burton are two of the guides both act and look the part. They said that all types of people love to go on haunted tours for various reasons. The tour offers customers a chance to learn about the history of Boston whilst also providing entertainment suitable for a family.

Audio captured and edited by Kieran O'Connor
Standing in line patiently waiting to board the Ghosts and Gravestones trolleys on Atlantic Avenue are a wide array of people.
Chuck Park, 64 years-old and Heather Park, 62 years-old arrived from Florida and are two of Ghosts and Gravestones' customers. The couple decided to take a ghost tour to do something a little different.
"We have been walking around Boston all afternoon and saw one of the trolley buses and thought why not try this," said Chuck Park.
The couple's decision was not completely made on impulse as it was Mrs Park's idea. "My husband would never do something like this, but I love the supernatural," said Mrs Park.
Heather Park said that her interest in dark history originated from her grandfather who was a veteran. "He used to take me to old forts and battlefields that were haunted and told me stories," she said.
Like many Ghosts and Gravestones customers, the couple said they were attracted to the idea of learning about the remarkable city of Boston through a different perspective. "We both enjoy learning about history, and we have seen the trolleys driving around and thought it looked fun," said Mrs Park.
Just like in Victorian times, people don't take part in dark history for the same reason. Some people want to be frightened like Wyatt Brown, 17-years-old. Wyatt Brown who is on vacation with his family, has been interested in terrifying stories from a young age.
"I remember reading books when I was younger and always liking horror stories," said Brown. This then progressed into watching horror films "When I got older, I watched Conjuring and now I am hooked," he said.
Brown brought his family, who traveled from Pennsylvania to attend the tour, but they all pointed to him when asked why they were there. "I am hoping that [the tour guides] tell us some good stories that I can tell my friends back home," he said.
Two satisfied customers Pat and Diana Dowling, stepped off the trolley and gave the tour guide a tip.
"It was really good, the girl was really good at storytelling, and it was worth every cent," said Pat Dowling, who was visiting from Denver.
The couple have been on haunted ghost tours all around the country so they said they know what makes a good one. "This is one of the best we have been on," said Pat Dowling. "It was perfect from the information to the duration."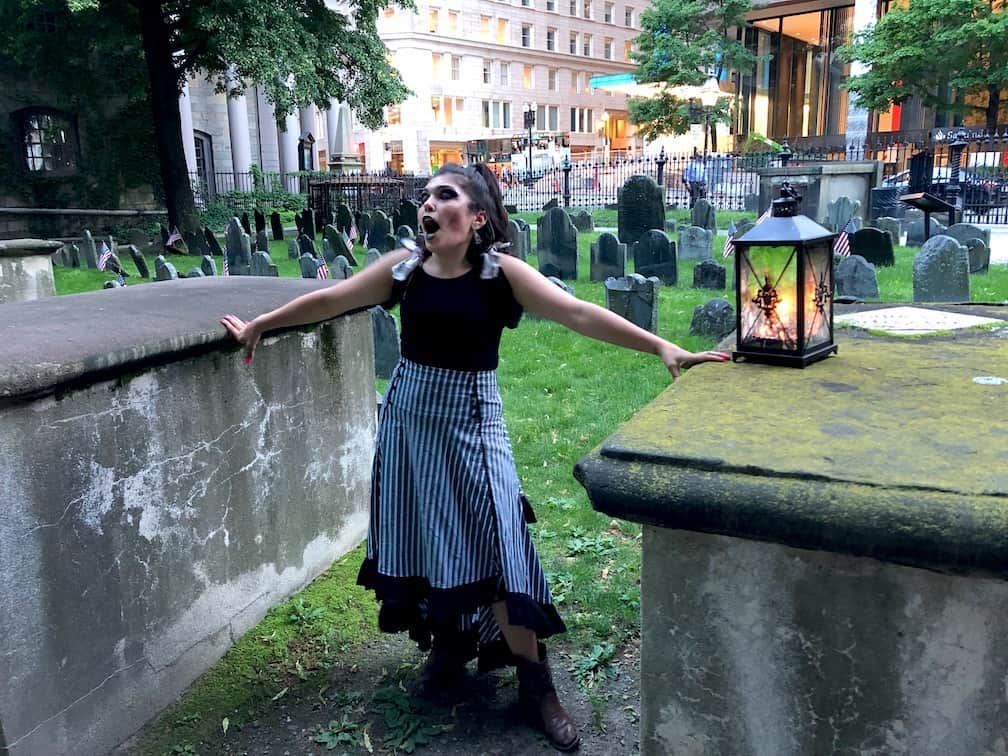 Although the Boston tours don't include any paranormal events, research shows that some people who look for haunted exxperiences want to hear from the dead.
One study from 2023 said that people who go on ghost tours expressed interest in the content as well as suprise and excitement. Fear was not an emotion that most attendees experienced, the reasearch said.
Surprisingly the emotions that many people associate with ghost tours such as fear and disgust were reported to have been felt the lowest.
The Ghosts and Gravestones tour focused more on educating people on local history and less on frightening people. Children must be at least age 6 to attend the tour.
"Although our costumes are meant to frighten the customers our tour isn't very scary in the way that we jump out at people. We try to fill people with fear with the stories we tell," said Jack Burton, Ghost, and Gravestones tour guide.
"A successful tour is one where we entertain our group. Storytelling is at the heart of acting," said Pickman
"It is left to the attendee's own imagination whether or not to believe in these unsolved mysteries," stated the report.
Pickman, "We do our best to make the tour as interesting and entertaining as possible because the best part of my job is the applause at the end. But the audience has to want to be there and listen just like at a cinema or theatre."