By Alecea Rush
05/04/2015
Jillian Contardo died doing her first hit of China White, a new stronger form of heroin, one week after her 16th birthday, which also happened to be Mother's Day. A week later her cousin Meredith Barry turned 16 as well and instead of having a party she was burying her favorite cousin.
"She had a pure heart, she loved animals and she wanted to be a mother," said Barry. Those dreams were all cut short by Fentanyl laced China White. "For me it was shocking because she was like my sister growing up.  We were the same age. At the time I didn't know she was into drugs," said Barry.

There are several dangers first-time drug users do not take into account. The two that most addicts end up dealing with are overdoses and diseases. Both have the potential to kill. Overdoses do it instantly and diseases like hepatitis C and HIV do damage over an extended period of time.
China White is proving to be the most deadly form of heroin on the streets. It is killing long-time and first-time users alike. It contains a high dosage of Fentanyl, which is roughly 15 to 20 times stronger than regular heroin.
Jamie Zimmerman works for the Needle Exchange Program in Cambridge Mass. At her facility they chose to call their clients heroin users citing that the word "addicts" carries too much stigma.
"Users come in and tell me they are looking for China White because it is stronger, even though they know it might kill them. If they know another user overdosed from a particular dealers strand they actually seek it out just to make sure they are getting their money's worth," said Zimmerman.
Barry said Jillian Contardo was following in her older sister Melissa's footsteps. Melissa, a heroin addict,0 sports a tattoo that reads, "Live Fast Die Young." The two grew up in Dedham, Mass, an area particularly hard hit by the heroin epidemic. At the time of Jillian's death the local officials were not carrying the heroin antidote Naloxone. The Dedham Police Department just began carrying the antidote this past December. Within the first months,  five potentially fatal overdoses were reversed.
"My theory about the increased overdose deaths is heroin-tainted Fentanyl," said Zimmerman. Dealers started lacing heroin with Fentanyl because it was cheaper, she said. But now instead of lacing heroin, dealers are distributing 100 percent Fentanyl.
The Contardo family did everything in their power to have Jillian's dealer prosecuted. Melissa even worked with local law enforcement to set up a sting in Providence but their attempts fell short, Barry said.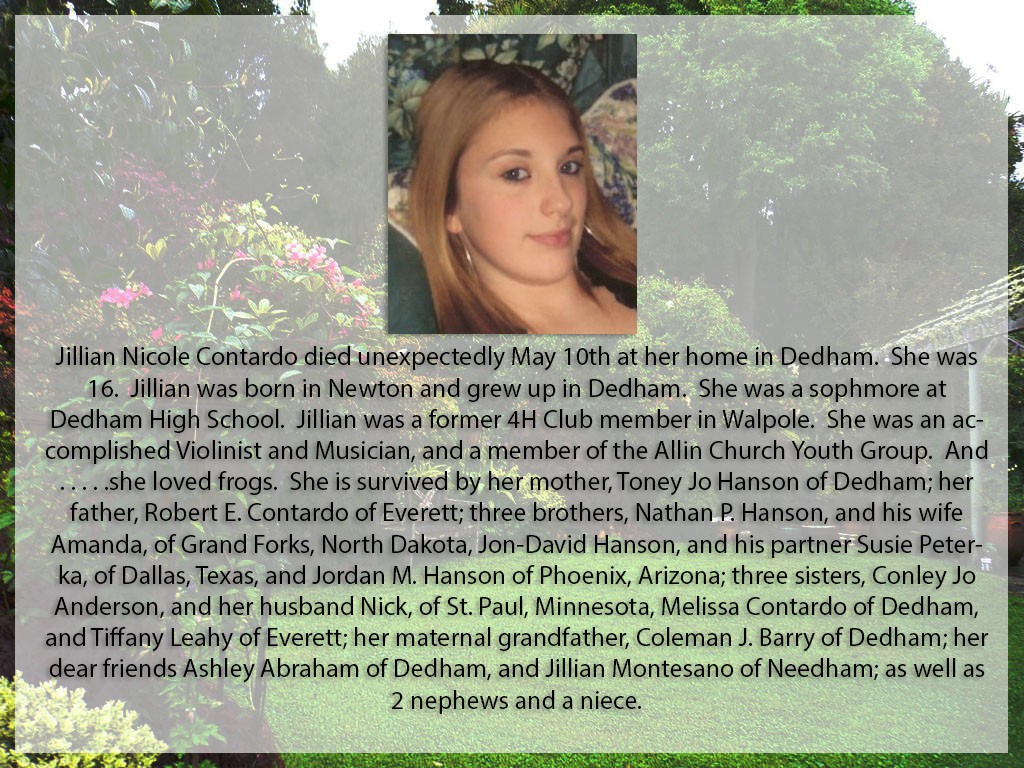 These days Melissa is living in a sober house in Quincy; she is pregnant and was recently diagnosed with Hepatitis C. "She didn't find out she was Hep C positive until she went to the doctor for prenatal care. Being pregnant has helped her get clean, we're just hoping it sticks," said Barry.
Hepatitis C is becoming more common in intravenous drug users than in years past. It's actually so common that most addicts view the disease as the "users' common cold." Warren Nilcoli works for Manet Community Health Center. He tests addicts in six different locations around Boston. Most are uneducated on the long-term effects Hepatitis C could have on their bodies. "Most users have passive attitudes. They are nonchalant. I've had people make statements like, 'it's all a part of the game,'" said Nilcoli.
The disease is passed through blood in needles, on cotton and on other equipment drug users might share. It is 10 times more infectious through a needle stick than HIV. Currently there are 2.7 million people infected with Hepatitis C in the United States, but this number does not include people in prison or the homeless population. During the month of March, Nilcoli documented 44 new cases with Manet.
Centers for Disease Control and Prevention  
Nilcoli said testing is important but education is key. The Manet center has bleach kits it tries to hand out to users but many users choose not to use them.
Nilcoli is a former heroin addict who has been clean for over 20 years.  A pile of bleach kits sits under his desk. He said he understand why addicts don't use the bleach kits. "Getting high is a ritual. The process is just as exciting. They don't want to add any additional steps to the process," he said. "I honestly can't get them to take the bleach kits."

Nilcoli attends Learn 2 Cope meetings to help family members understand the disease. During his last meeting, a mother told him her son had always been extremely careful, never shared needles and always took the proper precautions. Yet he has recently been diagnosed with Hepatitis C. He contracted the disease after sharing a cotton ball with an infected friend. Nilcoli said the only surefire way to not contract Hepatitis C through drug use is to get clean and stop using.