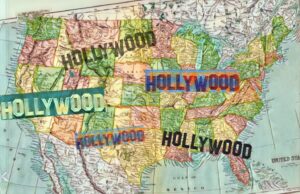 By Adam Spector
Contrary to popular belief, not every Hollywood movie is filmed in Hollywood.
For movie and television producers with an eye on making the most of their budgets, Florida used to be a top location. Now that the state has eliminated some tax incentives, other states like Georgia and Louisiana can be ideal locations.
Tax-incentive programs are established by state governments to encourage filmmakers to choose a particular state as their filming locations by offering financial incentives, such as tax credits, rebates, or exemptions. The creation of such programs is typically the result of collaboration between state legislators, industry experts, and economic development agencies. Their purpose is to boost local economies by attracting productions that generate jobs and increase spending in the state.
Florida has a long history of hosting film and TV productions, with cities like Miami, Orlando, and Tampa Bay serving as popular filming locations. To compete with other states offering tax breaks, Florida adopted a strategy in the early 2000s of giving the film and TV industries incentives. "These incentives garnered support from Governors Jeb Bush and Charlie Crist, and their implementation proved successful, leading to even more TV and film productions within the state," said Marvin Kirsner, a Florida attorney specializing in local tax practice. 
But in the past decade, Florida legislators have decided to let the film and media-related tax incentives expire, driving away production companies. 
As a result of changing tax policies, the film industry has seen a significant shift in the locations chosen for movie productions, said Andy Schefter, a Miami-based film producer who now works on projects all over the country. Schefter said that many movies are now being filmed in states–other than the traditional hubs of Los Angeles or New York–where they can take advantage of tax incentives and a less expensive labor force.
"Thirty-seven states have some kind of tax credit or tax rebate program," said Schefter, adding that numerous countries outside the United States have incredible tax credit programs. Schefter said he is producing a movie in Australia right now for 60% less than in more traditional locations. "It's like that across the board," he said. "It's hard to beat that kind of stuff."
Because of its warmer climate and cheaper labor force, Florida was once a popular destination for film productions. "The state was once considered 'the Hollywood of the East' and used to be the number-three state behind New York and California for productions," Schefter said. 
However, in the early 2010s, because of state budget constraints and changing political priorities, Florida's tax program faced a significant reduction in funding and ultimately expired under Florida Gov. Rick Scott. This reduction and eventual expiration led to film and television projects being moved to other states, such as Georgia. 
"Florida ended its billing program, and the legislature chose to end the film program," said Kirsner, adding that the legislature also decided to end several different types of economic development programs at the time. "I have a feeling a lot of them did away with it because the jobs were there, but they were just temporary," he said. "They came when the production was being filmed, and then they went home." 
Ending tax incentives also resulted in fewer job opportunities for actors, crew members, and other professionals in the field, said Schefter, adding that he now rarely works on projects in Florida despite living in Miami. 
"It's just crazy how much business should be here, but our government gave it away," said Schefter, adding that film businesses that should still be in Miami are now moving to places like Atlanta.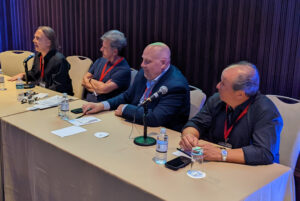 "Florida no longer has a state Film Office office, as of this last legislative session," said Schefter. The closing of the office means that the state is losing much-needed revenue. "That's how much the current government cares about the motion picture industry," he said. "That's the same motion picture industry that spent roughly $5 billion in Georgia last year. "
As Florida became less popular with filmmakers, other states like Georgia emerged as major contenders in the film industry. Georgia's robust tax-incentive program has been highly successful in attracting big-budget productions, leading to a surge in film and television projects in the state. The availability of diverse filming locations, a skilled local workforce and generous tax incentives have made Georgia a preferred destination for filmmakers. As a result, many creatives have flocked to the state, establishing a thriving film community and stimulating the growth of related industries.
"With regards to lasting employment, Georgia has done a good job of creating a permanent industry, and so has Louisiana," Kirsner said. "The other states, such as Florida, started just terminating their programs."
Unlike Florida, Georgia's film program and tax incentives do not have expiration dates, which made production companies more confident in building permanent studios in the state, according to Andrew Velcoff, an Atlanta-based attorney who specializes in entertainment law.
"As the tax incentives came in, the capital markets came to the conclusion that Georgia was a great place to invest it," Velcoff said. "Once the studios invested in brick-and-mortar locations, or permanent facilities here in Georgia, it created an infrastructure symbiotic with the tax incentive plan. The legislature is now very mindful of the fact that there are a number of facilities here where capital has already been invested." 
Although the state of Georgia did not fund the construction of studios, the lack of expiration dates on the tax incentives made film executives feel somewhat assured that a return on investment was probable, he said. 
In addition to the tax program, there is also a state-owned entity called the Georgia Film Academy, which aims to keep the industry permanent. The academy is affiliated with numerous colleges and universities throughout the state of Georgia. "People who are around college age get trained and get accreditation in the production business," Velcoff said. The state is effectively growing the crews, and that's been a very positive thing, creating a long-term industry, he said.
Another difference between the Florida and Georgia film industry is the state legislatures. "Georgia has had a very supportive legislature and Governor's Office since the tax incentives were put in place around 2005," according to Velcoff.
Both Schefter and Kirsner said that competing with established film hubs like Georgia will require concerted efforts and a supportive legislative framework. Florida now stands at a crossroads, with the opportunity to revitalize its film industry by reinstating the tax-incentive program and leveraging its unique assets. 
To retain the film industry and its workforce, states will need to continue to be supportive, Schefter said. "Movie professionals can move wherever they need to go and move back once the production is finished, but people seem to be staying in Georgia," he said. 
"The beauty of this industry is that it can parachute into anywhere tomorrow, "Schefter said. "I know more people in Atlanta that can work as film crew than I do in Miami, and I live in Miami."