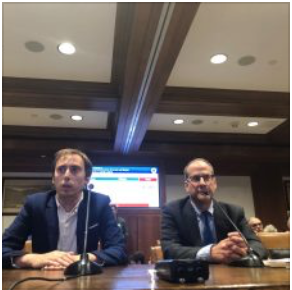 The Northeast is expected to face intense damage when it comes to the value of housing because of climate change. Because of the intense sea-level rise, specifically in Massachusetts, landlords can lose millions of dollars in property value. Some say it's already happened. 
According to a report done by the First Street Foundation, home prices in the Northeast are already falling due to the effects of climate change that are already happening.
Higher sea levels have already affected the real estate industry by millions of dollars, and according to the report, Massachusetts has suffered the biggest loss out of the New England States. "Massachusetts' property owners have suffered the biggest losses, with rising sea levels responsible for lowering the total value Bay State homes by more than $273 million. Maine is next, with nearly $70 million in losses," the report states. It also says that in Boston, a home that is now worth $300,000 could have been about $800,000 if not for rising sea levels. 
Left to right: Peter Frumhoff and Steve Fetter of the Union of Concerned Scientists testify in favor of bills that aim to curb climate change in Massachusetts. 
"No home is worth anything if it is underwater," said Mary L. Hunt, a realtor in Belmont, at a Massachusetts State House hearing for the telecommunications, utilities, and energy committee on July 30. She came to urge the committee about what climate change is doing to the housing industry and encouraged the state legislator to vote on a series of bills regarding energy-efficient housing. 
These bills aim to make any future affordable housing being built to be classified as "net-zero buildings." The purpose is to curb climate change in Boston and hopefully accelerate the state-wide goal in Massachusetts to reduce emissions by 80 percent by 2050. 
To accomplish this, these bills call for the current building stretch code in Massachusetts to be amended in order to reach net-zero, meaning that no appliances in any Massachusetts building should use fossil fuel energy to function. Currently, everyday household items like stoves, heat, and even electricity run on fossil fuels. 
"Changing the building code is the only way that we see to ensure that all new builds and retrofits will make the transition to 100% renewable emissions," said Mark Sandeen, a member of the select board in Lexington, MA. 
The current stretch code in Massachusetts calls for wood or fire-pellet stoves that are certified by the EPA. Your stove can actually contribute more to climate change than you think. According to the families for clean air, wood pellets are believed to be best to stop contributing to climate change as opposed to natural gas used to heat ovens. However, there's a chance that it might just be causing CO2. By 2030, according to a study by the California Environmental Protection Agency, residential wood burning is projected to be the single largest source of black carbon in the air. 
CO2 is one of the main gasses that can contribute to the Greenhouse effect, or climate change because the gas absorbs the sun's heat. When it stays in the atmosphere, it literally traps heat and it can last for a long time. This is why the Earth is projected to be nearly one degree hotter by the middle of the century. 
It's concerning because Boston is supposed to be one of the main cities in the country that is affected by climate change, most damages to be done by flooding and water. This includes millions of dollars in relocation costs for people who live in East Boston or near the Sea Port. The sea level, according to Boston's own climate vulnerability report, is set to rise over one foot by 2050. 
The stretch code also calls for "biomass heating systems." The state legislature is currently calling for electric heat pumps to warm houses. 
"We're going to need to switch our electricity to 100% renewable and while simultaneously transitioning our heating systems to all-electric heat pumps and establishing a net-zero stretch energy code is one of the best ways to accomplish that goal," Sandeen said.
Heat pumps have gained traction in the Northeast, according to the Massachusetts Department of Environmental Protection. 
While the bills seem like great solutions, the chairman of the Statehouse Telecommunications, Utilities and Energy Committee, Michael J. Barrett finds himself "very concerned" with the bills.
"We've got all kinds of bills that propose that we set a new goal for 2045 or 2050," he said. "But we have little granularity plans to implement these lofty goals. But the bills before us today, or light on actual execution, actual ways of getting to either the old goals for the new one, giving ourselves a little bit of a break in terms of drilling down and getting to where all these plans and goals would require."
The plans call for boards to be created, and then for those boards to implement a plan no later than a year from the day that board is created. That would come at least one year after the legislation is passed. At the Statehouse, bills, and legislation take months to pass through. 
Some people say that climate planning is ambitious. But it's feasible and necessary with little time to fix.
"It's going to take more work and more creativity and more ambition, then we usually have to exercise when we're talking about energy policy. But I'm confident can be done. And I'm certain that it's the right set of goals," said Steve Fetter from the Union of Concerned Scientists. "If we get to 2034, and we're not quite there yet, I'm sure we'll all feel we did the right thing, setting these goals."