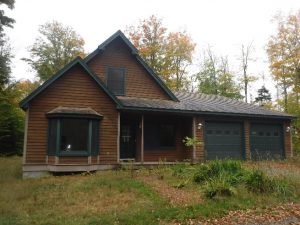 By Meaghan Kaiser
The Adirondack housing boom spurred by the pandemic creates a greater need for affordable housing for longtime residents.
When COVID-19 caused a worldwide pandemic, many people moved out of highly populated areas such as New York City to social distance. People invested in buying Adirondack houses as second homes.This negatively impacts families who have lived in the Adirondacks for many years. They find it harder to afford to live there.
"Lake Placid is the hottest market of the Adirondack region," Bruce Misarski, the executive director of the Housing Assistance Program of Essex County said. "Part of it is that people can work from home anywhere. They visit Lake Placid, notice how beautiful it is, and say let's live there," Misarski said.
According to Camion Associates, short-term rentals contribute to the lack of year-round rental availability. Camion Associates completed a survey this past January of 6,773 responses. Nearly 10% of people said they are very likely to move to the Adirondacks within the next five years. The top location is Lake Placid.
During the COVID-19 pandemic, the property demand in Lake Placid started to outweigh the supply.
"There's been a big spike in real estate sales because of COVID," Gary Lanzoni, the Lake Placid Accommodations real estate broker said. "The last spike we had was 9/11 where people stopped taking $50,000 vacations to Europe and decided to buy second homes."
These houses are being sold for much more than they were on the market before the pandemic.
"Properties were on sale for five to eight years and now they're selling for a million dollars over the original asking," Lanzoni said.
Most people living and working in the Adirondack area, cannot afford houses priced that high. According to Data USA, The average income for a family in Lake Placid is $56,000 and $45,000 in Essex County.
"If you're making New York City incomes, a $300,000 lakefront house is not a big deal," Misarksi said. "Relators can sell houses at these prices knowing they'll be sold as a vacation home."
Most people buying houses in the Adirondacks are within a five-hour commute such as Boston, New York City, or Connecticut.
Albany native, Tricia Million is a tourist who visits Lake Placid about four times a year. She started looking for an Adirondack home around the start of the pandemic. She looked for property for over a year but still has not invested yet because of the lack of property available for a price she's willing to pay for her family of four.
"I always thought about investing in property up here. Because of the pandemic and wanting to be socially distant, I thought now would be a good time," Million said. "Property for sale is much higher than I'd expect for this area. I looked into empty lots of land, houses, and condos. More recently I thought about doing a timeshare."
"The town is about 95 percent a secondary market to begin with. So whether it's secondary or primary, depending on the availability of internet where they live, there's quite a bit of that going on. More so lately because companies are working remotely," Lanzoni said.
While houses are being sold for millions of dollars, lifelong residents struggle to live in the area.
"The jobs offered in the Tri-Lakes not requiring a college degree are scarce and the compensation for the hours given are below the standard of living requirements here. We are seeing more families leaving the area to search for a more sustainable income in order to feed their families," Janeen Streeter, a local school teacher said.
The Housing Assistance Program of Essex County is the primary non-for-profit affordable housing group for Lake Placid and surrounding area since 1978. This organization runs programs such as rental assistance, home buying assistance, and a home repair program.
"The work that we do is our mission. We assist people that are low and moderate income or somehow economically disadvantaged," Misarski said.
One current adorable housing option is Lake Placid is Otter Way. This is a three-bedroom home with two bathrooms for families. According to Misarski, there is currently one unit available but there are plans to build a new affordable housing complex in September.
"At the corner of Wesvalley Road they plan to build 60 units, one and two bedroom," Misarski said. And they're for those with incomes below 60% of the area media income."
Affordable housing is needed in Lake Placid and surrounding areas. It is essential to help families and residents of the Adirondack region.
"We used to have an inventory of single family homes that were valued at, $120,000 to $150,000 homes. Now, everything is over $200,000," Misarski said. "It's to the point where low moderate income families cannot reach that."
Whether someone is looking for a million-dollar home, or an affordable housing option, both are extremely hard to find due to the COVID-19 pandemic.
"We have a long waitlist of people that are in need of housing repairs, and affordable places to live," Misarski said.