By Jamie Gatlin
During the Pandemic, North End restaurants have had to reinvent how they do business to survive.
As restaurants begin to reopen amidst the pandemic, eating out in the North End has taken on a new look.
Since March, restaurants in Massachusetts, have seen  sales fall by at least 81 percent, according to the Massachusetts Restaurant Association. Due to being limited  to only takeout, restaurants  required fewer staff while trying to make enough to stay open.
Even as restaurants have reopened, they have faced many roadblocks along the way, "As restaurants have reopened, they have been faced with multiple challenges including government's restrictions on tables and customers desire to return," said Steve Clark, vice president of the Massachusetts Restaurant Association.
One of the hardest parts has been figuring out how to reopen safely. It has been particularly difficult in the North End, where a lot of restaurants are close together or have small spaces.
"We had to redo our dining room to prepare for the second part of phase two. The restrictions cut in half how much we can use the dining room, but outdoor dining has helped offset some of the loss, "said Paul D' Amore, the owner of Masiminos.
While restaurants have had to operate under uncertainty since the virus broke out, the last few weeks have provided hope. At the beginning of June, parked cars were replaced with outdoor tables and streets that have been empty for months were full of life. Because of outdoor dining, one of Boston's most iconic neighborhoods now had a, "European feeling," according to North End resident, Dan Redznak. As the weather heats up, customers have been able to enjoy a unique dining experience in one of the cities oldest neighborhoods.
"I have been living in Boston for three years now and have never seen the North End like this. It's a nice change considering how the past couple months have gone," said Redznak.
"Having outdoor dining has helped those who had access to outdoor, or those that operate in cities and towns that were really easy to work with such as Boston to expand footprints," said Clark.
Although restaurants have seen their finances improve, they are still operating under restrictions. During phase two, restaurants can not allow parties of more than six  and all bar seating is closed, according to Massachusetts Gov. Charlie Baker's COVID-19 guidelines. While these restrictions still allow many businesses to thrive, it has changed the dining experience. As workers return to their jobs, they also must undergo training on new protocols.
"It's good to be back at work, but things are different, I felt like I had to train for a new job at first," said Bobby Landergen, a server at Quatro.
Furthermore, restaurants have seen some positive changes due to new legislation  aimed at creating revenue for restaurants. On April 4th, Baker passed a relief bill allowing restaurants to sell alcohol with takeout orders. For restaurants across the city and the North End beer and wine to go has been a plus, said Clark. The new regulation will stay in place for the duration of the pandemic but could become a permanent fixture, he said.
While the virus is not going away anytime soon, the last few weeks have provided residents and owners with some hope. In April and May, the North End was like a ghost town, and two blocks with nearly 80 restaurants in total were struggling to stay open. For many owners who are used to packed dining rooms, the shutdown was a strain financially and mentally. Despite the hardship, restaurants have faced the industry; it is in a unique position to recover.
"Restaurants are uniquely qualified to open in a time where cleanliness and sanitation are needed. Restaurants are already among the most regulated industries out there, said Clark. Every day, restaurant operators need to comply with a complex set of federal, state, and local regulations. Many of the regulations put in place, restaurant owners are already well-versed in and are far more prepared to implement versus other businesses, "he said.
How restaurants recover, however, will depend on how comfortable people feel eating out. The North End, like many parts of the city, makes a significant percentage of its profits from tourists. Because of the virus, however, tourism has dropped significantly  over summer. Popular attractions such as museums, aquariums, and sightseeing tours such as Duck boats have reopened but are under heavy restrictions.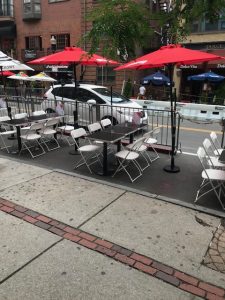 Additionally, the coronavirus has caused the city to cancel the Saint Anthony's Feast, which brings thousands of tourists and city residents to the Italian neighborhood. The festival has been an annual event for over a century and includes over 100 vendors. It is not only a time for restaurant owners to celebrate their heritage but attract more customers. While the feast will return next summer for residents and owners alike, it was an event that many were looking forward too.
"It is one of the perks of living in the North End. That entire month is kind of like a family party with you and 1,000 of your closest friends. I understand why, but summer in Boston this year will be different without it," said North End resident, Nick Riley.
Without the feast, many restaurants will have to have a big August to make up for the lost revenue. "Without the feasts, it will be a challenge, but that just means what we do now is even more important," said D' Amore.
Although North End owners can't predict the future, they are in a city that has been easy for the government to work with. "Boston has been great to work with and has been a model city in giving restaurants the flexibility needed to try and survive," said Clark.
That is evident in every part of the city, but the North End in particular. The streets are lined with friends and families enjoying a night out. Changes such as outdoor dining have not only been a godsend but given people a different view on the Italian neighborhood. Hanover street looks like a scene out of the movies which owners hope can become a constant summer theme.
"Outdoor dining is something we have been trying to get the city to do for years and recent events has given us an opportunity to do it. This is what it looks like if you were in Italy and hoping we can do it every summer, said Frank DePasqulae, the owner of Trattoria il Panino.