Chinese restaurants had a hard time at the beginning of the pandemic, and things was becoming worse now
"The first Covid case has been found in the US," The television were speaking today's morning news. Chief Zhao suddenly stopped his work on his hand and turned his sight on the television. It was a day in January 2020, the Chinese Lunar New Year has been close, and Zhao's restaurant Tastegood Beijing is in its busiest time in the whole years. For the traditional Chinese families, the New Year meal must have a "big meat dish", and Peking duck from Tastergood Beijing is always their top choice.
"This is absolutely disappointing," Zhao said. At the end of this month, Wuhan city in China just started a big shutdown that influenced the whole city, and its length would be longer than two months. As the frontline of fighting against the covid, thousands of people would die in the next few months.
"Tastegood Beijing is not the only restaurant that I owned, I also owned two other restaurants in southern California," Zhao said, "although Tastegood Beijing could sell over 200 ducks per day, I was still worried a lot about what would happen next at the beginning of the pandemic."
Later, Zhao would know this is a disaster even could eliminate a trustworthy old brand in food industry.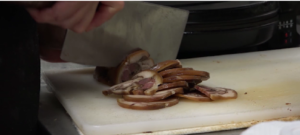 "Luckily, I have a group of loyal customers based on our good name for decades," Zhao said, "at the worst moment in the pandemic, there were some consumers send money to me directly, usually it would be one or two hundred dollars. It was not a big amount of money if I need to run three restaurants, but it is one of the reasons why I decided to continue my business."
Unfortunately, not every restaurant owner is lucky enough to have a such loyal consumer group. Mian's owner Xiao Xie, Alex Feng just opened their restaurant before the pandemic. To build a perfect world of Sichuan food, Feng and Xie invited the engineers and designers to to Sichuan China for about ten days to let them feel the atmosphere of Sichuan and Sichuan food restaurants.
"We felt confident about our strategy, and I was eager to show people how's 'Sichuan feel' is," Xie said. However, according to Governor's orders N-07-21PDF and N-08-21, dining in was not permitted from March 4th to June 15th , 2021. Xie and Feng had to wait for about one year to truly start their own dream.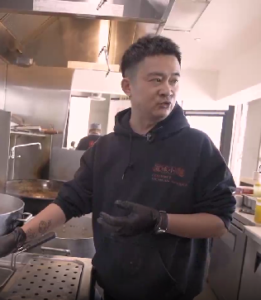 The "shock wave" called Covid didn't only strike only the food industry but also stroke the industry related to food industry. The Phoenix Satellite TV US department is the biggest Chinese mainstream media company in the US, and it had 20,0000 paid followers before the pandemic, but the paid followers' number cut into half due to the pandemic. According to the journalist Qiao Xue from Phoenix TV online show Youyou(an online video show tells people about the good food and good places to go in US), the shows relate to local good food had stopped for about two years.
"Youyou is a new program started at the beginning of 2022," Xue said, "we mainly posted it on the social media including Facebook, Twitter, Ins and some Chinese social medias." However, this newborn hasn't gained too much attention from the world yet, most of the videos only have hundreds of clicks.
"We are still seeking for a point to change the whole company," the Phoenix Satellite TV's CEO Weiyong Hu said. Some of the food channels and food programs even expended themselves during the pandemic. According to a report from May 2020, food channel Food Network has seen double-digit increases in viewership in the past few weeks. The network's daily ratings are up a total of 27 percent.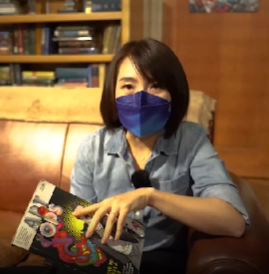 "Things like that didn't happen in Chinese journalism industry at that time, Chinese food industry started to loss connection between the restaurants and the consumers if the consumers cannot be there," Xue said.
"At that time, delivery start to become the only choice, " Zhao said. His main business Tastegood Beijing's most popular dish is Peking duck and he never thought about started the delivery business before. Most of the Chinese restaurants do not have their own delivery service, and most of them will choose using delivery platform instead. However, the fee that the delivery platform charged is high. The high cost of using delivery platform is becoming an "Achilles' heel" to the most the restaurant owners.
"The platform will normally charge you 15% to 20% percent for their service fee," Wei Ding, a restaurant owner that refused to use the delivery platform said.
"We developed our own deliver service, and thing were becoming better at that time," Zhao said. Every time the deliver people went on the truck, Zhao would check whether their masks and gloves were all set or not. Liu, one member of Zhao's loyal consumer group said, "Every perfect Peking duck should be made by a knowledgeable experienced well-trained cooker, even one little, tiny mistake could destroy the perfect crispy duck skin." (The duck skin is the spirit of every Peking duck.")
"However, I trust Zhao, because we have been known for years, he is exactly the perfect Peking duck cooker, and I would choose to believe his professionality," since Zhao opened his own delivery service, Peking ducks has returned to Liu's table and became a main character that can hardly be ignored.
"It is good to know there is a group of people are standing behind me. I don't think I will know this will happen if the pandemic didn't come," Zhao said. He could sell 100 ducks per day. Although it is just 40% of the pre-pandemic era, but his consumers are coming back.
"The hardest time has been gone," Zhao said. At the beginning of the pandemic, he cut the working days per week from six days to five days. Now the restaurant is turning back to a six-day schedule due to the increasing demand.
"The chain of fate" might just exist in your mind,
The only path you can choose
Might be a key to a new life
What things look like is not important Believing something is important.
————Qiao Xue, Youyou, 6.8.2022