By Marconja Zor
Often taking charge of their futures by starting their own businesses, sometimes race-based discrimination can get in the way of their success of immigrants.
Having a sustainable income is one of the most important things African immigrants can do for future generations. It ensures generational financial stability and a steady flow, which will make sure their immigrant family will be set up to succeed long term. 
Washington, D.C. chef and owner of Claudius_Creations, Claudius Kpakima, migrated from Freetown, Sierra Leone and started his own catering company after years of working for several local businesses. His decision to embark on the entrepreneurial journey stemmed from facing what he believed was immigrant discrimination to even get his foot in the door.
"I believe that both me and my parents faced many hardships due to our speaking accents,"Kpakima said.  Even though we spoke English, our accents were heavy and those that were hiring were noticeably uncomfortable with it. Managers sometimes even smirked when I would pronounce a word differently than an American would," he said.
While immigrant women may experience improved status as a result of their migration, some also experience to the burden of gender inequalities, class, or race-based discrimination.
Following in his parents' footsteps, Kpakima decided to work on improving his cooking skills and promoting his business to other immigrants like himself. This brought on relief and comfort that he could be authentically true to who he is as an African man. He has hired over a dozen immigrant workers from various countries, some migrating from places other than African, to assist in running his catering business. 
"Starting my own business was the best thing that I could have done for myself and my family," Kpakima said. "I would like for my children to inherit the empire that I am building. I would also like for them to understand how important we are to the American economy," he said. "We make a huge difference and matter."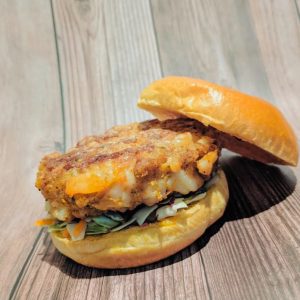 The Sierra Leonian native, who has garnered city wide attention for his homemade Shrimp Burgers, was accepted to Union Kitchen's Accelerator Program where he will be the only immigrant African. The organization helps to build and promote potential multimillion dollar food creation ideas. His burgers will then be marketed to top grocery chains across the United States.
"I was in total and complete shock when I received my acceptance letter. Sometimes you feel as a foreigner that you automatically have a disadvantage when going up against a natural American citizen. This program is the American dream and is going to change the lives of me and my family. I am excited at just even the thought of my creation being sold in chains of grocery stores," Kpakima said.
Kpakima is says that he is honored to have been accepted into this program. His employers getting to witness firsthand the life that an African immigrant is able to have with dedication and hard work in this country.
Immigrants contribute significantly to America's entrepreneurial spirit. The number of self-employed people has proven to be higher among immigrant populations than native-born Americans. According to Forbes, 55% of America's billion-dollar startups have an immigrant founder. Fifty immigrant-founded companies have proven to be worth more than $248 billion. Although many African immigrants were highly educated, many left their home countries with only drive and determination to start fresh in the United States.
A better understanding of the obstacles that immigrant entrepreneurs face may shed light on whether this group has untapped potential and why their contributions to the US economy could be greater than nationalities. One issue that many immigrant entrepreneurs face is a lack of access to and use of financial capital. The main reason for the scarcity of research on immigrant entrepreneurs' access to financial capital is a lack of data. 
Before opening his mechanic shop, Eric Parlor recalls the struggles of not only having limited access to financial capital, but also not fully understanding what it was.
"I understood that I needed good credit, which I had, but I didn't factor in the possibility of my company taking a loss and how much I would need to me out of it," Parlor said.  "There was a lack of resources that provided information to immigrants on business and capital."
Immigrant-owned businesses play an integral role in the economy. Immigrants high rates of successful business endeavors are used to create jobs for themselves as well as export goods or services across international borders, helping contribute greatly towards economic growth while also creating much-needed innovation opportunities. Ensuring adequate access to financial capital is critical for immigrant-owned businesses to continue contributing to economic growth, job creation, innovation, and exports.
Parlor says that he feels nothing but pride when reflection on how far he has come in this country.
"I honestly feel that the immigrant contributions to entrepreneurship is so successful because majority of us did not come to this country with our hand out. We knew we would have to worker harder than the average person to be able to maneuver in a land with systems that were foreign to us. I'm proud to see that I have accomplished that."