By Evelyn V. Martínez
05/04/2015
Nearly seven million people in the United States were involved with the correctional system by the end of 2013, according to the most recent report released by the Department of Justice. That number includes people who are incarcerated or those who are out on parole or probation.
Between 2010 and 2012 the prison population declined, but in 2013 the number of incarcerated individuals rose by 4,300, many of whom were women.
"Since 2010 the female jail population has been the fastest growing correctional population, increasing by an average 3.4 percent annually" the Department of Justice stated.
Andrea Leverentz, an associate professor of sociology at University of Massachusetts Boston, said that since the 1970s the rate of incarcerated women began to rise because of two factors.
"Women have been disproportionately impacted by the war on drugs," said Leverentz. She said that low-level drug charges and offenses related to drug addiction have been a driving force in incarcerations for the past 40 years.
The second driving force behind female incarceration, Leverentz said, are truth-in-sentencing laws or mandatory minimum sentencing laws.
"In the early 1970s, states followed an indeterminate sentencing model in which a parole board decided when an offender would be released from prison," according to a DOJ report released in 1999. "Pressure for longer sentences and uniform punishment led to mandatory minimums and sentencing guidelines in the 1980s."
Mandatory minimums require offenders to serve the majority or most of their sentences, and that has led to an increase in the amount of time prisoners are away from their families. The relationship dynamics between families become much more complex when children are involved, especially if the mother is the one who is incarcerated.
"I think grandmothers are probably the most common relative to take care of children, especially when the mother is incarcerated and it's hard," said Leverentz. Grandmothers who take on the responsibility of caring for their grandchildren while the parents are incarcerated deal with a range of financial and emotional challenges. "You're balancing that responsibility with all of your other responsibilities." She also added that children with incarcerated parents are often difficult to care for because they're dealing with the physical loss of their parent.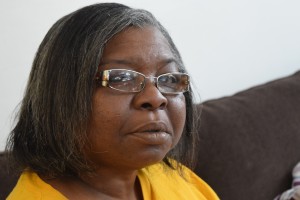 In 1994, Kimberly Smith was sentenced to three years and a day for drug-related charges. Her 77-year-old mother, Evelyn Smith, became the primary caregiver of Smith's 11-year-old daughter.
"When I did my first incarceration at MCI-Framingham I did it for some people that I was selling crack for. So they took care of me. I didn't have any visits during that three years and a day. It was just too far for my mother and daughter to come," said Smith.
Damian Martinez, who co-authored an article with Leverentz, agrees that a vast majority of people who are incarcerated have struggled with drugs. "It's not just about drug use or misuse,"  Martinez said, "it also has to do with the sale of narcotics."
"In popular narrative there is this idea that it's kind of all or nothing," said Leverentz. She noted that people believe that removing prisoners from the community is good for the community. However, in her research she has rarely found that children or families are better off without their loved ones.
"When an individual or individuals are incarcerated there are a range of different effects on families," said Martinez. He noted that the physical aspect of losing a person changes the relationship dynamics and in some cases entire relationships with relatives cease to exist as was the case with Smith and her family.
While Smith was in prison, her mother did not tell anyone in their extended family that she was incarcerated. "Guilt and shame and embarrassment," said Leverentz, are feelings that a lot of families experience when a relative is in prison or jail.
Between 1994 and 1997, while Smith served the sentence, her daughter ran away and was placed in foster care. When Smith was released she went home, but what she found surprised her: a child in foster care, a blind mother, and a charred house. The fire department condemned the home after it was destroyed by a fire.
"A lot of people don't want to get visitors in prison," said Leverentz, "and there's research to suggest that having visitors, maintaining pro-social ties to the outside world reduces some of the pains of being in prison and can make recidivism less likely…"
Smith, who was devastated when she found the changes to her home, inside and out, said that even that wasn't enough to stop her from using drugs. Eventually she picked up another sentence for which she served a minimum of 16 months.
"You don't have to take the route I took. I give you my story because I want you to take my story and make it yours–I don't want you to live it, but I want you to carry it and remember the things that I've been through," said Smith who has been sober for 12 years.