By John O'Hara
The Provincetown International Film Festival has embraced movies of the LGBTQ+ persuasion since its inaugural edition in 1999, even including some which seeming to have nothing to do with this topic at first glance.
Of all the films both short and long showcased at this Summer's 2021 Provincetown Film Festival, the Erytan Fox-directed Sublet may be the strongest contender for the unlikeliest to have addressed notions of gay love and romance head-on.
This is worth noting not only because it is the only film of Israeli heritage to have played during this June's lineup, but also because the two leading characters from which its amorous sentiments spring come from two leading characters who seemingly have too little in common to kindle any feelings of the sort.
The two main characters it turns out are a hybrid of the director himself. One is a younger version, Tomar (Niv Nassim), who, although much younger, shares the same professional focus as the Jewish director as a young film student.
Meanwhile, Michael (John Benjamin Hickey), the other protagonist to whom Tomar is subletting, is a middle-aged travel writer, closer in age to the actual director, who is arriving in Tel-Aviv to spend a week developing material for an article.
Despite being starkly opposed in character on the surface—Michael is quiet, retiring, and married, while Tomar is a brash hedonist—much of the story's intrigue stems from on what basis the two can surmount their differences.
"I make a film once every few years," said director Fox "And I use my films as some kind of therapeutic experience where I say, 'ok, what's happening in my life?
And I wanna deal with those issues and make a film out of them, and share my thoughts and feelings on them."
In keeping with the middle-aged struggles of the director who was turning fifty when they started working on Sublet, Michael is married yet still going through a mid-life crisis of sorts as he "figures out what It means to be gay."
"They're two completely different beings," went on to say.
As if to indicate their fundamental differences based primarily on decades of their age difference, the film includes a scene in which Tomar shows Michael how gay men meet on the internet (the app of choice is Grindr, but there are many) these days—in a word, "fast."
Such instance comes on day three of the two's budding connection (the first two consist of Tomar convincing Michael not only to stay but that the itinerary he arrived with is lame) while the young aspiring filmmaker is still high on ecstasy after an evening at an experimental dance recital.
Portraying such emotional conflict of interest poignantly as Michael was no easy feat, Benjamin claims, despite the many surface-level traits he has in common with the character.
"I loved where this man was, Michael, this character. And it was a deeply challenging thing because on the surface he seemed to be a lot like me. He was 50-something years old. He was a long-term New Yorker."
Beyond sheer age and hometown, Benjamin commented on why a character with a lust for life as strong as Tomar's was able to emotionally persuade him, despite his already being married and therefore seemingly not in need of further romantic adventures.
"He was in a long-term relationship. He was feeling kind of middle-aged malaise, an existential crisis based on just life but also based on all the things that have happened to him that we wouldn't want to give away cause they're revealed very slowly and very beautifully in the movie."
In the course of his interactions with Tomar and his increasing susceptibility to infidelity, we find that just because Michael has arrived in Tel-Aviv seemingly happily married does not mean he has lost interest in greater sexual exploration altogether.
To answer whether or not Sublet successfully achieves its aim of intriguing an audience with a non-platonic bond so unlikely is to consider whether or not the film successfully lays the foundation for romance, to begin with.
In other words, what are the odds such a romance may have occurred if not merely to satisfy the pre-requisites for a screenplay?
One critic at Roger Ebert couldn't quite get into the love story because he, "never for a moment believed in any sort of real attraction between Michael and Tomar. Simple lust, perhaps, but not the kind of powerful mutual attraction that could spring the older man from his existential funk (one that is entirely deserved, once we hear of the sad events still troubling him) and make the younger one more aware that there's a great big world out there that doesn't revolve entirely around his selfish needs."
One can watch Sublet on Apple TV now to decide for themselves how contrived or genuine the bond between these two versions of director Erytan Fox truly is, but even this critic who points out what a stretch it is that Michael and Tomar hook up on day four concedes that the film still has a lot going for it, "including good performances, some interesting insights, and a presentation of Tel Aviv that's so enchanting it may inspire many viewers to consult travel agencies."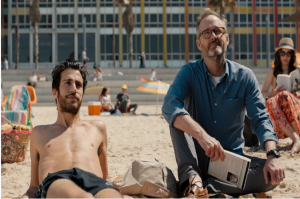 Regarding the effectiveness of Benjamin's performance, the Hollywood Reporter claims he can tap into a reservoir of suppressed sexual feeling successfully without ditching the embarrassment prone to surface to someone not used to opening up emotionally, and therein is where he succeeds.
"The interplay between the two leads is expertly judged, the shooting style is crisp and unfussy, capturing many moments of relaxed intimacy, and the sharp use of music serves to deepen the emotional resonance without ever being heavy-handed."
Thus, what Sublet arguably lacks in terms of the credibility of its plot, it tends to make up for in execution what with efficient dialogue and swift transitions.
In conclusion, the key question about Sublet's credibility is if John Benjamin Hickey's claim that amongst the two leads "a friendship ensues in which they teach each other kind of a new definition of gay" is enough to hold the audience's interests.
Not only a friendship, but a romance, too, Benjamin says that defies typical May to June love story tropes and arrives at something far more surprising in the end.